When I was a kid, we often had Cornish Game Hens for a meal. They were small, self contained, and fairly quick and easy to cook. I loved to pick them out at the store, as they were teeny tiny chickens, and I was enthralled. Somewhere along the way, Cornish Game Hens fell out of favor, and you rarely see them any more. This Matzo Stuffed Cornish Game Hen Recipe is an easy to make meal that is sure to please just about everyone in the family.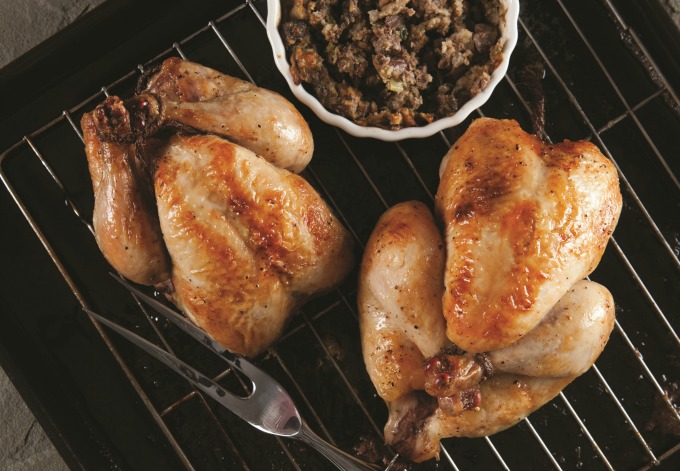 If you really want to be fancy, serve this Cornish Game Hen recipe at your next get together or dinner party and really impress your friends.  They don't have to know how easy it is to make, it can be our little secret.
Matzo Stuffed Cornish Game Hens Recipe
One of the things you're going to need for this cornish game hens recipe is a large roasting pan.  This one is one of my favorites, and I reach for it often.  This roasting pan is great, too, and a more affordable option.
Matzo Stuffed Cornish Game Hens
Ingredients
For the Hens

4 Cornish game hens
2 tablespoons olive oil
4 tablespoons unsalted butter (½ stick), cut into small pieces
Salt
Freshly ground black pepper
2 carrots, coarsely chopped
2 celery ribs, coarsely chopped

For the Stuffing

¼ cup canola oil
1 large yellow onion, cut into ¼-inch dice
3 celery ribs, cut into ¼-inch dice
3 garlic cloves, minced
2 teaspoons chopped fresh sage
½ teaspoon salt
¹⁄8 teaspoon freshly ground black pepper
3 matzo crackers (full sheets), crushed into pieces
Instructions
Trim any excess fat from the hens.
Rinse under water and pat dry. Set the hens aside.
Mix the carrots, celery, and onions in the bottom of a roasting pan large enough to hold all 4 hens.
Preheat the oven to 400°F.
Loosely fill the cavity of each hen with stuffing.
Drizzle 1½ teaspoons oil over each hen and rub into skin.
Sprinkle each hen with salt and pepper.
Truss the hens with twine (tie the legs together, tuck the wings under the backs).
Place the hens, breast up, in the roasting pan, on the mirepoix.
Dot each with the butter, dividing equally.
If there is extra stuffing, place it in an appropriate size casserole or ramekin; add it to the oven with the hens about halfway through the roasting time.

For the Stuffing

Heat the oil in a large sauté pan over medium heat.
Add the onions, celery, and garlic, cook for 2 minutes.
Lower the heat to medium-low and continue to cook until the vegetables are translucent and begin to soften, about 6 to 8 minutes.
Add the sage, salt, and pepper and cook until the vegetables are soft - about 3-4 minutes.
Transfer the mixture to a paper towel lined plate to drain.
Place the crushed matzos in a medium bowl; add the vegetables mixture and mix well with a wooden spoon.
Taste the stuffing and add more salt or pepper if desired.
7.6.8
91
https://www.gretasday.com/matzo-stuffed-cornish-game-hens-recipe/