Beer cocktails are having a serious moment right now. It's like a hops-filled renaissance that combines high class with the classic, backyard vibe of beer. Drinks like this Mexican Mule Beer Cocktail are drawing in people that aren't even huge fans of beer.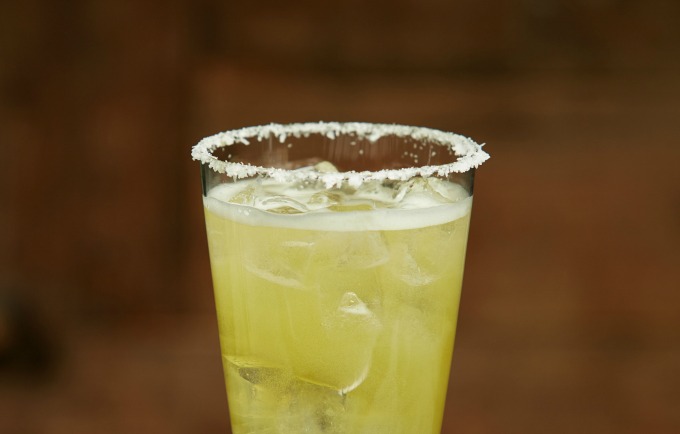 If you think about it, it's easy to see why. The proliferation of microbreweries means that people are not only creating some really great beers, but they're experimenting, and giving us flavor profiles that are out of this world. The days of big-name, mass-brewed beers dominating the landscape are over. Now, we have access to so many amazing beers that are brewed with love and lots of great ingredients that it's easy to go down a rabbit hole of beer exploration. That's why I'm sharing this Mexican mule beer cocktail. It's an exploration of flavors that you're going to love.
Having all this amazing beer at your fingertips, and enjoying the exploration, leads to more exploration. It just stands to reason that using these fab craft brews in a Mexican beer cocktail is the next logical step.
The combination of tequila, lime, and jalapeno in this Mexican Mule lends itself to a pretty classic flavor profile. We're using Hornitos Plata tequila, which is dry and fruity, and slightly citrusy. It's not that throat burning tequila we used to drink when we were in college and the object was simply to get bombed. Oh, definitely not. This beer cocktail is all about enjoying the flavors and the moment, not drinking yourself into oblivion. The Hornitos Plata kicks this beer cocktail up a notch and adds a layer of sophistication to it.
How to Make a Mexican Mule Beer Cocktail
Links may be affiliate links
This tequila beer drink is best served in a pilsner glass. You'll also need a cocktail shaker, and a muddler. You can usually pick up a bar set that has both of these items included. The ingredients and the equipment are simple. So is the drink itself, and that's what makes it so great. You don't need fifteen ingredients to create a beer cocktail full of flavor and personality. It's fast, simple, and deliciously refreshing.


Yield: 1
Mexican Mule Beer Cocktail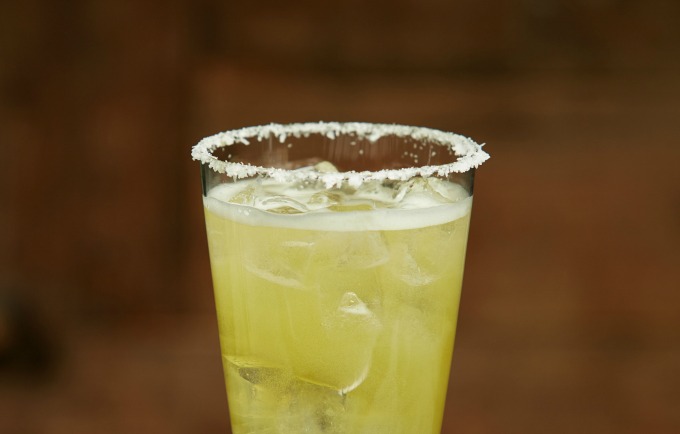 Beer cocktails are so popular right now. This calssic mexican Mule recipe is a great option for your lager loving friends.

Prep Time 2 minutes

Cook Time 1 minute

Total Time 3 minutes
Ingredients
1 ½ Parts Hornitos® Plata Tequila
4 Parts Mexican Lager
⅓ Part Lime Juice
⅓ Part Simple Syrup
1 Slice Jalapeño
Salt Rim
Ice
Instructions
Salt the rim of a pilsner glass and set aside.
Lightly muddle one jalapeño slice in a shaker.
Add ice and combine remainder of ingredients except Mexican lager.
Shake vigorously and strain into a pilsner glass with a salted rim over fresh ice.
Top with Mexican lager and serve.
See how simple that is? With five ingredients, some salt, and ice, you have a cocktail that is incredibly versatile and perfect for almost any occasion. It's a drink that's perfect for the warmer days of spring and summer, or perfect for fall. The Mexican Mule is also perfect for occasions that are mixed company, and won't scare people off. I think using it as a wedding cocktail, perhaps with a local microbrew, would be a fab option, too. As a tequila and beer drink, it would be perfect as a groom's cocktail.
As classy as it is, it's still the perfect cocktail for a backyard barbecue or even game day, too. It has all the ingredients we love for parties but mixed together in a way that is high-class. You don't need to wear a suit to the back yard party, but with this drink, you might consider a tuxedo t-shirt.
It's also delicious paired with traditional Mexican fare like Chipotle Shrimp Tacos or Instant Pot Carnitas. With a flavor profile like that, who can resist? Get your ingredients together, and get ready for a delicious cocktail with this mixed drink that almost anyone will love.
Doesn't that sound delicious, and easy to make? This is a great cocktail option for
Cinco

de Mayo, or anytime, really.
You may also like