The first time I had blintzes, I was 9 or 10.  To say the least, I was not really a fan.  I think I was expecting something like cheesecake in a pancake.  Now that I'm (much) older, I can enjoy the subtleties and nuances of the flavors, like in these Fig and Port Wine Blintzes recipe.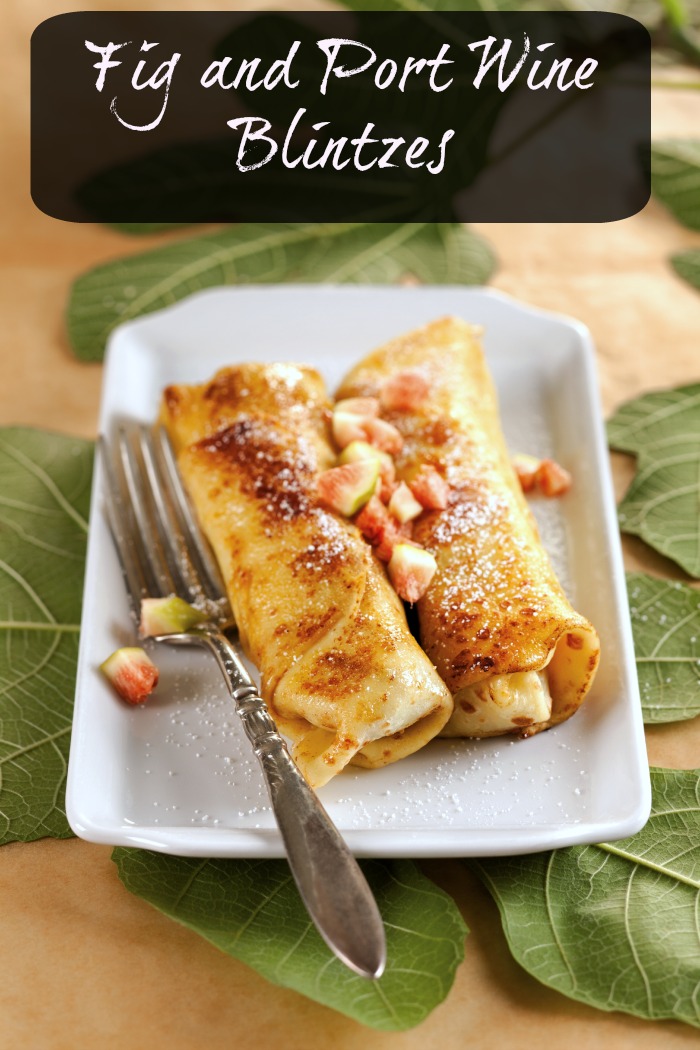 This Fig and Port Wine Blintzes recipe is the perfect addition to your Passover desserts.  Dried figs are preferred, as fresh figs make the filling too soggy and they have a more concentrated flavor.
We're bringing a new perspective to your Passover meals.  We'll be sharing several recipes that have modern twists to traditional Passover dishes.  These recipes are great for all times of year, too – not just the holy holidays.
Our non-traditional Passover recipes include the following:
Matzo Stuffed Cornish Game Hens
Fig and Port Wine Blintzes
Chocolate Hazelnut Rugelach
Fig and Port Wine Blintzes Recipe
Yields 10
Fig and Port Wine Blintzes Recipe
A great blintz recipe that's perfect for Passover - or any time of year. The secret is the dried figs, which allows this dish to be served year round.
15 minPrep Time
1 hrCook Time
1 hr, 15 Total Time
Ingredients
Crepes:
4 tablespoons unsalted butter, softened
1 cup whole milk
2 large eggs
1/2 cup potato starch (if not for Passover, you can use all purpose flour)
cold unsalted butter for greasing sauté pan
Filling:
2 cups dried black mission figs
11/2 cups water
1 cup port wine
11/2 cups cream cheese (12 ounces), softened
1/2 cup ricotta cheese
1 tablespoon honey
1/4 teaspoon salt
Pinch freshly ground black pepper
Confectioners' sugar
4 finely diced fresh figs for serving
Instructions
Prepare the batter. Melt 2 tablespoons of the butter; let cool slightly.
Whisk together the milk and eggs in a small bowl; then whisk in the potato starch or flour until well combined.
Pour the batter through a mesh strainer into another small bowl.
Stir in the melted butter. Cover the bowl and refrigerate for at least 1 hour.
Prepare the figs for the filling. Place the dried figs, water, and port in a small saucepan and bring to simmering over medium heat; lower the heat to low and cook until the figs absorb the liquid—about 10 minutes. Remove the pan from the heat and set aside until the mixture is lukewarm. Transfer the mixture to a chopping board and finely chop—it should turn into a pulp.
Mix the filling. Using a wooden spoon, blend the cream cheese and ricotta cheese in a medium bowl. Stir in the fig pulp, honey, salt, and pepper until well combined.
Cook the crepes. Line a 10-inch plate with paper towels. Heat an 8-inch nonstick crepe pan or skillet over medium heat. Rub the pan with cold butter and immediately add 1/4 cup crepe batter. Cook until the crepe is slightly caramelized on the bottom—about 2 minutes. Using a pancake turner, turn the crepe over and cook the second side until slightly caramelized—about 2 minutes more. Transfer the crepe to the paper towel–lined plate. Repeat this process until all the batter has been used; place additional paper towels between the cooked crepes.
Fill the crepes. Spoon a dollop of filling onto each crepe, covering about a third of the area nearest to you but leaving an empty margin at the sides. Fold the margin at each side up and over the filling, then roll up the crepe—like a cylindrical envelope. Turn "flap down" until ready to cook.
Cook the blintzes. In a skillet large enough to hold all the blintzes, melt the remaining 2 tablespoons of butter over medium heat and then pan-fry the blintzes until they are golden-brown on both sides—about 4 minutes per side.
To serve, arrange the blintzes on individual plates, dust with confectioners' sugar, and top with a spoonful of the diced fresh figs
7.8.1.2
34
https://www.gretasday.com/delicious-fig-and-port-wine-blintzes-recipe/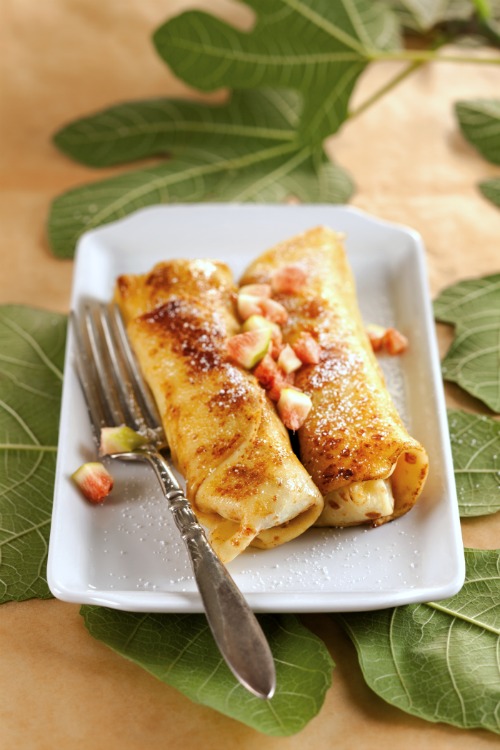 Will you be trying this Fig and Port Wine Blintzes recipe?
Recipe + image courtesy of The New Jewish Table.  Adapted for Passover by us.