Spicy peach salsa is a great twist on a traditional salsa. One of the best things about summer is all the fresh produce that's available. Right now, peaches are at their peak, and they're so good.
We've shared about fruit salsa before. The combination of the sweet, tender peaches and the crunch from the onions makes this peach salsa a dish that will soon become your signature.
Every time there's a family gathering, a potluck, or you're hosting a meal, people are going to ask for this Spicy Peach Salsa. You've been warned. This is also a great companion to Instant Pot Carnitas and a regular garden fresh salsa.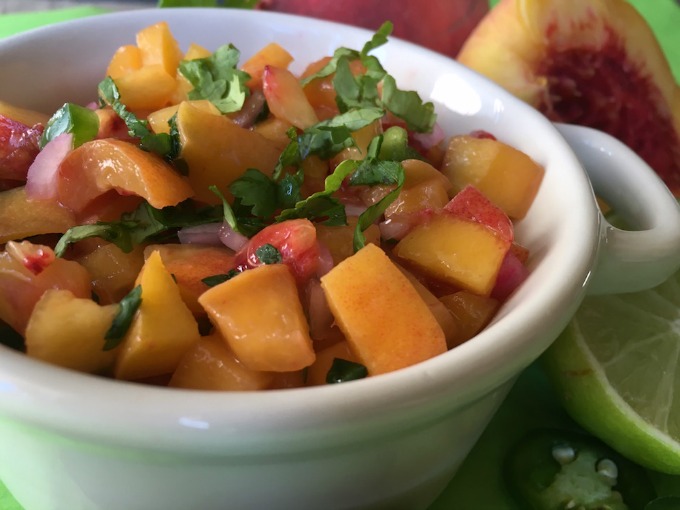 How to Make Spicy Peach Salsa
Ripe peaches are pretty much the key here. Since this is a simple dish, you want good quality produce that's ripe.



Ingredients
6 fresh peaches, pits removed and cut into small pieces
3 T. fresh lime juice
½ medium shallot, minced
3 T. red onion, cut into small, thin slices
1-2 t. jalapeno peppers, seeds and veins removed, and very finely minced
3 T. fresh cilantro leaves, stems removed and chopped
salt and pepper, to taste
Instructions
Soak the onions in about a cup of cool water for 10 minutes or so. Drain well.
Combine all ingredients in a glass bowl and stir to combine.
Start with a very small amount of jalapeno pepper and taste before adding more.
Season with salt and pepper. Cover with plastic wrap and store in the refrigerator overnight or on the counter at room temperature for at least 30 minutes.
7.8.1.2
123
https://www.gretasday.com/spicy-peach-salsa-recipe/
Soaking the onions helps to reduce the pungent flavors, and soften them a little. You can easily adjust the heat level by controlling how much jalapeno you use. Start light, as you can always add more spice.
The spicy peach salsa is best when made the night before, as all the flavors have a chance to combine and meld together. And if you're cooking for a crowd, no worries! This recipe is easily doubled or tripled! Serve it with chips, fresh veggies, or bbq. It's even really good on chicken or fish.
Like this recipe? Don't forget to pin or share it on social media to save it for later!