Volunteerism has become a hot trend in travel in recent years. Whether you're going on a humanitarian trip, a church group, or teaching, volunteering abroad is an exciting opportunity. It can be very different from simply traveling.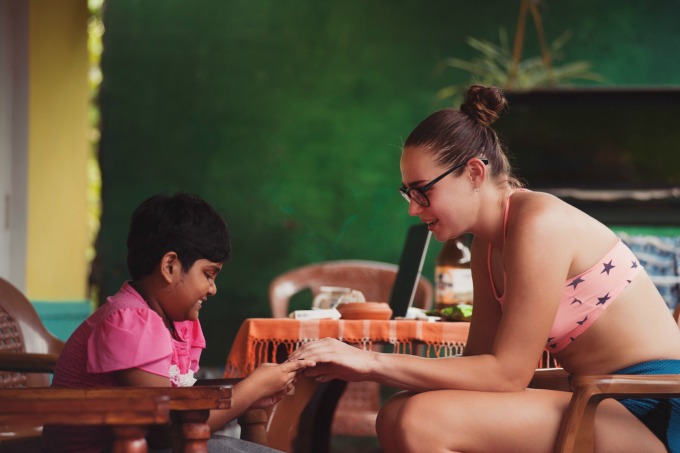 There are some things you might want to bring along. You'll want to consider your accommodations, location, planned activities, and how much luggage space you have when deciding what to take.
The following list, compiled by the volunteer-sending organization Original Volunteers, covers all the essentials you probably didn't think to take on a volunteer trip overseas. It's split into categories, but there may be some items that cross over. If you're not sure, ask your organization what they'd recommend.
Teaching
Teaching is a common way to spend a volunteering trip, and might require some creativity with equipment. Here are a few basics to pack, and some things to think about,
A pack of colored dry erase or whiteboard markers. Dry erase markers seem to dry out fast, and have a tendency to get misplaced. , You'll want to have extra to hand. Different colors can help make your teaching lessons visually engaging, too.
A pack of good quality chalk. Bring some chalk, in case there's only a blackboard available. In a pinch, chalk can also write on brick walls or concrete floors and should wash off just fine. If you can find pavement or a sidewalk, it's also a great way to introduce locals to some fun games.
A small portable whiteboard. Great for small groups and for teaching outside. You can use it for games as well! Consider leaving it for the next teachers to use when you go home.
Suitable clothes. In many developing countries modest clothing is preferred. Strappy tank tops and revealing shorts might be comfy, but local religion or cultural norms might require you to cover up. Plus, in hot climates it's wise to keep the sun off your skin as much as possible. Check with your organization for a list of appropriate attire.
Don't bring candy for the children. Although it seems like a great ice breaker, resist the urge. Candy only lasts a few minutes and it takes up valuable space you could use for more teaching equipment.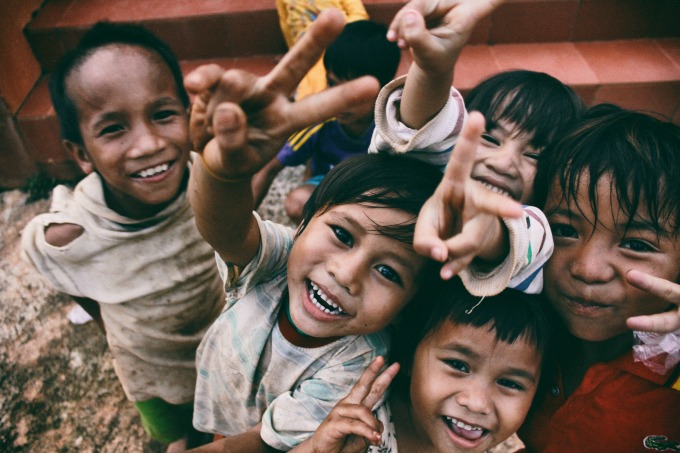 Play and Caring for Children
Similar to teaching, there are certain items you can think about bringing for play time and caring for children.
Reusable outdoor child-safe play equipment. Think frisbees, beanbags, simple board games. Check to see if these items are available to buy in your destination before you pack them. And consider leaving them behind when you go home.
A pack of wet wipes to clean children's fingers and faces. Kids get messy! These are also a great way to clean your own hands and face, and get a brief cooldown. Get biodegradable wipes if you can.
Binder clips. Actually, a very useful tool no matter what you're volunteering for! They can be used to keep papers together, string up a makeshift soccer goal, and hold things in place while glue dries.
Children's books. Reading to children makes for a calm activity. You can also use books as a teaching tool. Make sure they're age appropriate. Try waterproofing the book covers with sticky-back plastic. You may need to help build storage, which could be a fun side-project! Plan to donate the books to the center, as it helps to foster that love of learning.
Medical Aid
Medical aid trips are a bit different, since you'll probably be working in a hospital or clinic. There might not be a lot of spare equipment, and you might be asked to bring donations.
Here are some ideas of item you might want to pack. Check with your organization or host hospital as well for anything essential.
Spare scrubs. While there may be plenty of scrubs to go around, it's nice to have your own. If you can afford to leave them when you go home, they'll be put to good use.
Pen torch. If you're in a role that might require you to use one, bring one. And don't forget batteries!
Stethoscope. You can check in advance if there will be any available, but if you're not sure bring one anyway. Don't bring one that you can't afford to lose – the most basic stethoscope that's suitable for your role is just fine.
Packs of disposable gloves. They're cheap and easy to get ahold of in the US. Any gloves you don't use you can leave behind.
Hand sanitizer and disinfecting wipes. In some countries these are expensive or difficult to get ahold of. They'll also help reduce the risk of getting sick yourself.
Handbooks or medical books. Useful in case you come across illness or problems that aren't common in your home country. You can donate the books when you leave, if you can afford to. They'll make a great addition to the hospital.
Any other small equipment you might need. Thermometers, mirrors, blood pressure cuffs, and forceps might all be useful items to bring. Ask what your host hospital or clinic has available.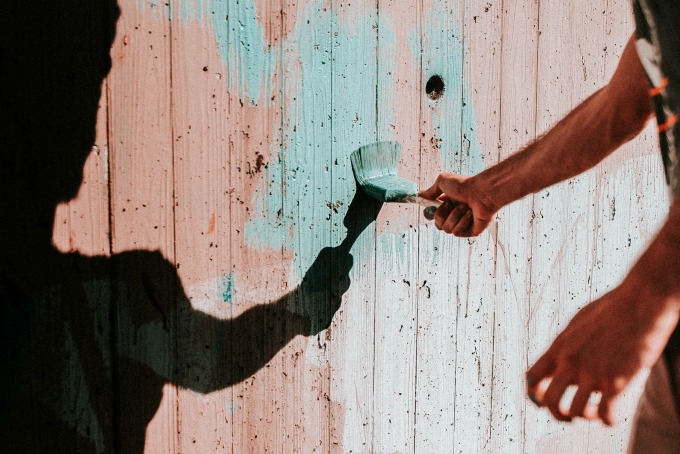 Manual Labor
For this kind of volunteering, you could be building, repairing, decorating, or even gardening. It's important to be practical about what you bring to avoid injury. Here are a few suggestions to start you off.
Protective gloves. Something durable with padding will help you reduce cuts, splinters and scrapes on your hands. They'll help stop you being stung by insects and plants too. Manual work involves a lot of using your hands, so keep them in good shape.
Large rimmed sun hat. If you're going to a warm climate, a big hat is an absolute must. It will keep the sun out of your eyes, and shade your face so you don't get burnt.  Don't forget your sunglasses, too
Sensible shoes. Flip flops aren't appropriate for manual labor. Bring something sturdy and comfortable that gives you ankle support. A great pair of hiking boots or supportive athletic shoes are perfect. Avoid bringing new shoes if you can – but if you have to, give yourself time to break them in.
Paintbrushes. You might want to bring some paintbrushes from home. Quality brushes make the job easier and won't leave bristles all over the freshly painted wall. Read up on some painting tips, too.
First aid kit. Include antiseptic cream, Band-Aids, antihistamine cream, small bandages, medical tape, and alcohol wipes. Useful for treating small scrapes, blisters, insect bites, and other minor injuries. Check before you bring medicated creams into the country as some places have restrictions.
Old or inexpensive clothes. Bring clothes that you don't mind getting torn, paint-splattered or worn out. Make sure they're culturally appropriate and will keep you protected in the weather. You might be able to buy inexpensive clothes locally, so you could under-pack and buy once you get there.
For your own personal comfort
Your own mug. Perhaps not one you'd be heartbroken to lose, but it's nice to have that little bit of home with you.
Imodium. Not pleasant, but you've got to prepare for it – traveler's diarrhea. Imodium is our recommended treatment as we find it works quickly. But any over-the-counter treatment that works for you is fine.
Painkillers. Useful in many situations, from mild headaches to fevers. Especially if you have a favorite. For some people ibuprofen irritates their stomach, but in some countries is easier to find than acetaminophen/paracetamol. As with all medicines, check what you're allowed to bring, as some places have restrictions.
Insect repellent spray. One mid-sized bottle per fortnight seems to be about standard. And a top tip – don't forget to spray your hands!
Water jug and a flannel/facecloth. In a hot climate where there's no air conditioning, having a water jug you can take on-site with you. A cloth to dab yourself with helps to keep you cool and comfortable.
Travel adapters. Electrical outlets/plugs are different depending on where you are in the world. If you're taking any electronics, check what kind of adapter you'll need. They're usually available cheaply online.
Sanitary products. If you use them, bring plenty of them. Tampons can be expensive and hard to find, especially in Africa and Asia. You might find pads, but even so, it's nice to have ones you're familiar with that you know won't irritate your skin.
A padlock for your suitcase. Volunteers will often be sharing a dorm room and it is unlikely there will be lockers in your accommodation. Get a padlock that uses a combination rather than a key if you can, as they're more secure.
Guidebook. Maybe it seems a bit old-fashioned, but if you're going off the beaten track there may be no Wi-fi. The information in the book may be all you have to navigate around. There will also be useful telephone numbers, such as emergency services. And there's something exciting about flicking through a guidebook en route!
Mosquito coils. Some travelers swear by these incense-like mosquito repellents. You don't want to use them 365 days a year, but for a short-term trip, mosquito coils will keep mosquitos away. You could use a mosquito net, but some people can't sleep with the buzzing, or find sleeping under a tightly woven net unpleasant. Mosquito coils should be available locally, but it's nice to have some ready to go in your luggage.
Berocca or similar tablets. Water purifying tablets taste awful, so if you're using them you can add Berocca to cover the flavor with a vitamin boost – which is great when you're travelling. Most countries sell fruit cordial in powder form for when your Berocca runs out and there's often a lovely range of flavors.
Any prescription medication. Make sure you have enough to cover the duration of your trip. Take your prescriptions with you and attach a note that translates it into the local language if you can, to speed things up at customs.
A set of nice clothes. In case a formal situation arises, such as an award ceremony or a fancy meal.
E-reader (Kindle). It's easier than taking books, especially for a long-term trip. If you really want physical books, and can deal with the weight, it would be nice to take ones you don't mind leaving for next group of volunteers to enjoy.
Re-usable bags. Whether they're waterproof fabric or cloth ones you can buy from supermarkets, bring some with you. They can be used for transporting groceries, keeping clean clothes separate from worn and stopping your wet shoes from getting your bag dirty.
A few new ballpoint pens. In case you have to fill out forms at airports, or want to write a diary during your trip, they're useful. Having plenty means you can pass them around to other volunteers who need one.
This seems like a lot of things for a volunteer trip, but it's really not. Several of these are small things that you probably already have, or should carry if you're a seasoned traveler. Especially if you like camping.  You might also check into travel insurance. This is a great safety net, especially when you're traveling abroad.