Bourbon cucumber cocktail is an easy-to-make drink that's as refreshing as it is delicious. I'm going to admit it – I am a whiskey and bourbon kind of girl. Yep. That is my spirit of choice. For warmer weather, though, I like something a little lighter and more refreshing. That's when I reach for a refreshing Bourbon Cucumber cocktail. It's a classic summer drink that's perfect for sipping, whether you're enjoying some downtime after a long day or entertaining in the back yard on game day.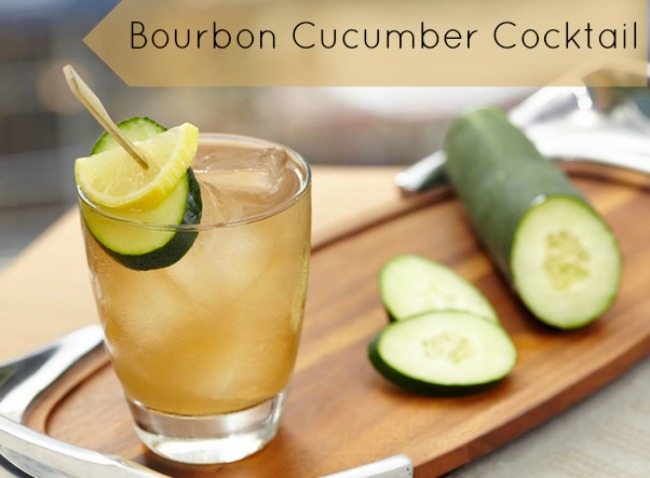 Don't get me wrong, a nice glass of wine or a vodka cocktail is good, too. But, for me, bourbon is where it's at. It has a nice warmth and a smooth finish, and it isn't nearly as biting as vodka and similar spirits can be. It's the perfect spirit for shots with the girls or a nice cocktail on the deck while the barbecue is going on.
This Bourbon Cucumber cocktail is a refreshing change of pace. It's a classic drink, also known as a whiskey cucumber cocktail, that somehow feels so uniquely modern. The cooling, refreshing cucumber pairs perfectly with the slightly mellower bite of the bourbon, making a combination that has a coolness and heat that wakes up your mouth. It's the perfect cocktail for kicking off summer. Not only that, this Bourbon Cucumber is perfect for serving all summer long. It pairs nicely with BBQ and grilled foods.
We're using Bulleit bourbon for this particular recipe, but you can use whatever your preference is. Bulleit is a Kentucky whiskey that has a nice spicy flavor and a smooth finish. It pairs really nicely with the cool cucumber and the honey in this drink recipe. The bold flavor shines but isn't overpowering. When you combine all of those, you get a flavor that has a bit of spice, a nice cooling undertone, and a smooth finish. It just feels like summer.
The best part of this summer bourbon cocktail might be how easy it is to make. You need practically no bar-tending skills, just the ability to mash and stir. We can all do that, right?? Plus, it doesn't require any special or exotic ingredients. Most likely, you have all of these ingredients in your kitchen already. It's the easiest cocktail you'll ever make, and it requires no fancy moves – unless you feel like Cocktailing it for the guests. Just don't drop anything!
Yield: 1
Refreshing Bourbon Cucumber Cocktail Recipe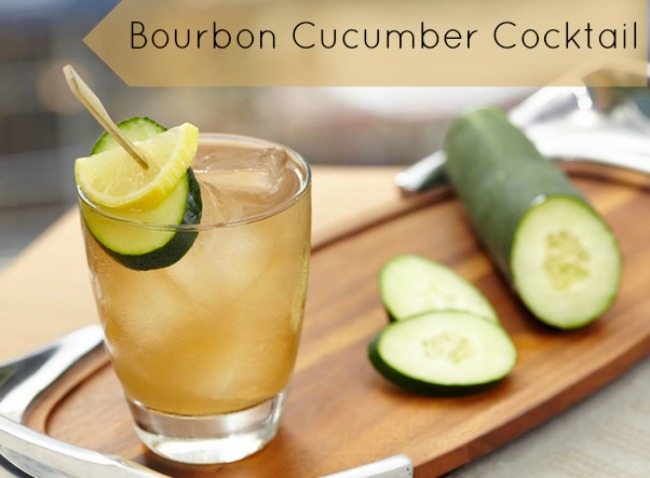 A refreshing bourbon cocktail that's perfect for summer. Pairs nicely with BBQ or grilled foods.

Prep Time 2 minutes

Cook Time 2 minutes

Total Time 4 minutes
Ingredients
1.25 oz. Bulleit Bourbon
1 oz. honey syrup (equal parts honey and water)
3 pieces of cucumber
1 wedge of lemon
1 splash of club soda
Ice
Instructions
In a mixing glass, muddle cucumber, lemon wedges and honey syrup.

Add Bulliet Bourbon and ice.

Stir vigorously with a bar spoon.

Strain into an ice filled rocks glass.

Top with club soda.

Garnish with a cucumber wheel and lemon wedge.

Nutrition Information:
Yield:
1
Serving Size:
1
Amount Per Serving: Calories: 175Total Fat: 0gSaturated Fat: 0gTrans Fat: 0gUnsaturated Fat: 0gCholesterol: 0mgSodium: 56mgCarbohydrates: 12gFiber: 3gSugar: 11gProtein: 1g

Nutritional information is provided as a convenience. It may not be completely accurate.

This bourbon cucumber cocktail is an incredibly versatile drink. It's perfect for summer barbecuing and back yard get-togethers, but it's also classy enough for special occasions. I think that this cocktail would be a great wedding drink, especially for the groom's choice. It's sippable but still comes across as manly. It's also showy, with the muddling but doesn't take too long to make. And the Bourbon Cucumber cocktail isn't so bold that it scares off the ladies.
This is one of my favorite spring and summer cocktails, and I think it will be a new favorite for you, too, after you've tried it. So get your favorite bourbon, snag the other ingredients, and give this cocktail a shot. It has a flavor that both men and women will appreciate, it pairs incredibly well with our favorite summer foods, and it just tastes so good. It doesn't get much better than that.
Will you be adding this Bourbon Cucumber cocktail to your repertoire this summer?
You may also like