Tiki bars have become so popular in the last year or so. It used to be that you had to go to either a resort-y beach town to find one, or you'd see one in a random town.  But not now. Now they're everywhere. Our mid-sized town has three or four alone. Celebrate that with a Holy Mole cocktail. It's a great tiki bar type cocktail that you can totally make at home.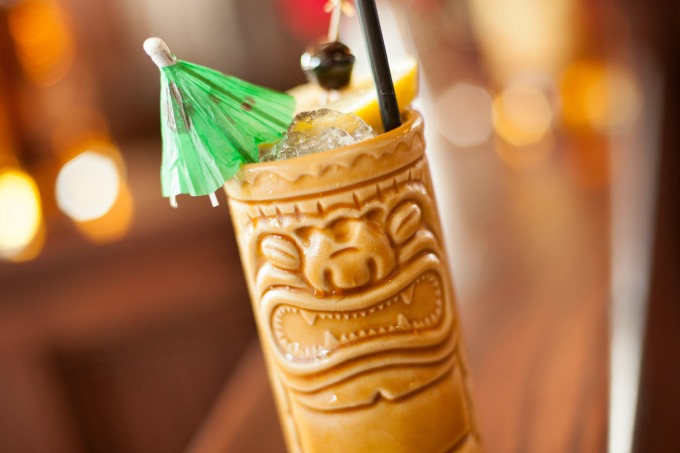 Most tiki bar cocktails are rum based.  The Holy Mole happens to be a fruity bourbon cocktail that has a bit of a kick. It's perfect for summer – and beyond.
Holy Mole Bourbon Tiki Cocktail
There are a few things you need to make the Holy Mole. A great bar set is item number one. You'll need jiggers, a shaker, and a strainer. You'll need a couple flavors of bitters – orange and Aztec Chocolate. Every good bar should have a few bitters, and they're a great way to bump up your cocktail repertoire. You'll also need luxardo cherries.  These are simply a great brand of maraschino cherries that are ideal for cocktails.
Holy Mole Bourbon Cocktail
Ingredients
2 oz. Four Roses Yellow Label Bourbon
1 oz. Lemon Juice
0.25 oz. Amaro Montenegro
0.50 oz. of Ghost Pepper Syrup
0.25 oz. of Passion Fruit Syrup
1-2 Dashes of Orange Bitters
1-2 Dashes Aztec Chocolate Bitters
Lemon Wheels for garnish
Luxardo cherries
Ice
Instructions
Add all ingredients to a shaker filled about halfway with ice.
Shake until really well combined and chilled.
Fill a tall pilsner glass or a tiki glass with ice.
Double strain the shaker into the pilsner glass.
Top off with ice, if necessary.
Garnish with orange oil, a lemon wheel, luxardo cherries, and an umbrella. And a straw.
7.8.1.2
95
https://www.gretasday.com/holy-mole-bourbon-cocktail-tiki-recipe/