Halloween has quickly become many people's favorite holiday. One of the highlights of Halloween is decorating your home to help get in the spirit. , After all, at it's essence, Halloween is all about the ambiance. These fabulous Halloween kitchen decor ideas will help get you in the spirit.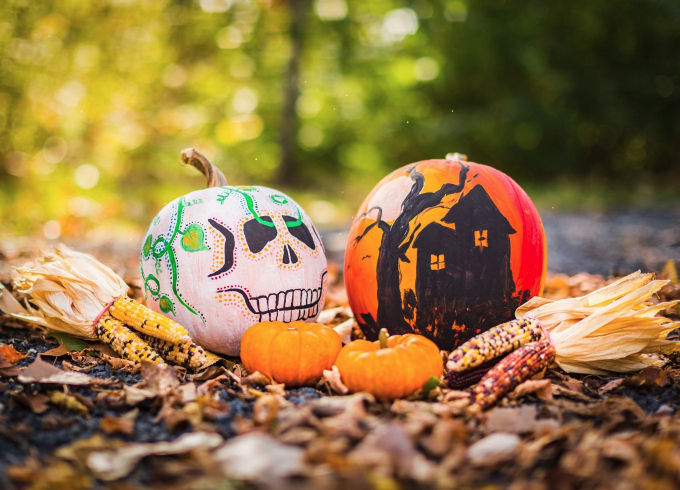 We often decorate the outdoors and our living areas, but tend to forget the Halloween kitchen decor. there are many simple and captivating creations to make at home. It's so simple to start decorating your kitchen for Halloween, and we're here to help with some easy ideas.
Halloween can be scary, melancholy, silly, and spooky – and so entertaining – for young and old alike. But it can be a real chore to prepare the costumes, decorations, get ready for Halloween parties, and make the food.
Halloween Kitchen Decor Ideas
These items are all from Amazon, and most have Prime shipping. Links may be commissioned.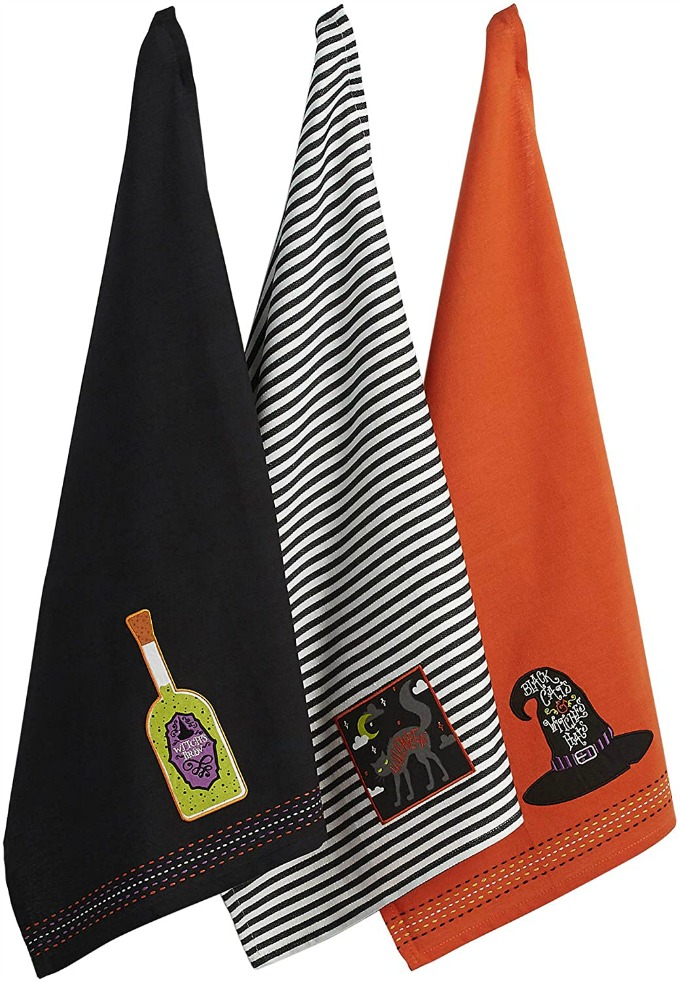 This set of three large dishtowels will look great hanging in your kitchen. Embroidered with classic Halloween emblems like a Witches' Hat, A Scaredy Cat, and a bottle of Witches' Brew, they're sure to really set the mood. They measure almost 18 x 28 inches and are 100% Cotton. The striped fabric reminds of witches socks, too, to really help set the mood.
Everyone needs a doormat. Why not make it inviting and clever, while being a little spooky. This mat is perfect for inside our outside your door, and would be great at the back door that leads into your kitchen. Add a pop of personality in the entrance and safeguard your floors too. It works not only as Halloween kitchen decor, but also for any kitchen, floor, patio, doorway, porch, or entryway.
How cool are these skull teaspoons? They're scary and haunting while being the perfect Halloween kitchen decoration that's totally usable. These would make a great serving spoon for a candy bar or olives, or other small foods at a party. These spoons are also fab for stirring your haunted potions like tea, coffee, or even absinthe.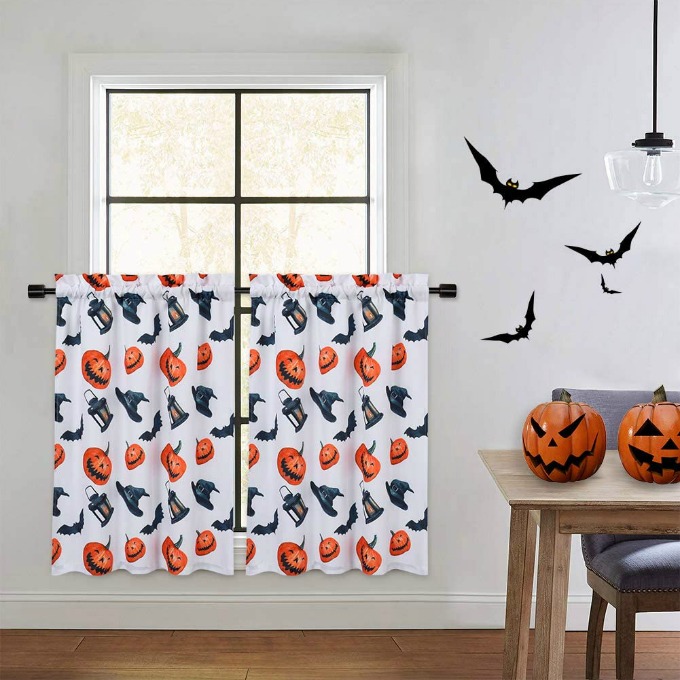 For an easy Halloween kitchen decor update, change out your curtains. Most kitchens have just a small window with a cafe curtain, so it makes for an easy job. Classic Halloween imagery of orange pumpkins, bats, and lanterns with a definite vintage feel work for a cute or a spooky ambiance. These are available in multiple lengths, too.
Even the chef needs a Halloween costume. Why not make it easy with this spooky Skeleton apron? It's great for all ages from teen on up, and pretty much all sizes. Gift it to the man that grills, and he'll wear it year round. SO FUN!
For a lot of people Halloween IS the most wonderful time of the year. This tea towel is the perfect gift for yourself, or as a hostess gift. This is a handmade item, too, which makes it even better, as you're supporting a small business.
Protect your floors from the gore that Halloween is sure to bring. Super cute mats that have a classically trendy style work well for your Halloween kitchen decorations – or in any other room. The Spooky mat is roughly doormat sized, and works well in front of the sink. Boo is more of a runner sized mat. Both are backed with recycled rubber.
These ceramic measuring spoons are so creepy cool. They're scary and kitschy, and totally that Halloween kitchen decoration that you want to keep on display. The best part is that these measuring spoons are actually usable. Display on a hook on the fridge or the wall. They'll be a great addition to your decor and easy to find. Win-win!
Okay, so these technically aren't exactly Halloween kitchen decorations, but they're so dang cool! Easily give your home a bit of that Addams family ambiance with these lace lamp shade covers. They fit most sizes of lamps, and can even be used for mantel decorations or as cafe curtains.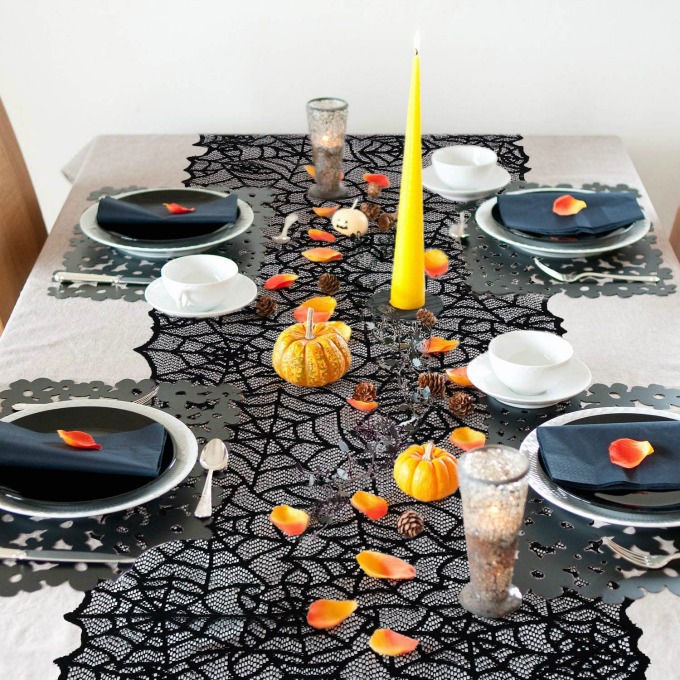 This pairs perfectly with the lace lampshade covers for a spooky 1-2 punch. This tablecloth is perfect for a Halloween party decoration, or just to add some ambiance to your own home.
How badass is this? It's so perfectly Halloween, yet kinda Goth and Biker, too It's the perfect Halloween kitchen decoration, but also works so well for these other genres. You could even use it to store items other than napkins – like hand towels or small toiletries in a bathroom.
Here's another style of Skull napkin holder that's equally as cool. I kinda like this design a little better, personally.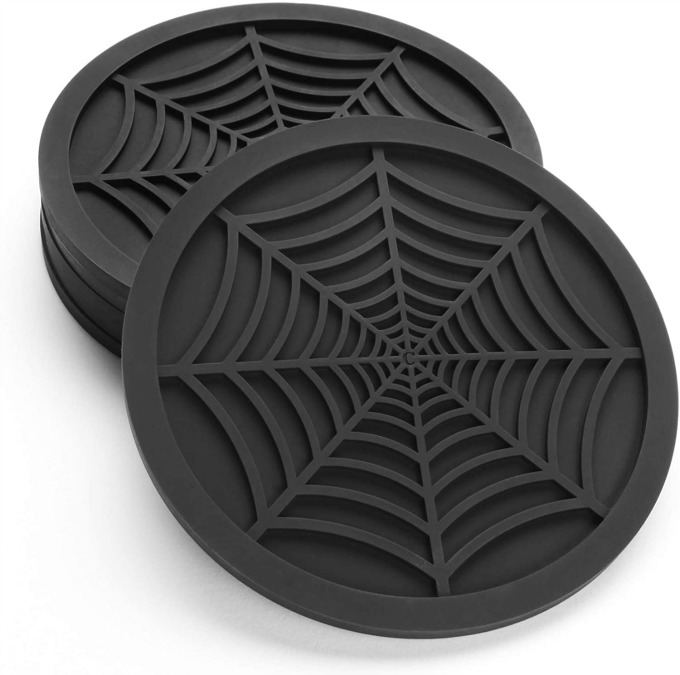 Spiderweb Coasters
Spiderwebs are synonymous with Halloween decorations. Get some Spiderweb coasters to help protect your furniture. There's a silicone version, which helps to catch the condensation from beverages, before they can create rings and damage surfaces. Then there's the wooden spiderweb coasters, which raise the glass from the surface, but look a lot more elegant.
Okay, now this shelf is super creepy cool and is the perfect piece of Halloween kitchen decor. It's perfect for displaying your tchotchkes in the kitchen. perhaps placing your decorative salt and pepper shakers on it. It would also make a great display for spices and seasonings.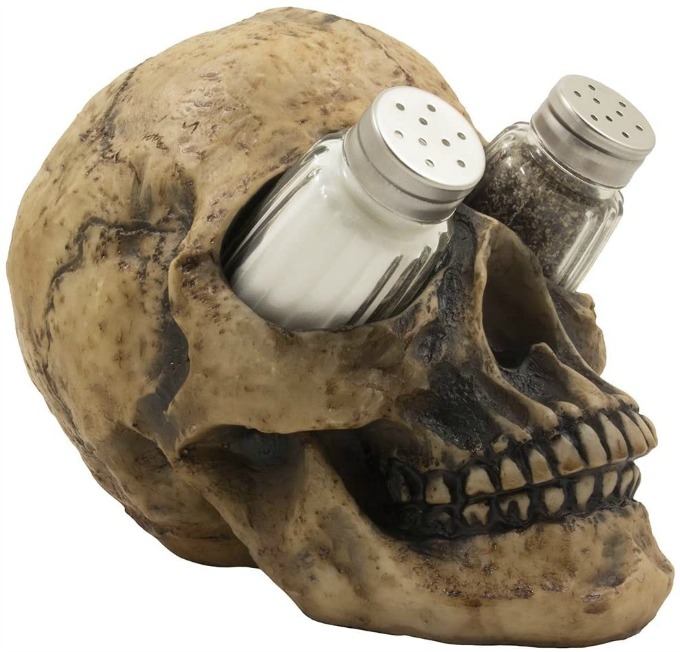 Decorative Salt and Pepper Shakers
My mom collected salt and pepper shakers for yearrrrsssss. She had a couple hundred sets when she decided to stop. But, because it's ingrained in me, I always look for fun and unique ones. These Frankenstein + Bride of Frankenstein are adorable, and exactly the kind of item she'd have in her collection.
Now, this human skull that holds salt and pepper shakers is totally creepy, and perfect for your Halloween kitchen decorations. It's a perfect centerpiece, and is sure to be the talk of your party.
These Nightmare Before Christmas Salt and Pepper Shakers are perfect for any Tim Burton fan. Is the movie a Halloween movie? Is it a Christmas movie? I think we've decided the answer to those questions is yes. Make a batch of these Jack Skellington cookies for your party, too.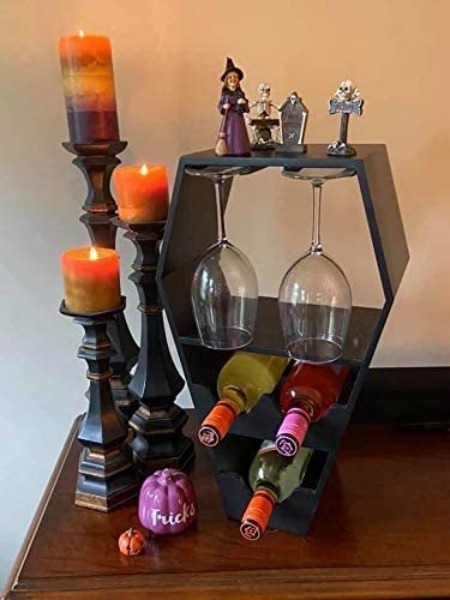 Wine and Booze Time
Your favorite scary movie characters are immortalized on these shot glasses. Talk about scary!
Display your best bottles of red on this super frightening wine rack. It holds two wine glasses and three bottles of wine, and can be mounted to the wall or displayed on a table.
Display a particularly gruesome bottle of wine in a clever way. It's the perfect centerpiece to showcase a wine you love, or that's super spooky. There's also a matching salt and pepper set at the same link.
Other Halloween Kitchen Decorations
Woodburned wooden spoons have been catching on in popularity lately. These spoons, burned with scenes from The Nightmare Before Christmas, are perfect for your Halloween kitchen decor. There are also two sets of other Halloween burned wood spoons at this link.
It's the perfect vessel to make our favorite slow cooker beverage or a nice warm soup for your Halloween party. Plus, you can get it out again for your spooky Christmas celebrations.
A garland is an easy way to add some holiday style to a space without a lot of work. This Bat and Pumpkin Garland will add a lot of Halloween kitchen decor to any space.