The Nightmare Before Christmas has quickly become a classic movie. It's kind of Halloween-ish and kind of Christmas-y, and just totally awesome. The stop motion animation just adds to the creep factor. A lot of people aren't sure if The Nightmare Before Christmas is a Halloween movie or a Christmas Movie. I say it's both!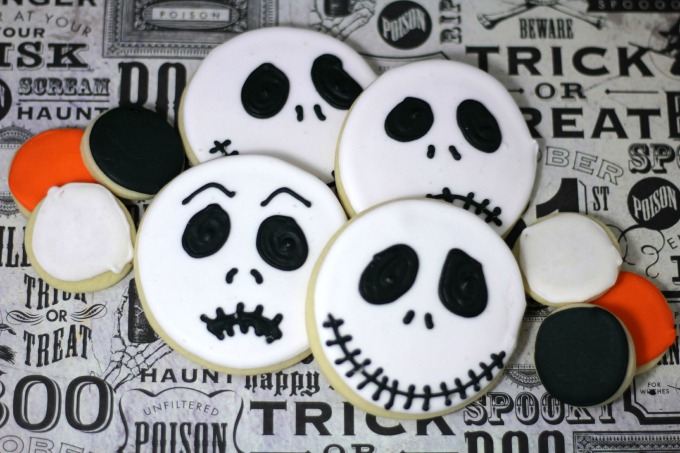 To that effect, we're making these totally awesome Jack Skellington decorated sugar cookies. Jack Skellington is the patron spirit of Halloween, and as such, is worthy of celebration. These decorated Nightmare Before Christmas cookies look a lot harder to make than they are.
Jack Skellington Decorated Sugar Cookies
There are a few things you'll need to make these cookies. The first is a cookie cutter. Piping bags make the job easier. You can use a zip top bag, but ehhh…
Yield: 30
Jack Skellington Nightmare Before Christmas Decorated Sugar Cookies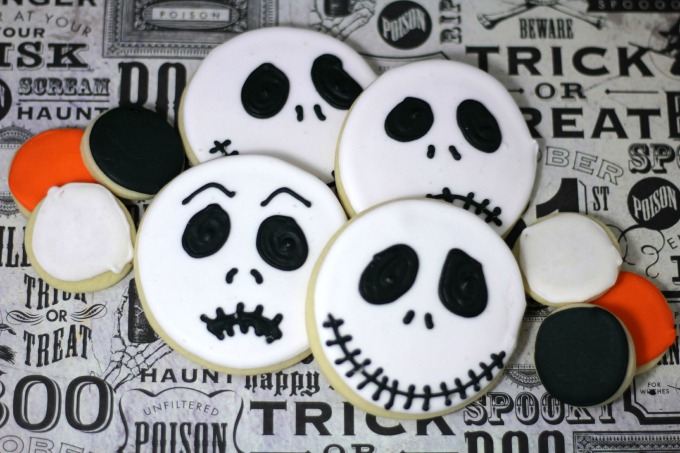 Fun cookies that are decorated like Jack Skellington from The Nightmare Before Christmas movie.

Prep Time 30 minutes

Cook Time 45 minutes

Additional Time 8 hours

Total Time 9 hours 15 minutes
Ingredients
For the Cookies
5 C flour
2 tsp baking powder
1 tsp salt
1 1/2 C unsalted butter, softened (3 sticks)
2 C granulated sugar
4 eggs
For the Icing
2 egg whites
2 C powdered sugar
1/2 tsp cream of tartar
Instructions
Cream the butter and the sugar until smooth and not grainy to the touch in a mixing bowl.
Add eggs at one time, mix to incorporate.
Add the vanilla and mix well.
Sift the flour, baking powder, and salt together.
Add the dry ingredients to the wet mixture.
Continue mixing to make sure all ingredients are thoroughly incorporated.
Form the dough into a ball, wrap it in cling wrap completely covering the entire dough ball.
Refrigerate the dough for about 6 hours or overnight. You want the dough to be firm.
Remove the cookie dough from the refrigerator and let it soften up a bit.
Dust your dough rolling space and rolling pin with flour.
Roll the dough out to about 1/4 inch thick.
Cut cookies out, using a round cookie cutter.
Baking the Cookies
Preheat oven to 325 degrees.
Line the cookie sheet with parchment paper.
Place the cookie cut out on the cookie sheet. Use a spatula if needed.
Bake at 325 degrees for 8 minutes. Check to see if the cookie are thoroughly baked.
Remove the cookies from the cookie sheet and cool completely on a wire rack. (About 10 minutes)
Making the Icing
Combine all ingredients, except food coloring, in a mixing bowl mixing on medium speed for 4 minutes.
If icing is not stiff enough add 1/4 C powdered sugar.
Add several drops of black gel food coloring to the bowl of icing, mixing well.
Spoon the icing into a frosting bag with a #5 tip. Twist the open end of the bag to push the icing to the tip.
How to Ice Cookies
First step for each cookie is to outline them with icing. Allow this to set for a good 30 seconds or so.
Flood the cookies with icing, making sure that the surface is covered and fairly smooth.
Take your black icing, and place it in a pastry bag with a tip. Following the picture of the cookies, or a google image, decorate your white frosted cookies with Jack Skellington's features.
Let them set, and voila! You'll be the hit of the Halloween party or bake sale with these Nightmare before Christmas cookies.
Nutrition Information:
Yield:
30
Serving Size:
1
Amount Per Serving: Calories: 250Total Fat: 10gSaturated Fat: 6gTrans Fat: 0gUnsaturated Fat: 3gCholesterol: 49mgSodium: 125mgCarbohydrates: 37gFiber: 1gSugar: 21gProtein: 3g

Nutritional information is provided as a courtesy, and may not be accurate.