Spending time on the water has always been one of my favorite parts of summer and warmer weather. Kicking back, splashing and swimming are so much fun! But you know what makes water time even more fun? These amazing giant pool floats for adults.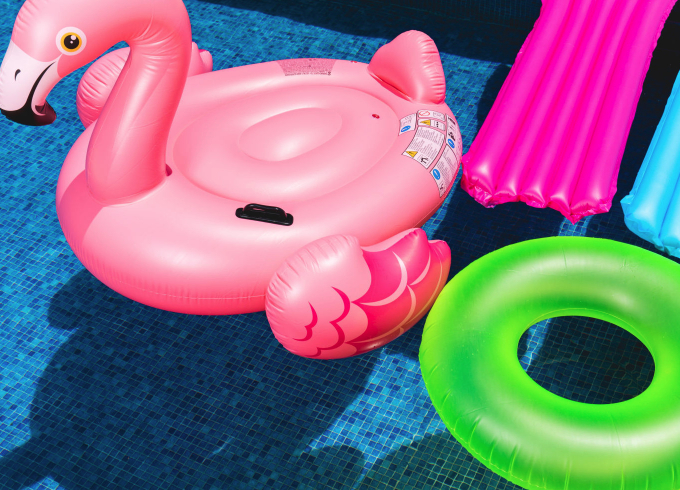 These floats aren't just for the pool though. Nope. They can easily be enjoyed at the lake, and may even be one of the new beach essentials.
The best part is that these pool floats all came from Amazon. Most are available with Amazon Prime shipping, too, so there's practically no delay to having fun.
The Best Giant Pool Floats on Amazon

Links may be commissioned.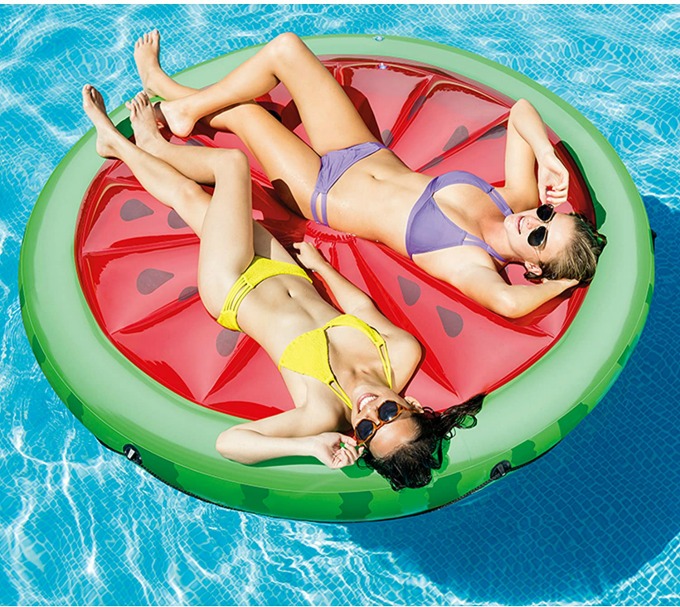 Food Giant Pool Floats
Inflatable Watermelon Island
This large colorful pool float makes for an awesome island for your pool party! It's big enough for two adults, or three kids.
Summery Fruit Floats
This multipack of fun fruity floats adds colorful fun to your summer swimming pool on a budget. Great if you have a bunch of older kids, tweens, or teens.
Pineapple Raft
Take a tropical escape without going further than the pool with this pineapple floater!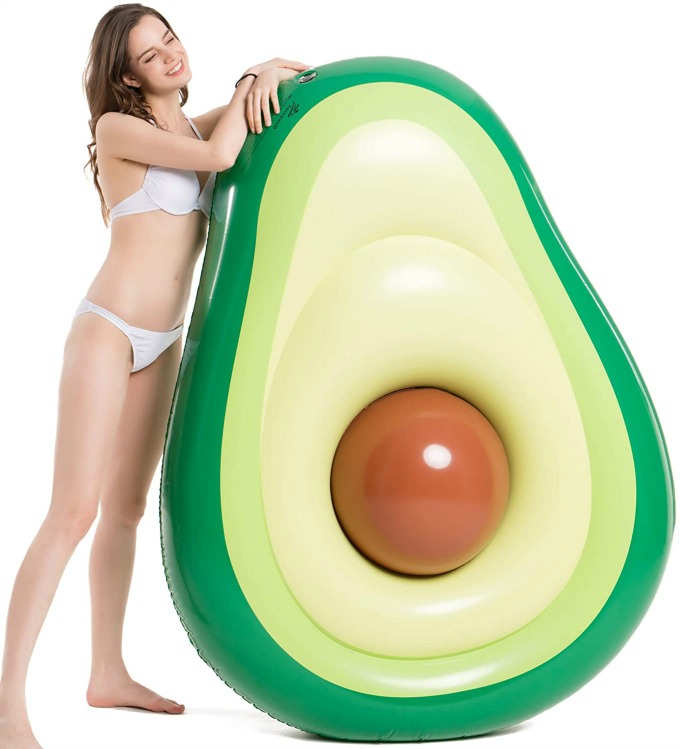 Avocado Pool Float
Float around in tasty splendor with this huge inflatable. It even includes an avocado pit that doubles as it's own ball for more pool fun. So clever!
Donut Pool Float
This donut float looks like it's straight out of The Simpsons. You'll definitely want to spend a day lazily floating around the pool with it.
What better way to spend an afternoon than floating on a giant brick of ramen noodles? These won't turn into soup, though.
On those days when it's hot as Hades outside, and you're looking for ways to cool down in the summer heat, you know what you need? A giant bacon pool float. It's like the law or something.
Animal Giant Pool Floats
Unicorn Pool Float
As if pool days aren't magical enough, now you can float around on a unicorn float. Comes in two sizes, too – a giant one for lots of fun, or a smaller one that's perfect for kids.
Peacock Pool Float
If you look awesome in your swimsuit and want to show off a little, take a cue from this pretty peacock float. This is another awesome giant oversize pool float that can fit a couple tweens on it.
Giant Rubber Ducky Float
Rubber Ducky makes not only bathtime fun. This is sure to be the funnest float in town with a larger than life presentation!
Mermaid Tail Float
Showcase your mermaid vibes with this fab pool float that's available in two great colors. Apparently, you can inflate this pool float with a hairdryer, too. Who knew??
Pink Flamingo Float
This funky bird brings a lot of color and fun to any pool party. The metallic rose gold is right on trend, and add in the matching drink floaty, and there's no doubt who wins the style award.
Fire Breathing Dragon Float
Fire breathing dragon float. What else even needs to be said?!?!? It's also available in a smaller version that's good for kids.
Giant Swan Float
Bring grace and style to the party with these huge and pretty swan pool floats. They're the OG giant pool floats that started the trend. And you can get one in white or black, too.
Don't be a drama llama. Be a cool floating llama with this awesome party pool float. It works for both kids and adults, and is sure to turn heads.
Don't worry – it's safe to go in the water when you have this awesome pool float for adults or kids. It's huge, and makes for a great day hanging out on the water.
Inflatable Dinosaur Pool Float
No one's gonna get too close to you, or your dinosaur will scare them away. This float is great for poolgoers of all ages, and any gender.
Other Giant Pool Floats
Diamond Ring Pool Float
Is it the last fling before the ring? Are you newly engaged? Bring the bling to the Bachelorette party with this unique diamond ring pool float. Perfect for the bride to be, or anyone who loves a little glamour anytime, anywhere.
Millenium Falcon Pool Float
Take your pool party to a galaxy far, far away with this large float. Perfect for the major Star Wars fan in your life.
Aliens have a pretty sweet ride. Now you can get your own retro styled UFO giant pool float that even has a raygun that squirts water on the front. You'll be the envy of everyone.
These are just a few of the amazing giant pool floats for adults and kids that are available on Amazon. Most are available with Amazon Prime, and the vast majority aren't going to break your summertime fun budget, either.