I love fajitas. In fact, it's pretty much my go to meal when we have Mexican food. One of the reasons I always have it when we're out is because it can be difficult to make at home. Steak Sheet Pan Fajitas to the rescue!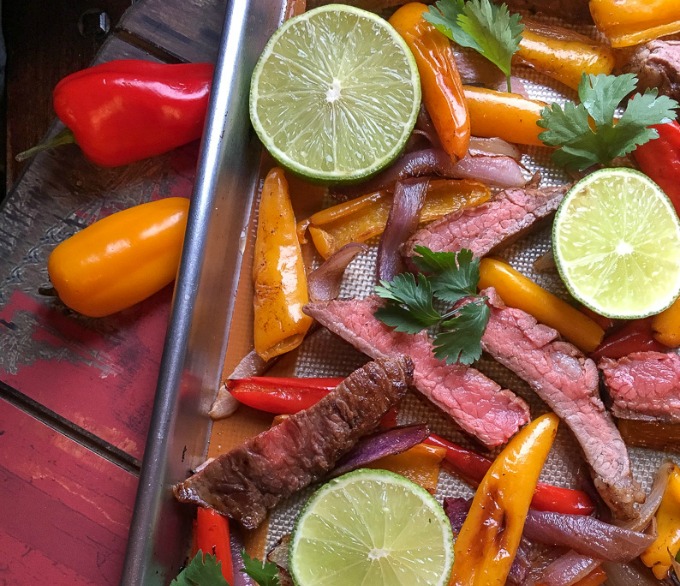 In all honesty, it's not even that fajitas are that hard to make. It just feels like a lot of work, and a lot of watching for carmelization and the perfect level of doneness. This Steak Sheet Pan Fajitas recipe takes most of the effort out of the equation. And it makes enough to feed a crowd. Did I mention it goes from ingredients to table in about half an hour?
Quick and Easy Steak Sheet Pan Fajitas
Links may be affiliate links. We'll make a small commission if you purchase through them.
There are a few things that will make this recipe easier. The first is that you'll want either parchment paper or a silpat liner for your sheet pan. You'll also want to consider using either a 3/4 size or a full size baking sheet. This allows for more room to lay your ingredients in a single layer. This is important so that the veggies get that wonderful caramelization and browning rather than steaming.


Yield: 6
Quick and Easy Steak Sheet Pan Fajitas Recipe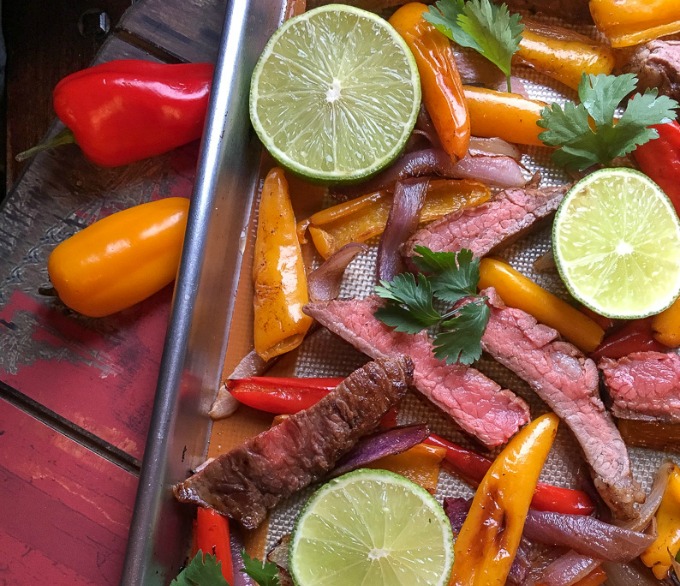 Ingredients
1½ lb. flank steak, sliced into thin strips
1 lb. bag mini sweet peppers, cut in half lengthwise and seeded
1 large red onion, thinly sliced
2 T. extra virgin olive oil
1 T. ground cumin
2 t. chili powder
½ t. cayenne pepper
1 t. red pepper flakes
Sea salt and black pepper, to taste
½ c. fresh cilantro leaves, roughly chopped
1 large lime, sliced
1 large avocado, diced
Corn tortillas or large lettuce leaves
Instructions
Preheat oven to 400°F and line a large, rimmed baking sheet with parchment paper or a Silpat® baking mat. Set aside.
In a large mixing bowl, combine sliced flank steak, peppers, red onion, olive oil, cumin, chili powder, cayenne, and red pepper flakes. Generously season with salt and pepper, to taste, and mix until everything is well coated.
Spread the steak and pepper mixture onto the prepared baking sheet and roast in pre-heated oven for 15-20 minutes, or until the steak reaches the desired level of doneness and the peppers are soft and slightly caramelized.
Remove sheet pan from oven and sprinkle with fresh cilantro and a squeeze of fresh lime juice.
Serve immediately with diced avocado, corn tortillas, or lettuce wraps for a low-carb option, if desired. Enjoy!
Nutrition Information:
Yield:
6
Serving Size:
1
Amount Per Serving:
Calories:

351
Total Fat:

18g
Saturated Fat:

5g
Trans Fat:

0g
Unsaturated Fat:

11g
Cholesterol:

90mg
Sodium:

150mg
Carbohydrates:

13g
Fiber:

5g
Sugar:

5g
Protein:

34g
Isn't that easy? Serve these Steak Sheet Pan Fajitas with some great chunky guacamole or garden fresh salsa. This is great for a special occasion, but also perfect for any weeknight dinner, since you can have the sheet pan steak fajitas on the table in under 30 minutes. That even includes the prep time. WHOA! You can always change it up with chicken or shrimp too. Or make a great big pan of just fajita style veggies for meatless monday or a vegetarian meal. The possibilities really are endless.