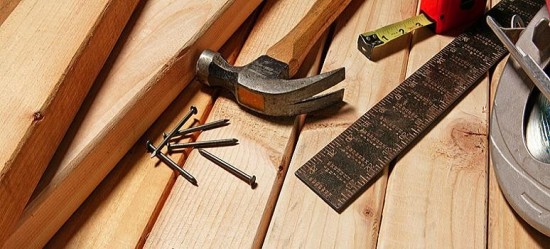 Saving for home repairs is a great habit to start. Some home repair and improvement projects are planned for months or even years in advance. Other home repairs seem to sneak up on us when we least expect them. Either way, the most stressful component of most home repairs is the cost. Too often, you end up spending more than you bargained for.
Be Prepared for Disaster
Home ownership is expensive. You pay your mortgage, insure the property and pay taxes. On top of that, you perform routine maintenance projects that keep everything running smoothly. Unfortunately, despite your best efforts, something is going to go wrong sooner or later, and it's usually at the worst possible time. If you volunteer to make Thanksgiving dinner for the family, your oven will suddenly go on the fritz. If you open up your home to visiting relatives, it's a sure bet you'll discover rotten boards beneath the toilet in the main bathroom. These experiences may be stressful, but they can represent opportunities as well.

See the Bright Side
When something goes wrong in your home, try to see it as an opportunity to make some much needed improvements. You may be able to buy a new appliance or finally renovate the bathroom the way you've been wanting to do for years. As long as you have prepared yourself financially, by saving for home repairs, for these kinds of setbacks, there's no reason to panic when things go wrong. You can actually enjoy the experience.
Saving for the Inevitable
It makes sense for homeowners everywhere to start saving for home repairs before they make their first mortgage payment. Granted, if you're buying a newer house, you probably won't have to make any major repairs for several years. That's great, because it means you can save small, manageable amounts from every paycheck. By the time you actually need to make repairs, you should have a sufficient amount to cover the cost even if you have to replace a roof.
If you've chosen an older home, then it makes sense to be more aggressive about your home repair savings. Unless your home underwent extensive modernization just before you bought it, you can probably expect to start making repairs even within the first couple of years of ownership.
Set Goals
Even if your home doesn't require repairs in the immediate future, it's important to set some savings goals. You can aim to save a particular dollar amount by a certain date or you can use an estimate for a probable first repair project as your goal. Either way, you'll have a measurable, specific goal to meet. This will help with your saving for home repairs.
As you get closer to the target with each paycheck, you'll feel motivated to continue. Your savings will grow steadily, and this should give you some wonderful peace of mind because you know you have the wherewithal to take care of your home.
Do a Little Brainstorming When Repairs Are Necessary
When the worst happens and a home repair bill is inevitable, you will hopefully have saved enough money to cover it. With any luck, you might even have more than you need to complete the repair. This is a great time to consider not just taking care of the immediate emergency, but also looking at related projects that could be completed at
the same time. While you're replacing the rotten boards in the bathroom floor, consider purchasing a new toilet to guarantee that this situation won't happen again. Sometimes, a little forward thinking can mean saving money on future repairs.
Ready, Set, Remodel!
Some home improvement projects are the result of years of dreaming and planning. When you have finally saved the amount you need to remodel the kitchen or build the master bedroom of your dreams, you can rest easy in the knowledge that you have enough to cover the expenses. This allows you to focus on the fun details, like getting new cabinetry or bedroom furniture, instead of worrying about how you'll pay back a home equity loan.
Getting your bank account ready for doing home improvement and repair projects lets you focus on making a better home for you and your family without increasing your debt load.