I am a huge fan of cranberries. I love the zingy, tart flavor, and try to consume as much as I can during the holiday season. Cranberry cocktails, cranberry orange muffins, cranberry sauce, candies, whatever the item is, I'm down. This Pear Cranberry Sauce recipe is quick and easy to make, and will have everyone asking for seconds.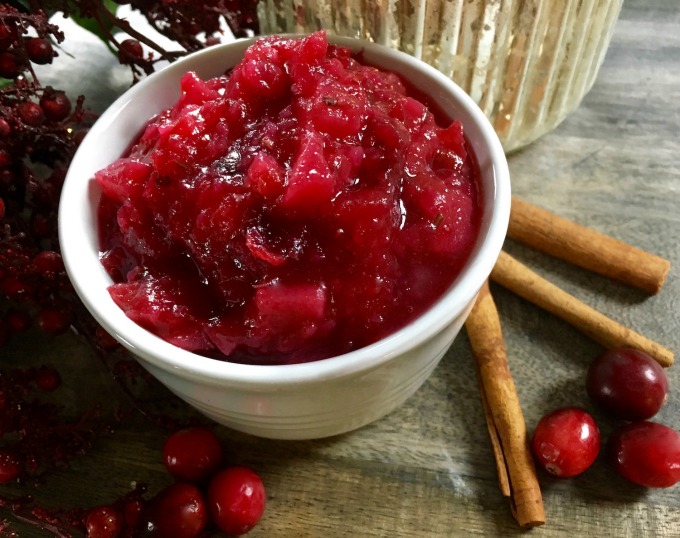 It doesn't use any refined sugar, either, so it's a healthier version of the classic cranberry sauce.
Quick and Easy Pear Cranberry Sauce
This great twist on a classic cranberry sauce recipe gets it sweetness naturally. Using fall's bounty of ripe pears, maple, and a little ginger, it's a sophisticated version of the canned classic that even the kids will love. Links may be affiliate links.


Quick and Easy Pear Cranberry Sauce from Scratch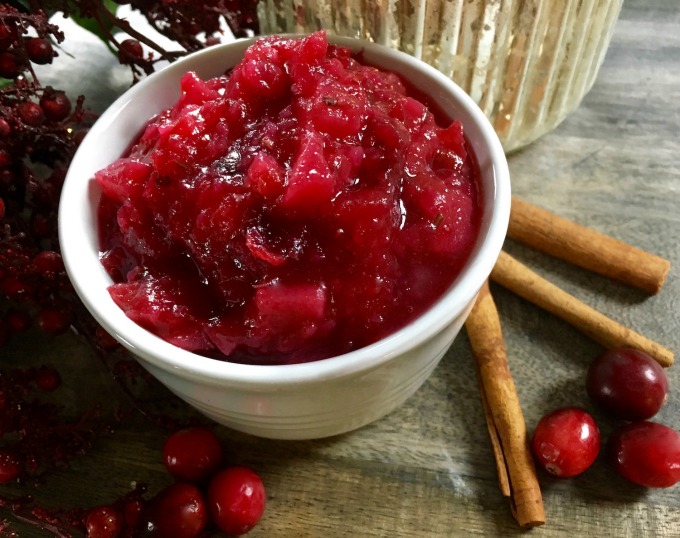 Ingredients
12 oz. fresh cranberries (one bag)
2 medium ripe pears, peeled and diced
2 t. fresh ginger, peeled and grated
3 T. fresh rosemary leaves, finely diced
¾ c. water
Instructions
Add cranberries, pear, ginger, rosemary leaves, maple syrup, and water to a medium saucepan.
Cook over medium-high heat, stirring occasionally, until the mixture starts to boil and the cranberries burst open, approximately 5 minutes.
Reduce heat to medium-low and simmer for another 5-10 minutes.
While cooking, mash the cranberries and pears with a wooden spoon. Season with a pinch of sea salt and stir to combine.
Remove from heat and allow sauce to cool for 15-20 minutes before checking the consistency. Add a little water if the sauce is too thick.
Taste and add more maple syrup for a sweeter sauce, if desired.
Optional: For a smoother sauce, blend one-half of the cranberry mixture in a food processor or blender until smooth. Stir puree back into the remaining sauce before serving.
Serve immediately or chill before serving. Enjoy!
Nutrition Information:

Amount Per Serving: Calories: 359Total Fat: 1gCarbohydrates: 95gProtein: 3g

See how easy that is? It's practically no cooking cooking. If you love cranberries like I do, check out these 13 fab cranberry recipes, too.