Cranberry Orange muffins are usually my favorite things to have. I will rarely pass one up, whenever I see them. Lately, though, I've been a little disheartened by my cranberry muffin options. Enter these Cranberry Pecan muffins with Sweet Orange Butter.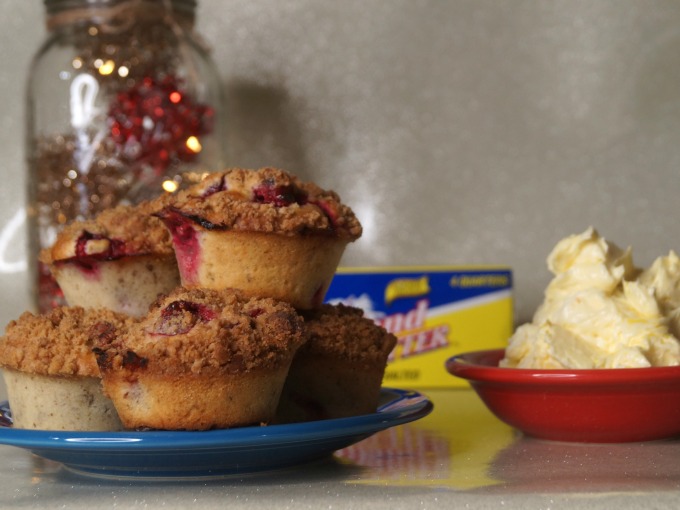 What I've been encountering in the wild is usually bland with no flavor at all and some red chunks of…something. Or they're ridiculously sweet. Now look, I like cupcakes as much as the next person, and I've been known to have a piece of cake for breakfast, but that doesn't mean that's how I want my muffins.
Cranberry Pecan muffins with Sweet Orange Butter Recipe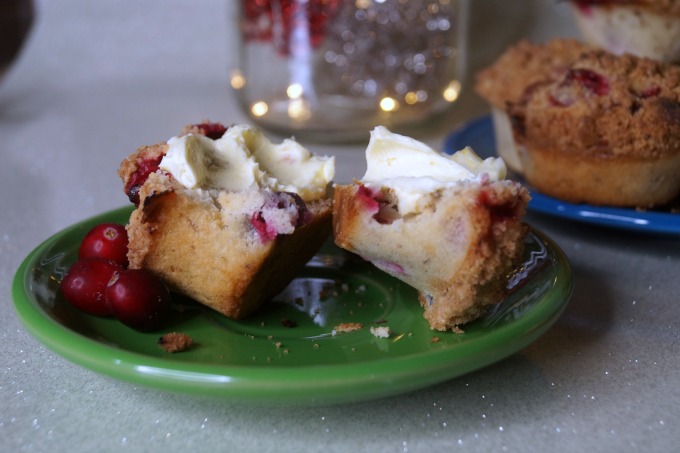 To that effect, I'm creating my own version of Cranberry Orange Muffins. The sweet orange compound butter adds that delicate richness and make these feel really special. They're so easy to make, and everyone thinks you'll have spent a whole day in the kitchen. Shhh…I won't tell.
How to Make Cranberry Pecan Muffins with Sweet Orange Butter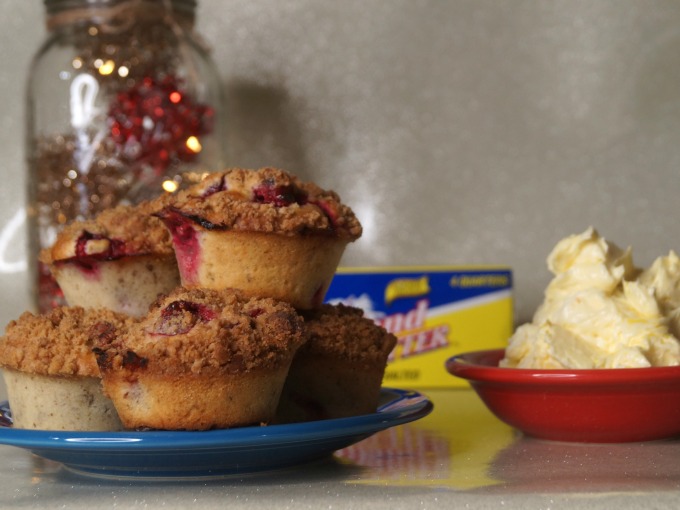 Ingredients
For the Muffins
2 ½ cups flour
½ cup sugar
1 Tbsp baking powder
½ tsp salt
1 ¼ cups milk
½ cup melted butter
1 egg
1 ½ cups Cranberries, whole
½ cup Pecans, finely chopped
For the Streusel
2/3 cup flour
½ cup brown sugar
5 Tbsp softened butter (not melted)
¼ cup finely chopped pecans
½ tsp salt
For the Orange Butter
1 cup butter, softened
1/3 cup Orange Juice concentrate, thawed
1/3 cup Powdered Sugar
1 teaspoon Orange Zest, grated from a fresh orange.
Instructions
For the Muffins
Preheat the oven to 375 degrees.
Prepare at least 15 muffins cups – either spray with cooking spray or line with a paper muffin liner.
Make Streusel Topping. Set aside. See below for directions.
In a medium mixing bowl, add the flour, sugar, baking powder and salt. Stir to mix ingredients thoroughly. Set aside.
In a 2-cup measuring cup, measure 1 ¼ cups milk. Add the melted butter, it should come up to the 1 ¾ cup line. Add the egg to the cup. Measure your vanilla and pour into the measuring cup.
Stir your wet ingredients until they are well mixed. Make sure your egg is blended into the milk. Pour the wet ingredients into the bowl on top of the dry ingredients.
Stir gently, mixing from the sides and bottom of the bowl, until wet and dry ingredients are just incorporated. There can be some lumps in to batter. Add cranberries and pecans. Gently fold 3 or 4 times to barely combine.
Spoon about 1/3 cup of batter into each prepared muffin paper or cup; they should be about 2/3 full. Sprinkle streusel over the tops of muffins.
Bake for about 20 to 25 minutes, until lightly browned and a toothpick comes out clean when stuck in the center of a muffin.
For the Streusel
Place all ingredients in a small bowl and mash together until it resembles bread crumbs.
For the Orange Butter
Whip butter until light and fluffy.
Beat in Powdered sugar, Orange juice concentrate, and Orange zest.
When mixture is well blended, spoon into a small serving bowl.
Nutrition Information:

Amount Per Serving: Calories: 5904Total Fat: 325gCarbohydrates: 735gProtein: 65g

See how easy those muffins were to make? And a flavored butter that took just a couple minutes? Hoo boy!
Hiland Dairy makes it so easy to entertain like a pro. Not only do they have great products – their eggnog is pretty amazing. And their dips? Holla!! Buuutttt…they also give you great tips and ideas when you sign up for their mailing list. Ooohhhh yyyeeeaaaahhhh!!!! And right now, when you sign up for the Hiland holidays newsletter series, you'll be entered to win a Kitchenaid Stand Mixer. SAY WHHHHAATTTT?????