With just two of us, I am all about the quick and easy dinner, like pork tenderloin. When you make it a sheet pan meal, like this Orange Glazed Pork Loin, it's even easier.
The orange glaze really pumps up the flavor, without much extra work. And roasting veggies at the same time as the pork? Oh so good. All the natural flavors are highlighted, plus they absorb a little of that orange glaze. Om nom nom.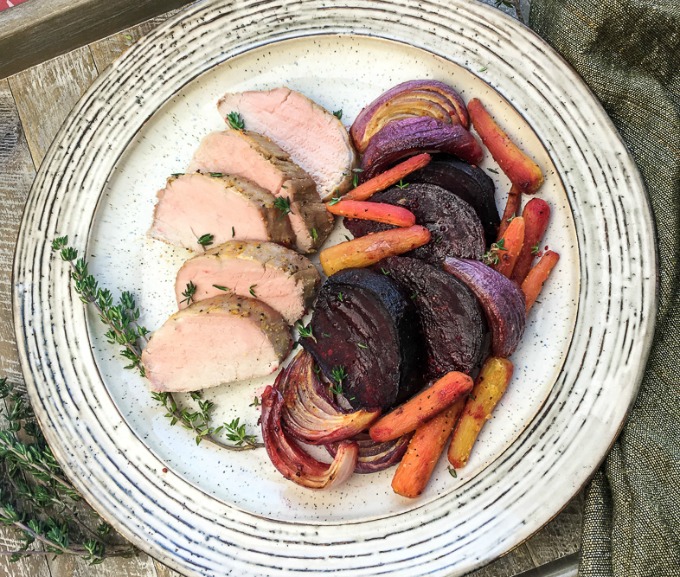 Orange Glazed Pork Loin with Roasted Veggies
Links may be commissioned. Thanks for supporting our site by shopping through them.
We're big fans of pork roasts. One of the things that makes this recipe so simple is that you toss everything on a sheet pan to cook at the same time. You'll need to do a little quick prep, like cutting your veggies and making the glaze, but even that's quick and easy. You can definitely have this Orange Glazed Pork Loin recipe on the table after work, and in about 45 minutes, including your prep time.


This version of sheet pan orange glazed pork roast uses carrots, beets, and onions, but you could really use any type of vegetable you want. It would be delicious with new potatoes or some squash. Just be sure to cut them into small enough pieces that they'll cook at the same time as the meat.
You're going to need a few things for this recipe. They just make life easier. First off, is a baking sheet with higher sides. This keeps all the good juices in the pan, and not all over your oven. Next, you'll want to make cleanup even easier with a nonstick baking sheet like a Silpat or some good old fashioned parchment paper. And a good citrus zester helps you get that delicious orange flavor without the yucky pith. You'll also want a good quality olive oil, but it doesn't have to be the best quality. And a good mustard, or you can make your own mustard. And since you've asked, the plates are from Pier 1.
Yield: 4
Orange Glazed Pork Loin with Roasted Veggies Sheet Pan Recipe
Ingredients
2 T. extra virgin olive oil, divided
2 t. orange zest, preferably organic
3 T. fresh orange juice
1 T. honey, preferably local
1½ T. whole-grain mustard
Sea salt and black pepper, to taste
1½ lbs. boneless pork tenderloin roast
1 large red beet, peeled and sliced
1 12-oz. bag tri-color carrots
1 medium red onion, sliced
2 T. fresh thyme leaves + additional sprigs for garnish
Instructions
Place top oven rack in the center position and pre-heat oven to 400°F. Line a large, rimmed baking sheet with parchment paper or a Silpat® baking mat and set aside.
Whisk one tablespoon olive oil with the orange zest, orange juice, honey, and mustard. Season with salt and black pepper, to taste, and stir to combine.
Rub the orange glaze all over the pork loin, making sure to coat it on all sides. Place the meat in the center of the prepared sheet pan and set aside.
Toss the beets, carrots, and red onion with the remaining olive oil and thyme leaves. Season with salt and black pepper, to taste, and spread the seasoned veggies around the pork tenderloin in a uniform layer without overcrowding.
Place the sheet pan in the pre-heated oven and roast for 25-30 minutes, or until the pork reaches an internal temperature just above 140°F* and the veggies are fork tender.
Remove from oven and loosely cover the roast with aluminum foil. Allow the meat to rest for 5-10 minutes before serving.
Note: 145°F is the recommended minimum safe cooking temperature for pork tenderloin - the internal temperature will rise while it rests. The meat may be a little pink, but it's fine.
Tip: Brush the pork every 10 minutes or so with the orange glaze for even better flavor.
Nutrition Information:
Yield:
4
Serving Size:
6 oz
Amount Per Serving:
Calories:

383
Total Fat:

14g
Saturated Fat:

3g
Trans Fat:

0g
Unsaturated Fat:

9g
Cholesterol:

124mg
Sodium:

294mg
Carbohydrates:

17g
Fiber:

4g
Sugar:

10g
Protein:

46g
Nutritional facts are provided for convenience. They may not be accurate.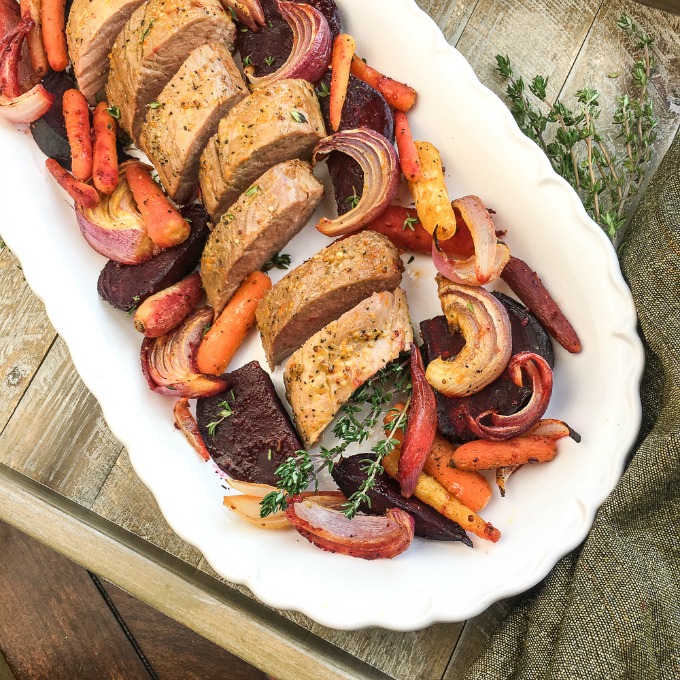 Doesn't that look and sound amazing? And it's so quick and simple. It's not quite a 30 minute meal, but it's awfully close. This Orange Glazed Pork Loin and Roasted Veggies makes a good meal for 4 people, or a hearty dinner and a great lunch the next day for two. You can easily add more veggies to the recipe, too. Just take care not to overcrowd them. Sometimes I add a second pan of just vegetables. Let's face it – oven roasted vegetables are sooooo good – and good for you!
Looking for another great sheet pan recipe? Try these amazing sheet pan steak fajitas.
Like this Orange Glazed Pork Roast with Oven Roasted Vegetables? Don't forget to share on social and save it for later.