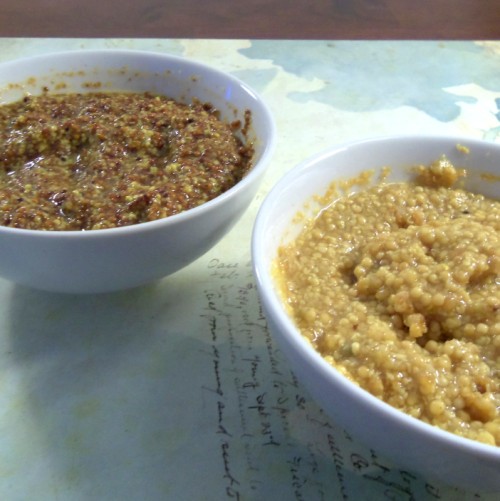 I kind of love mustard.  I might consider marrying it if it were legal.  Well, I probably wouldn't go that far, but you get the idea.
I always have half a dozen different varieties in the fridge, depending on what I'm in the mood for.  A little sweet-hot on a brat?  Don't mind if I do.  Honey mustard for dipping?  Yes please.  Plus you need the standards of plain ol' yellow, a Dijon-style, a stone ground, and whatever other flavors you may come across.
Mustard is super-simple to make.  It's cheap to make, too!
Grainy Mustard Recipe
Makes One Grey Poupon sized jar, about 5 ounces
You will need:
5 TBSP    Mustard Seeds (roughly 1 oz)
1/3 cup    Wine Vinegar
1/3 cup    White Wine
½ tsp       Dried Minced Garlic
½ tsp       Salt (I used Seasoned Salt)
½ tsp       Sugar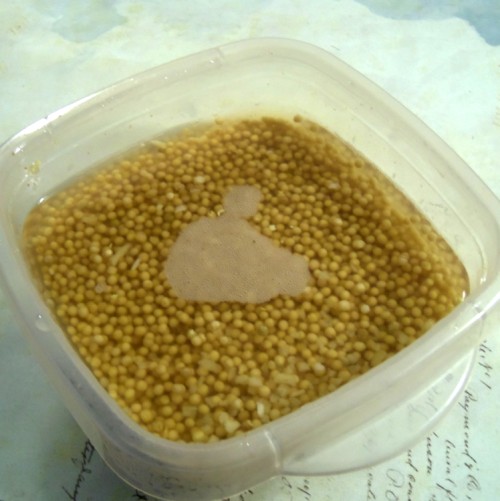 1.) Place all ingredients in a plastic or glass container and mix.  Cover and let set at least overnight or up to 24 hours.  You may refrigerate it, but it's not necessary.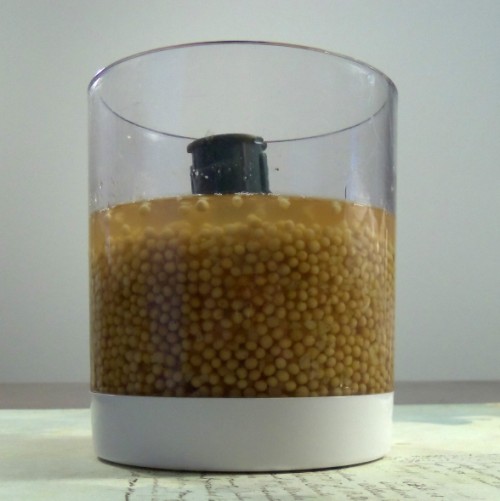 2.) After Mustard seeds have soaked for at least overnight, place mixture in your food processor.  Blend at high speed for a few seconds.  Grind in short blasts until mustard is your desired consistency.  The more the mustard seed is broken down, the hotter the mustard will be.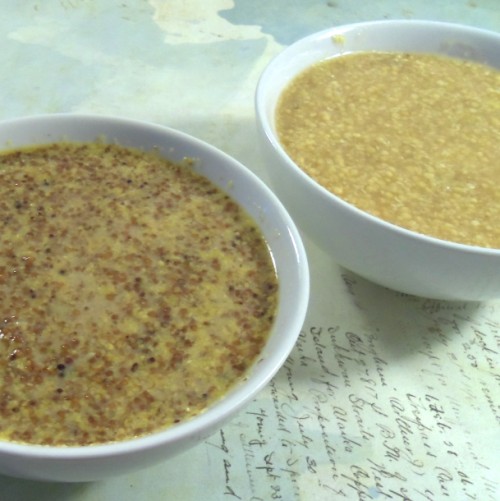 3.) Mustard will thicken as it sits.  It will also thicken slightly in the refrigerator.  This will keep for several weeks in your refrigerator.  This mustard recipe will mellow a little in the fridge.
You won't like the taste of the mustard recipe when it's first made.  Let it sit in a jar or plastic container at least 24 hours before refrigerating.  Then taste it.  If it's still too spicy, let it sit longer.  It will mellow, as long as it's not refrigerated.  Once you refrigerate it, the mustard recipe pretty much stays at that heat level and flavor.
Good Add-Ins:
Honey, to taste
Fresh or dried herbs
1 ½ TBLS grated or dried onion
Use orange juice instead of wine; add a little orange zest, too
Use red wine instead of white
Experiment!  Have fun with it!  I get my mustard seeds at the local health food store, where they run about $0.40/oz.