Roast pork is something that always feels fancy and elegant. For some reason, we tend to keep it for special occasions and holidays. There's a secret though – it's not actually hard to make, nor is it really that time consuming.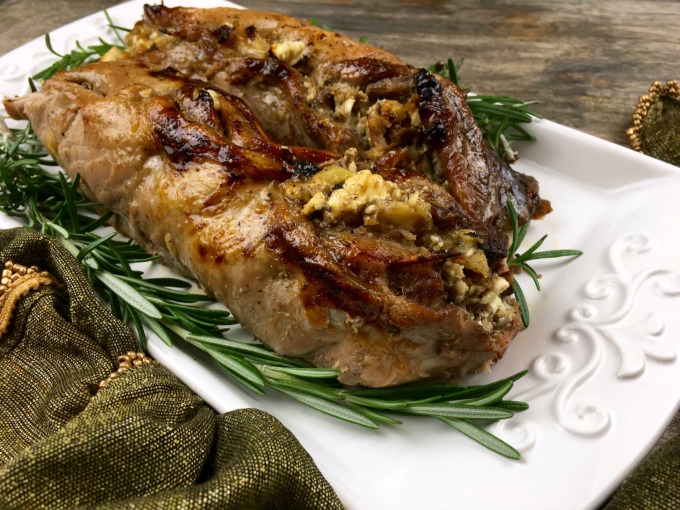 This version feels extra special, as it's stuffed with dates, apples and feta cheese. These give the pork tenderloin roast a great depth of flavor. Serve with homemade Pear Cranberry sauce for a real treat.
Roast Pork Tenderloin with Apples and Feta
This is a great main dish for a holiday, a family gathering, or even just dinner when you have some extra time. Make sure that you get pork tenderloins, and not a normal pork loin roast. Tenderloins are longer and narrower, while pork loin roast are generally pretty evenly sized.


Yield: 6
Roast Pork Tenderloin with Apples and Feta Recipe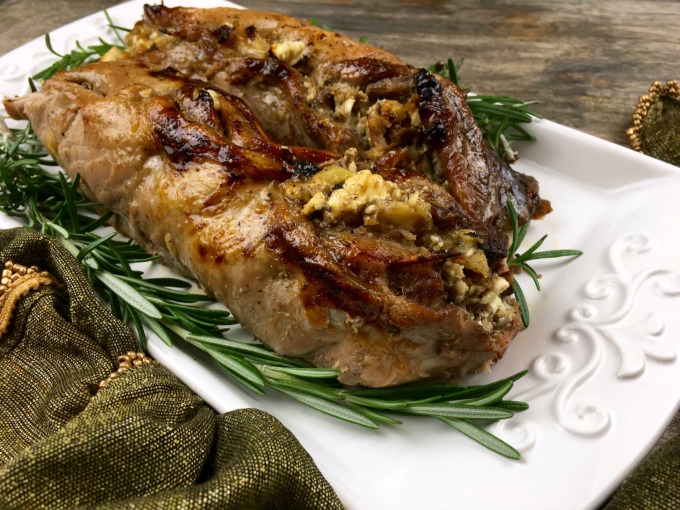 Prep Time 15 minutes

Cook Time 1 hour

Total Time 1 hour 15 minutes
Ingredients
2–2½ lbs. pork tenderloin, butterflied
½ c. unsweetened apple juice
½ c. Riesling, or other sweet white wine
Sea salt and black pepper, to taste
1 T. extra virgin olive oil
2 small Gala apples, peeled and diced
1 small red onion, thinly sliced
1 c. white mushrooms, sliced
2 T. fresh rosemary leaves, finely chopped
1 t. ground cinnamon
1 t. ground cloves
1/3 c. dates, chopped
6 oz. Feta cheese, crumbled
Instructions
Pork tenderloins usually don't come butterflied. To butterfly them, you'll need to cut about halfway through the roast, lengthwise.
Let the pork tenderloin rest at room temperature for at least 30 minutes, but not more than 2 hours, before cooking.
Preheat oven to 425°F. Combine apple juice and white wine in a small bowl and season with salt and black pepper, to taste. Set aside.
Place a sheet of plastic wrap on a clean, dry work surface. Add the butterflied tenderloins on top of the plastic and cover with a second sheet of plastic wrap. Pound the meat with a meat mallet or rolling pin until it's approximately 1/3" thick throughout. Season lightly with salt and black pepper.
Heat olive oil in a large skillet over medium heat. Add chopped apples, red onion, and mushrooms. Cook, stirring occasionally, until the apples are soft and mushrooms and onion are browned, about 8-10 minutes. Season with salt and black pepper, to taste.
Add rosemary, cinnamon, and cloves to the apple mixture and cook for another minute or two, or until the spices become fragrant. Remove from heat and stir in the chopped dates and crumbled Feta.
Spread the stuffing mixture onto the prepared pork tenderloins and roll up tightly. Secure the roasts with kitchen string or toothpicks.
Carefully transfer the tenderloins to a large roasting pan. Using a pastry brush, coat the outside of each roast with the apple cider/wine mixture, then pour half of the remaining liquid into the pan. Sprinkle roasts lightly with salt and black pepper, if desired, before placing the pan into the pre-heated oven.
Baste the pork with the remaining apple cider mixture every 10-15 minutes while it cooks. Check for doneness after 50 minutes and continue cooking until an instant read thermometer inserted into the center of the pork reads just below 145°F. (Temperature will rise while the meat rests).
Remove from oven and cover pan loosely with aluminum foil. Let rest for 10-15 minutes before removing the kitchen string or toothpicks. Slice roasts and serve immediately with a drizzle of pan juices. Enjoy!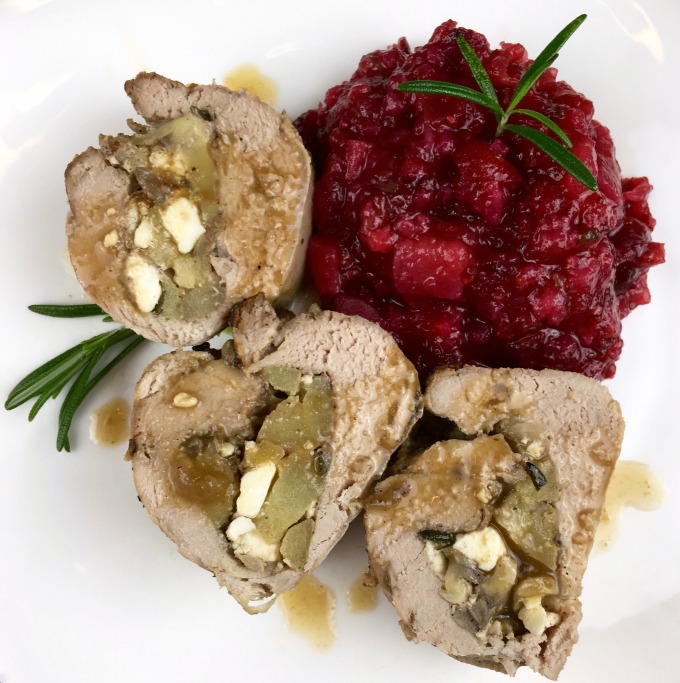 See how easy it can be to make a really great roast pork tenderloin? This version is decadent, but a regular pork tenderloin is even quicker.