It seems that macarons, and not just chocolate macarons, have taken over the world. I admit, while I am fairly adventurous in my taste testing of baked goods, I had not had these delicious little sandwich cookies until maybe a year and a half ago. It wasn't until a french patisserie opened in my town that I tried those little vividly colored jewels.
They were delicious! I now understood why the whole world was consumed by gourmet macarons. Really, though…couldn't you make your own? While I love popping into the bakery and picking something up, these tiny little sandwich cookies are like $2.50 each. I knew I could make these. So, I turned to Pinterest to find a macaron recipe. That is how these gluten free Chocolate Toffee macarons were born.
There are some things that will make making this chocolate macaron recipe a much more enjoyable experience. May be affiliate links. Oh, and because we're using almond flour, these macarons are gluten free, too. You're welcome.
Chocolate Macarons with Toffee Recipe
Yield: 12
Amazing Chocolate Toffee Macarons
Make the classically French delicate sandwich cookie at home, with ease. They're gluten free, too.
Ingredients
2 cups powdered sugar
1 cup almond flour or almond meal
3 tablespoons natural unsweetened cocoa powder
1/4 teaspoon fine salt
3 large egg whites, at room temperature
Pinch cream of tartar
3 tablespoons granulated sugar
For the Ganache
4 ounces bittersweet chocolate chips ( we used Toll house dark chips)
1/2 cup heavy cream
2 tablespoons unsalted butter (1/4 stick), at room temperature and cut into
cubes
Melted chocolate for dipping
1/4 c. crushed toffee bits
Instructions


Place the dark chocolate chips in a large bowl.
Warm the cream in a small saucepan over medium heat until it just starts to boil.
Stir the warm cream into the chocolate without creating bubbles.
Let sit for 1 minute. Add the butter and stir until smooth.
Chill in the refrigerator until thickened but still spreadable, about 30 minutes.
For macaroons
Preheat oven to 350°F.
Line 2 large baking sheets with parchment paper.
Place the powdered sugar, almond flour, cocoa powder, and salt in a food
processor fitted with a blade attachment and pulse several times. Process
until fine and combined, about 30 seconds.
Sift through a flour sifter into a large bowl; set aside.
Meringue recipe - place the 3 egg whites in the clean bowl of a stand mixer fitted with a whisk attachment. Beat on medium speed until opaque and foamy, about 30 seconds. Add a pinch of Cream of Tartar, increase the speed to medium high, continue to beat until the egg whites are white in color and hold the line of the whisk, about 1 minute.
Continue to beat,* slowly* adding the granulated sugar, until the sugar is combined, the peaks are stiff, and the whites are shiny, about 1 minute more. Do not over whip. Transfer the meringue to a large bowl.
Take a rubber spatula, and now gently fold the dry mixture with the egg whites in four different scoops until the dry ingredients are just combined.
Spoon half of batter into pastry bag fitted with 1/2-inch plain round tip. Pipe batter onto each prepared sheet in 12 walnut-size mounds, spacing mounds apart because cookies will spread slightly. Or, use one of the silicone sheets that has macaron measurements on it.
Bake cookies, 1 sheet at a time, until firm to touch in center and dry and cracked on top, about 7 minutes pull the pan put and then rotate and bake for another 7 minutes.
Slide parchment with cookies onto work surface; cool cookies. Repeat with remaining batter, cooling sheets completely and lining with clean parchment for each batch.
Arrange 1 macaron, flat side up, on work surface. Drop 1 scant tablespoon filling onto cookie. Top with second macaroon, flat side down. Press lightly to adhere, making sandwich. Repeat with remaining macarons and filling. Arrange macarons on platter. Cover; chill at least 2 hours and up to 1 day.
Melt chocolate to dip macarons. Dip one side of macaron in melted chocolate and dip in crushed toffee pieces. Let set.
Serve cold.


Nutrition Information:
Yield:
12
Serving Size:
1
Amount Per Serving:
Calories:

356
Total Fat:

8g
Saturated Fat:

2g
Trans Fat:

0g
Unsaturated Fat:

6g
Cholesterol:

22mg
Sodium:

83mg
Carbohydrates:

34g
Fiber:

4g
Sugar:

19g
Protein:

7g
See? While making this chocolate macaron recipe isn't super simple, it's not the worst project in the world. A little time and a little patience will pay off with fantastic results. They're great for a dessert party or a bridal shower, too. If you're looking for another great gluten free dessert, try this Lemon Almond Cake.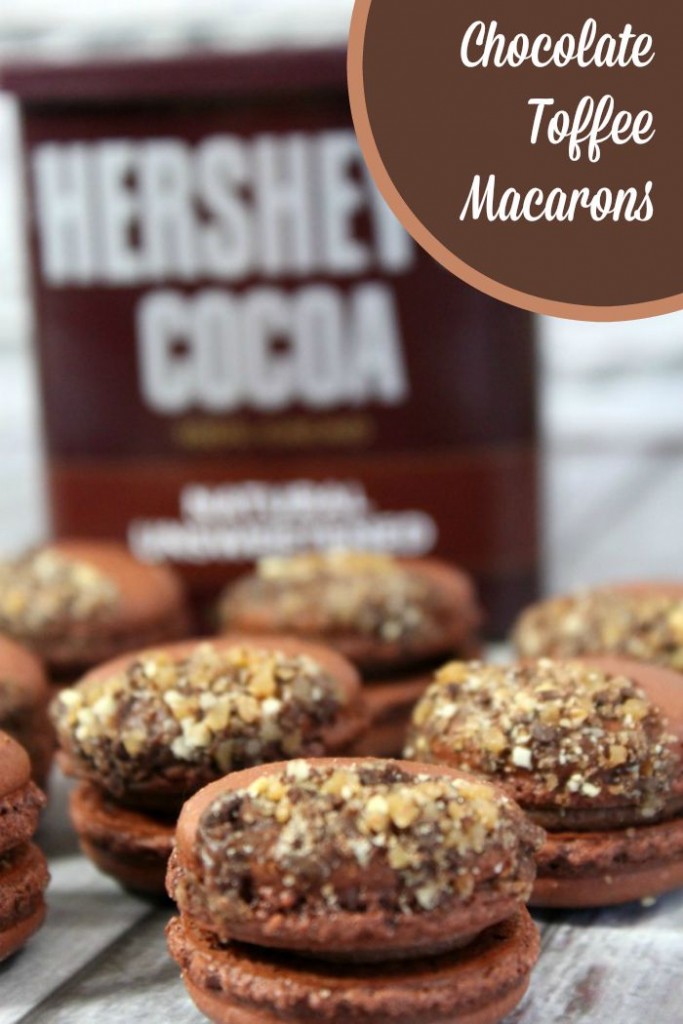 For more fun Pinterest Remakes, here are a few of my favorite bloggers:
Halloween Bloody Eyeballs by Confessions of an Overworked Mom
Halloween Hand Soap by Cutefetti
Sausage, Potatoes & Eggs Breakfast Skillet Recipe by A Mom's Take
Pepperoni Pizza Puffs by Jennifer Sikora
High Fiber Pumpkin Spice Energy Bites Recipe by Sweep Tight
Chewy Cinnamon Raisin Granola Bars by Better in Bulk
DIY Wooden Pumpkins by Mom Does it All
Browned Butter Sugar Cookies by Upstate Ramblings
Slow Cooker Pumpkin Spice Applesauce Recipe by Mom Always Finds Out
Repurpose Project: Men's Sweater into a Boy's Sweater by Our Homemade Life
Have you ever made chocolate macarons? Will you be attempting this gluten free macaron recipe?