I don't know about your area, but we're having a full blown spring that's starting to venture into summer territory in my neck of the woods.  I mean, we're gonna hit 80 degrees this weekend.  HELLO! These warmer temperatures have me thinking about getting my patio ready for the outdoors.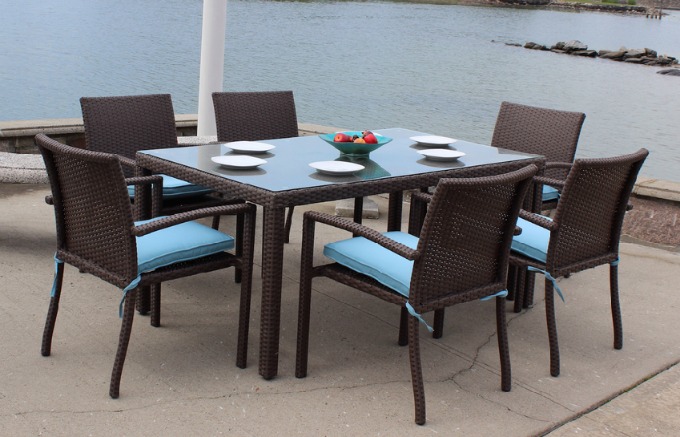 You know what that means around here, right?  Yup…sitting outside with a cool drink and gardening! I need some new patio furniture because, well, those tired plastic chairs just aren't cutting it. I've considered wicker patio furniture, but I don't think it will hold up well. Then the heavens opened, and I thought "Heyyy…what about resin wicker furniture?"

Adding resin wicker furniture is a great way to upgrade the look and feel of your patio setting. Wicker
also has a classic look that's always welcome, and always in style. Today's new looks in resin have added
durability too, in addition to the great looks.
Create a Charming Patio Environment with Select Wicker Pieces
There's nothing like a patio that has a truly inviting feel. A well designed patio should make guests feel
welcome, while also feeling elevated by a touch of personal style. Well crafted, modern wicker furniture
has a clean, classic feel that's timeless and inviting.  Most people still have that vision of wicker furniture as being almost Victorian, it's come a long way, baby.  Wicker looks great with a variety of decorative styles, too, so it can be matched with modern pieces or wood. Wicker also looks wonderful with pottery accent pieces. The versatility of wicker makes it a choice that always works well as decor.
Beyond the natural beauty of wicker, there are practical advantages to choosing this style of wicker
patio furniture, too. The new styles in resin are made to last over years of use, without sacrificing good
looks or comfort. Decorative pillows can be added to wicker pieces to add color and a designer feel, with
the added advantage of making a wicker chair or love seat wonderfully comfortable.
What wicker pieces are right for your patio? Professionals from online shops like Wicker Paradise can
help you find your next chair, table, love seat or rocker. The most important thing is that wicker looks
and feels great.