Everyone knows someone that's all about their barbeque. Maybe they're the pit master. Perhaps it's that person that's always hosting the party, as everything's at their house already. Or maybe they're just a know-it-all that is completely knowledgeable about the intricacies and differences between Kansas City BBQ and Memphis BBQ.
Cooking outdoors is one of the great American pastimes. Traditionally, men have been the grillmasters, but women are proving to be as good or better chefs than the men. There's not that's a whole lot better than a get together and making burgers, or grilling your own steak to perfection.
Here at HWYD, we've culled through a ton of bbq items. We've rounded up some of our top picks for your favorite outdoor chef. Be sure to check out our great gifts for the foodie man for other fab food ideas.
The Ultimate Barbeque Guide
Editorial samples and/or payment may have been provided. Links may be commissioned.

Stainless Steel BBQ Grill
This is a sleek and shiny BBQ from IG BBQ, but don't let its good looks stop you from thinking it's not serious. Far from it; this BBQ is well designed, and ready to cook! From the wheels that make it easily movable, to the side trays that add the little bit of space for plates, sauces, etc., the BBQ is meant to be used.
Oh, and did you notice the full tray on the bottom? The cooking temperature can be adjusted by easily raising or lowering the charcoal pan. It cooks long skewers of food just as easily as chicken or steaks, and cleanup is easy, too – there is an ash tray that slides out, and all you need to do is empty it. For those of you that like to cook with charcoal (like me), this grill is a nice upgrade.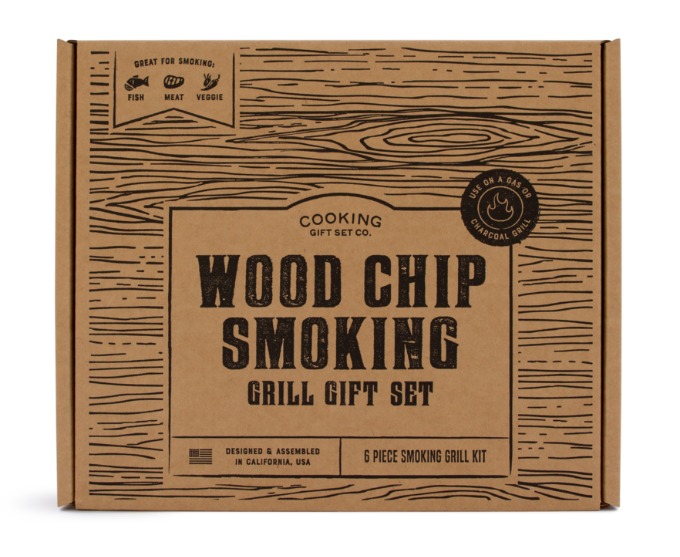 Cooking Gift Set Co Wood Chip Smoking Grill Gift Set
One of the best parts of grilling is smoking things. The Cooking Gift Set Co has put together a Smoking Grill Gift Set. It comes complete with a stainless steel smoking box, wood chips, a meat thermometer, and three varieties of wood chips. Pair this with the Chips Sampler Pack. This pack consists of Wild Oak, Mesquite, and Pecan chips. These are all the quality of chips that you'd find in a great restaurant, and is a fab way to try a new flavor. All wood chips, no fillers or other yucky products.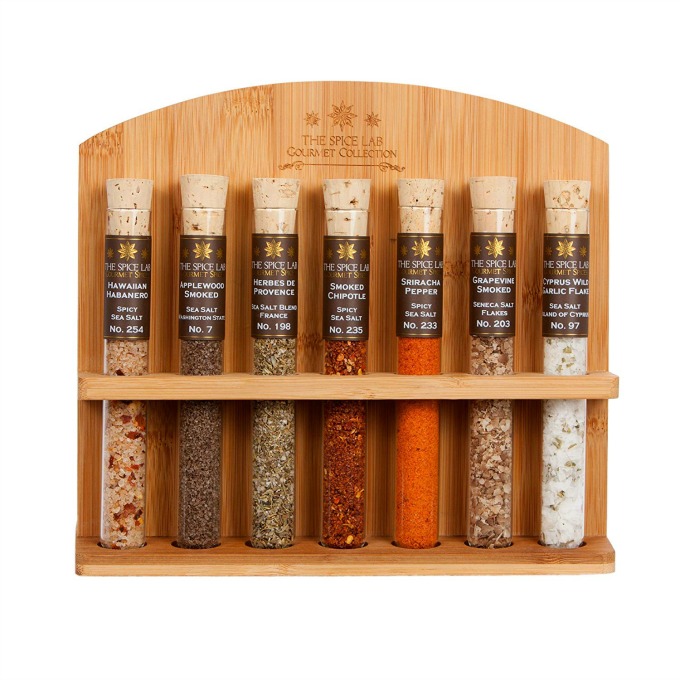 The Spice Lab BBQ Smoked Salt Collection
The Spice Lab is known for their amazing salt samplers that are full of unique and flavorful options for seasonings. We've featured them multiple times, and the BBQ Smoked Salts is no different. You'll receive 7 delicious verities of salts from smoked to various levels of spicy, and even a really good garlic flake salt. This collection comes in their signature test tube packaging in a test tube rack.
Grilltastic Steam Cleaning BBQ Grill Brush
Cleaning the grill is the worst. I think that's part of the reason people don't do it. This grill cleaner from Grilltastic uses s a combination of steam and a wire bristle brush to blast off the hard to clean, charred on bits. The brush scrubs while the steam blasts off the charred-on bits, the grease, and the grime. Better yet, it uses nothing other than steam, so there's no fear of chemical cross contamination. There are no more excuses now!
Handmade BBQ Cleaner
When you need to clean the grill between things, or while you're cooking all day long, consider this grill cleaner. It goes in between the grates, and scrapes off the residue and little bits before they become big chunks. It's a great 1-2 punch when paired with the Grilltastic cleaner.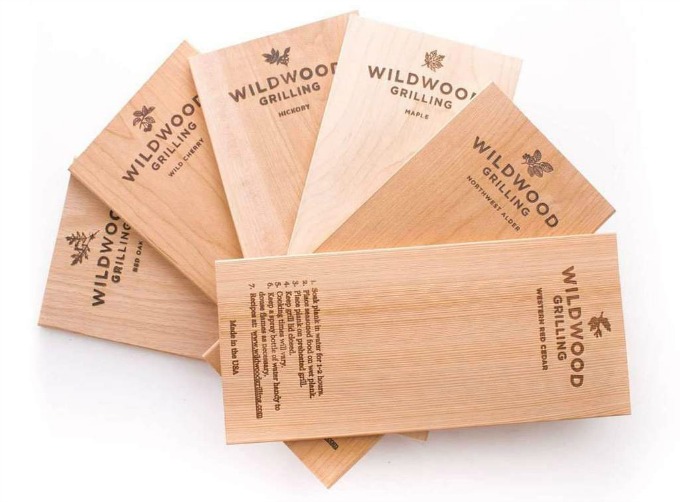 Wildwood Grilling Co Grilling Planks
I'm sure you've seen plank grilled fish or steaks at better restaurants. Now you can make them at home. Wildwood Grilling has put together grilling planks that are the perfect size for anything you want to cook. They're available in varieties like cedar, alder, maple, hickory, and cherry. If it's too cold (or too hot) to grill, you can also use these in the oven.
Cowboy Barbecue Cookbook
This book is a great gift for the pit master in your life. Cowboy Barbecue's whole focus is on Texas style BBQ, and traditional methods that blend Texas style and Mexican cooking. It features recipes like traditional barbacoa, tamales, and even seafood. It's also loaded with recipes for great side dishes that pair well with your smoked main courses. Written by Adrian Davila, the 3rd generation that's running the legendary Davila's BBQ in Seguin, TX.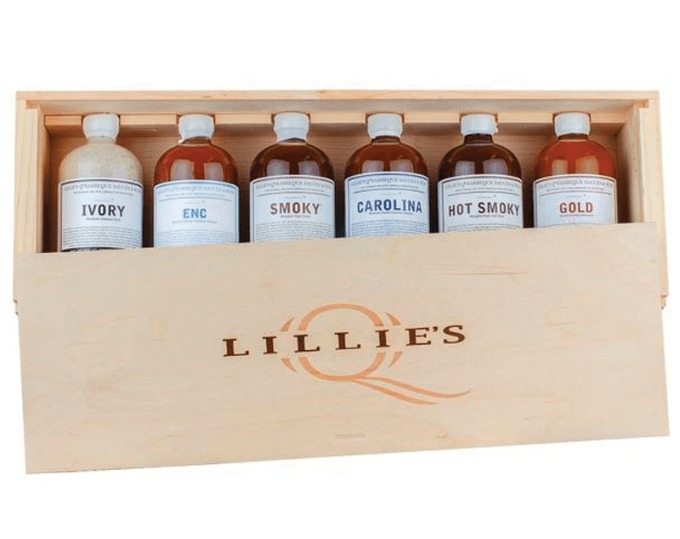 Lillie's Q Barbeque Sauces
Any true barbeque aficionado knows that the various regions have their own style of BBQ, and their own signature flavors. Lillie's Q has captured the flavors of most of the great regions with their line of gourmet sauces. Capture the flavors of the Carolinas through to Memphis with their 6 sauce set sampler. From their version of Alabama white sauce to tangy South Carolina mustard to the smoky flavors of Memphis. And we can't forget the spicy vinegary sauces of North Carolina. There's something here for everyone, and anyone that likes to experiment.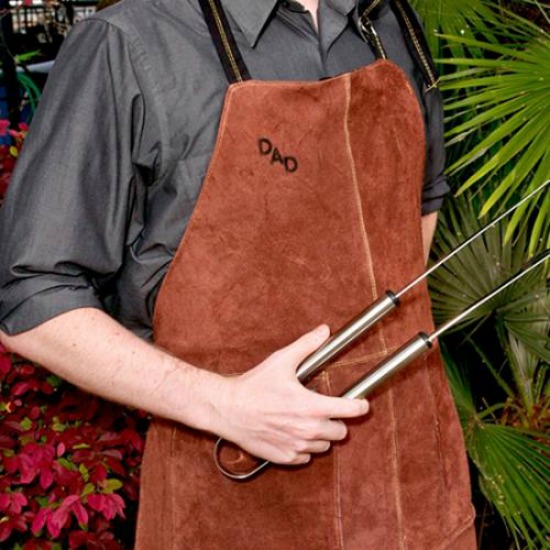 Personalized Leather Apron
Every outdoor cook needs a quality apron, and this leather option from TexasIrons.com certainly fills the bill nicely. It is sturdy, yet soft, and will keep you protected from flames and spills all day long. You can even get it personalized, so there will be no mistake who the cook in charge might be! The apron is made from very soft suede and is lined with cotton for optimum comfort. It is a generous 20 x 30 inches, and is a nice addition to the guy who love to cook outdoors.
Whether it be a new grill or the chance to try new cooking methods, or even the opportunity to explore exotic seasoning and sauces, we've got you and your favorite grillmaster covered.