Lavender has been used as a flavor in other parts of the world for centuries. Try these Honey Lavender Cupcakes for something understated and elegant at your next gathering.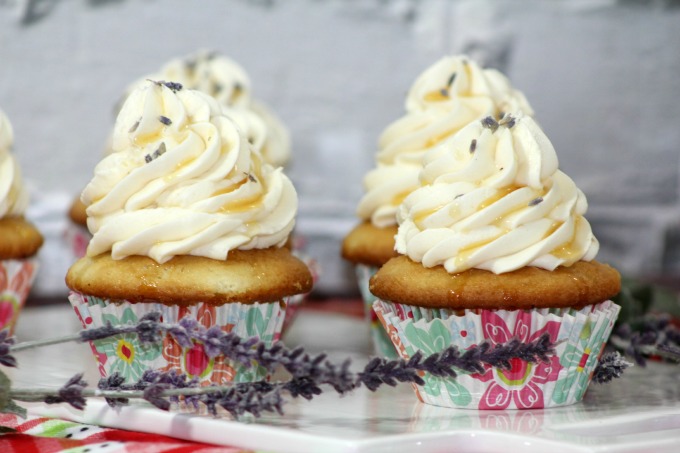 There's a local bakery in my town that makes great little french pastries and candies. One of their signature flavors is lavender. Now, I knew that a lot of places made things with lavender, and in other parts of the world, lavender was a flavor. However, to me, it always seemed like lavender was just a potpourri or sachet ingredient.
One day, the owners made me try some lavender shortbread, and I was hooked. I already love shortbread, so this was just expanding my horizons. Anyway, I decided that I could make Lavender Shortbread at home, so off to Pinterest I went. Then it hit me – rather than doing a lavender shortbread, how about lavender cupcakes for a Pinterest remake? YEAH!!
These cupcakes are a lavender honey cake with honey buttercream frosting. They were then drizzled with a little bit of honey and sprinkled with just a few culinary grade lavender buds. This gives them that beautiful finishing touch that's perfect for an alternative to a wedding cake, or a perfect treat for a bridal shower.
Can you freeze lavender honey cupcakes?
Yes, you certainly can freeze these delicious cupcakes. You'd want to make the cupcake part, and let them cool completely. Then, place the small cakes on a tray, like a cookie sheet or similar, and place them in the freezer. When they're frozen, you can put a single layer of unfrosted cupcakes in an airtight freezer storage container. If you want to layer these, place a piece of parchment paper between the layers. Then bring to room temperature, and ice the cupcakes as normal.
They'll keep in the freezer for a month or two with no issues.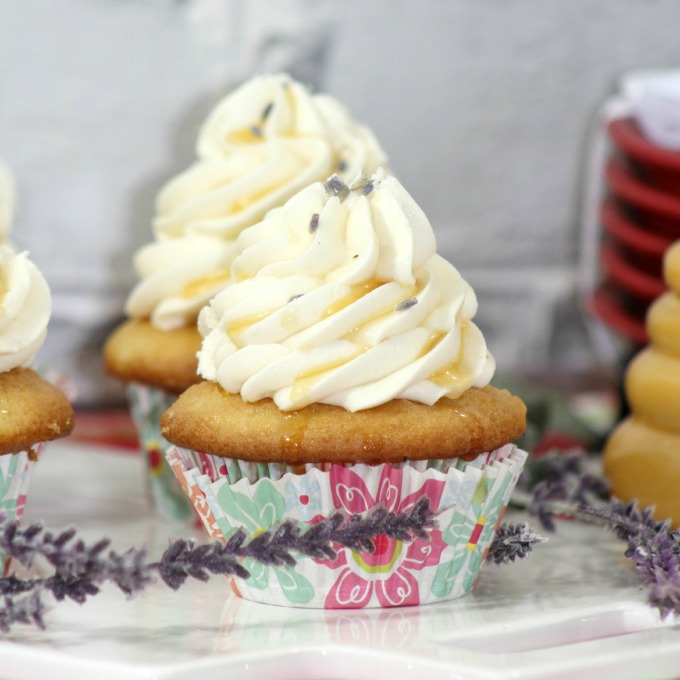 Honey Lavender Cupcakes
Links may be affiliate links


A few tips that will make life easier. You want to use really good quality ingredients in this honey lavender cupcake recipe, as it's very delicately flavored. There's nothing strong to disguise a slightly old butter or a meh honey. You also want a good quality vanilla. Try making your own vanilla extract.
Pick up food grade or culinary lavender. This will be organic and safe to eat. A large star tip makes pretty frosting so much easier. A great mixer is a must have, like a Kitchenaid Artisan series. If you don't have a stand mixer, try this handheld one. It's pretty amazing, and totally budget friendly. I have a very similar one that I use 90% of the time for cooking and baking.
Yield: 16
Honey Lavender Cupcakes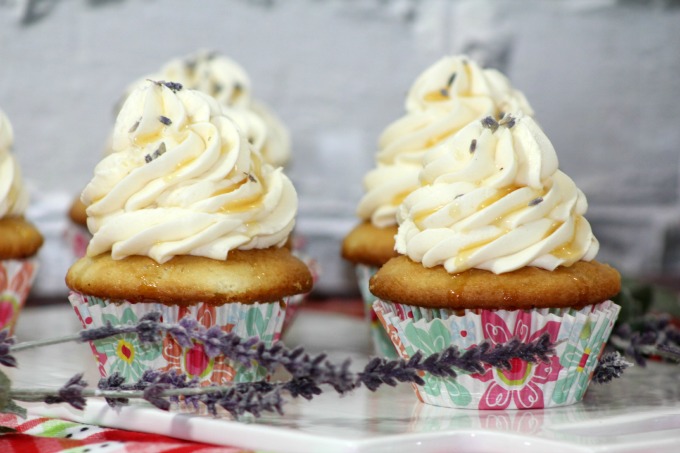 A delicious and elegant cupcake. The lavender adds an unexpected, yet sophisticated flavor.

Prep Time 20 minutes

Cook Time 30 minutes

Total Time 50 minutes
Ingredients
1/2 cup butter, room temp
2 eggs (room temp)
2 cups all purpose flour
1 1/2 tsp baking powder
2 tsp dried lavender - food grade
1/2 tsp salt
1 cup granulated sugar
1/4 cup honey
2/3 cup whole milk
Honey Frosting
4 cups powdered sugar
2 TBSP butter, room temp
1/4 cup honey
2/3 cup milk
Instructions
Preheat oven to 350 degrees F.
Combine flour, baking powder, lavender, and the salt and place to the side.
Beat butter with a mixer on medium to high speed until soft peaks form.
Add sugar, honey, and vanilla to the butter and mix until well combined.
Begin to add eggs, one at a time, to the butter mixture. You'll need to beat the mix well after each addition.
Alternate adding the dry ingredients mix and milk to butter mixture bowl.
Make sure to beat on low after each addition
Fill cupcake liners ONLY 3/4 full
Bake for 16 to 18 minutes
Test the cupcake by using a toothpick inserted in the cake. If it comes out clean, they're done.
Cool cupcakes on wire racks for 30 minutes or until completely cool.
Frosting

In large mixing bowl beat powdered sugar, butter, honey, and vanilla with mixer on medium until light and fluffy.
Frost the completely cooled cupcakes. Use a piping bag and a large star tip for extra pretty presentation.
Drizzle with honey and sprinkle with lavender buds.

Nutrition Information:
Yield:
16
Serving Size:
1
Amount Per Serving: Calories: 833Total Fat: 8gSaturated Fat: 5gTrans Fat: 0gUnsaturated Fat: 3gCholesterol: 43mgSodium: 138mgCarbohydrates: 192gFiber: 0gSugar: 84gProtein: 3g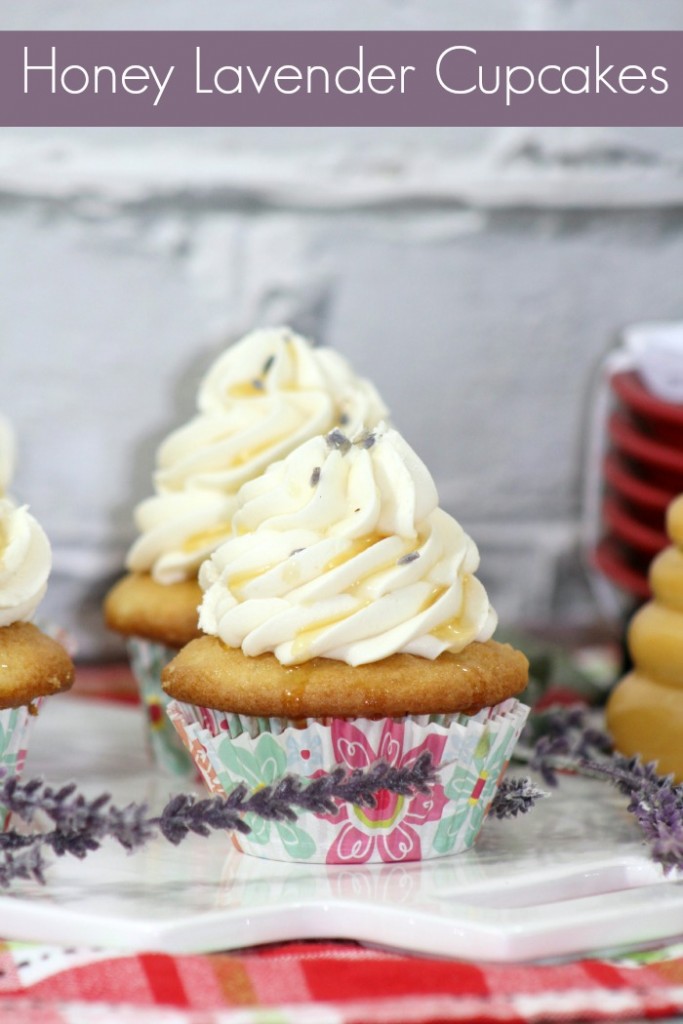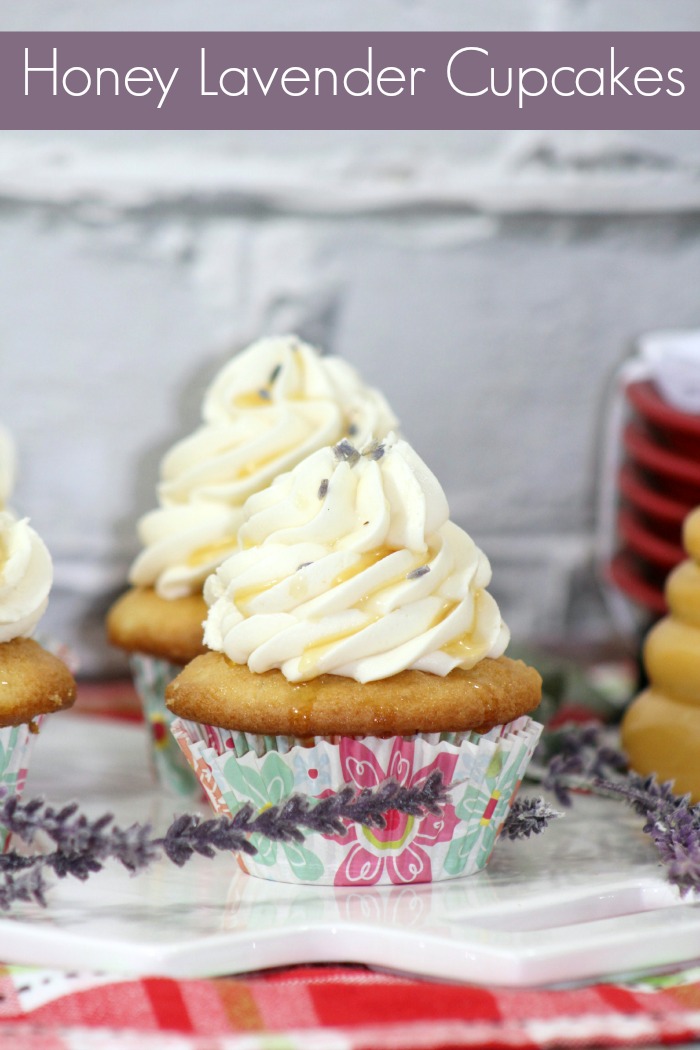 For more Pinterest Remakes, visit a few of my favorite bloggers: