Winter is perfect soup weather. Although soup is one of my comfort foods and I eat it all year long, pairing this slow cooker vegetarian bean soup with cold weather makes perfect sense.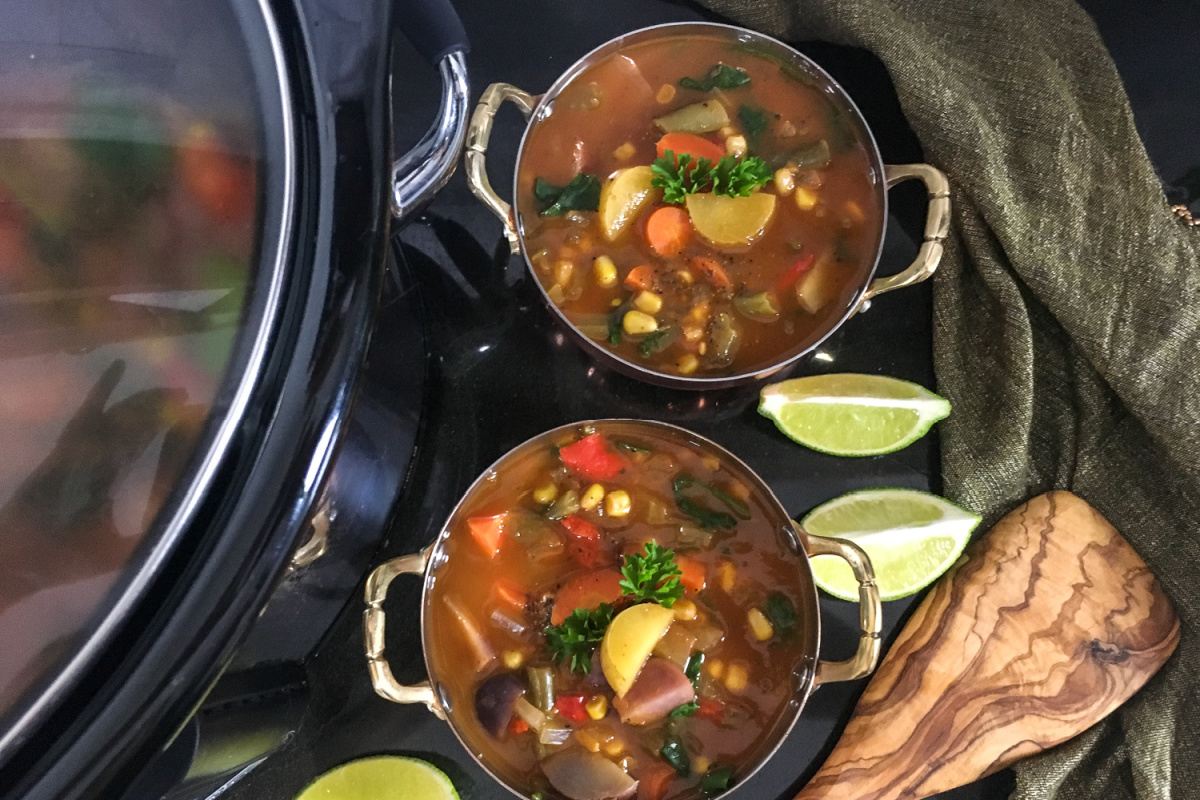 I remember as a kid coming inside from playing in the colder weather, and my mom would lunch waiting. It was usually something like a steaming mug of tomato soup, a grilled cheese sandwich, and it was sooo good.
Soups are, for the most part, easy to make. Just chop your ingredients to a uniform size, and you are half-way to an amazing meal. Soups are flexible, too. You can vary the ingredients and tailor them to what you like or what you have on hand. Exchange beef for chicken, sausage for ham or kidney beans for white beans. It is really up to you.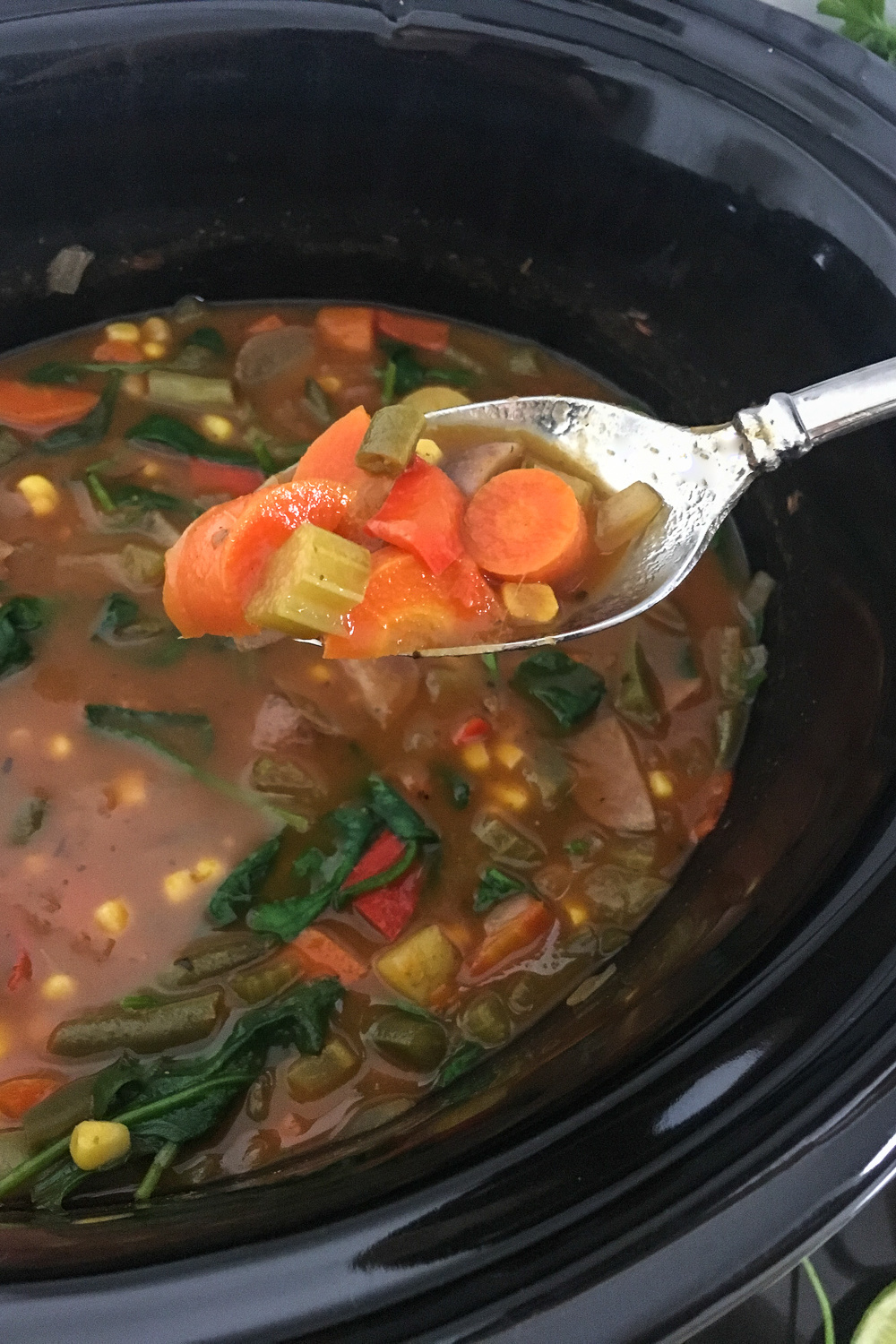 Another great reason to make soup is that it stores in the freezer and refrigerator very well. One of my favorite ways to store it is in pint deli containers. These containers are refrigerator and freezer safe for storage, and can go into the microwave to heat your bowl of liquidy goodness. Just remember that you will need to remove the lid prior to reheating.
What is your favorite way to serve soup?
Hands down, my favorite way to serve soup is with fresh baked crusty bread slathered with butter. I like to dip the bread into the soup while I am eating it, or with some homemade croutons floating on top. It also pairs well with a nice green salad for a lighter meal, or a sandwich for something heartier. And soup is always a great first course to a more formal meal.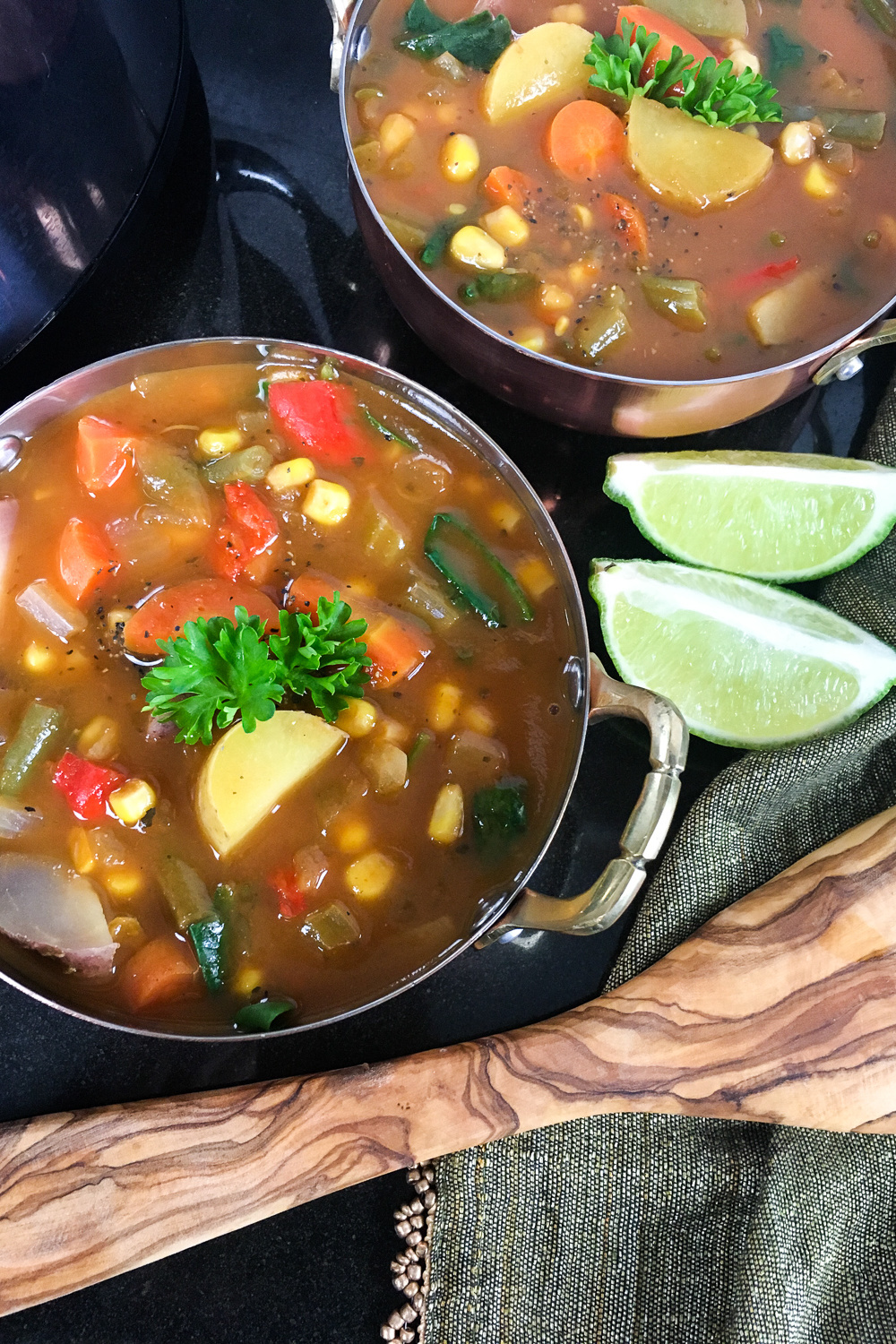 If you haven't made soup before, our Vegetarian Bean Soup is a great place to start. Begin by chopping your vegetables; while chopping, consider the size and texture in the finished soup. Potatoes tend to be soft when cooked, so leave them in slightly bigger pieces. Carrots hold their shape, so they will remain relatively unchanged, only softer. There are suggestions for the chopping of each vegetable in the recipe.
How to Make Vegan Vegetable Bean Soup
Links may be commissioned.
There are a few things that make making this vegetarian bean soup easier. The first is a slow cooker, of course. You'll need one that's at least 6 quart. You'll also want a crockpot liner. These just make cleanup oh so much easier. A good knife set is another kitchen must have. This is a decent set of knives if you're just starting your kitchen journey. If you want to splurge, I recommend these kitchen knives in a block.
Yield: 8
Slow Cooker Vegetarian Bean Soup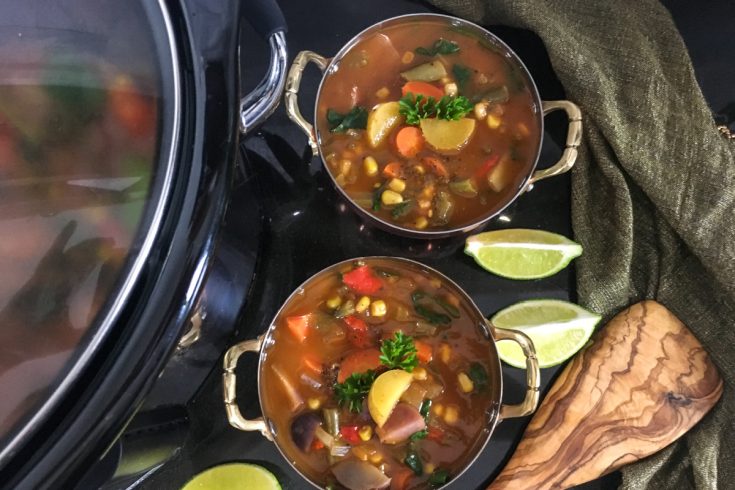 A delicious and hearty vegetable bean soup that's both vegetarian and vegan. It's made in a slow cooker, and oh so easy.
Total Time
8 hours
20 minutes
Ingredients
2 cans of beans of your choice, liquid and all
½ medium white onion, chopped
3 large carrots, chopped
3 large celery stalks, chopped
1 c. green beans, cut into bite-sized pieces
1 c. fresh or frozen whole kernel corn
¾ lbs. tri-color potatoes, chopped
1 medium red pepper, chopped
1 T. Italian seasoning
1 t. garlic powder
1 c. tomato puree
3 c. vegetable broth
Sea salt and black pepper, to taste
2 c. fresh baby spinach, roughly chopped
3 T. fresh lime juice
Optional Garnish:
1 large lime, sliced
3 T. fresh parsley, chopped
Instructions
Combine the chopped onion, carrots, celery, green beans, corn, potatoes, red pepper, Italian seasoning, and garlic powder in a 6-quart or larger slow cooker.

Add the cans of beans, tomato purée and vegetable broth. Season with salt and black pepper, to taste, and stir to combine.

Cover and cook on high for 4 hours or on low for 8 hours.

Remove lid and stir in baby spinach and fresh lime juice. Taste and season with additional salt and black pepper, if desired.

Cover and let simmer for 5 minutes or just until the spinach is wilted.

Serve immediately garnished with lime wedges and fresh parsley, if desired. Enjoy!
Nutrition Information:
Yield:
6
Serving Size:
1
Amount Per Serving:
Calories:

141
Total Fat:

1g
Saturated Fat:

0g
Trans Fat:

0g
Unsaturated Fat:

1g
Cholesterol:

0mg
Sodium:

450mg
Carbohydrates:

32g
Fiber:

6g
Sugar:

8g
Protein:

5g
Nutritional information is provided as a courtesy, and may not be accurate.
Tips and Tricks
You can use boullion cubes and water for the stock, but a better choice is to use one of the prepared stocks available at the store. They depend on the real food ingredients for flavors, whereas boullion tends to rely on salt for its flavor. You can even make and use homemade stock, but it is a long process if you are just learning to make soup. Homemade stock is a recipe for another day.
The vegetarian bean soup recipe calls for fresh green beans, but it's definitely fine to use frozen ones. As a bonus, you can get frozen green beans that are already cut into bite size pieces. I call that a win.
As this is a vegetarian recipe, there is no meat. We have added beans to help give our soup a little more substance. Add a can or two of whatever beans you like. You can use white beans, pinto beans, chickpeas, or a handful or two of dry lentils added with the vegetables. Chili beans with their little bit of spice would be a good choice, too.
If you aren't vegetarian, you won't miss the meat in our soup. But if you want a meat-based soup, feel free to use our Vegetarian Bean Soup recipe as a jumping off point, and add some bite sized chicken, beef or sausage to your soup. Ham is also a great option. Cut it into ½ inch pieces and add about 1 to 1 ½ cups with the vegetables.
Frequently Asked Questions
How long does this soup last?
Our slow cooker vegetarian bean soup will keep for 4 or 5 days in the fridge, or about 3 months in the freezer. Heat frozen soups to boiling before eating.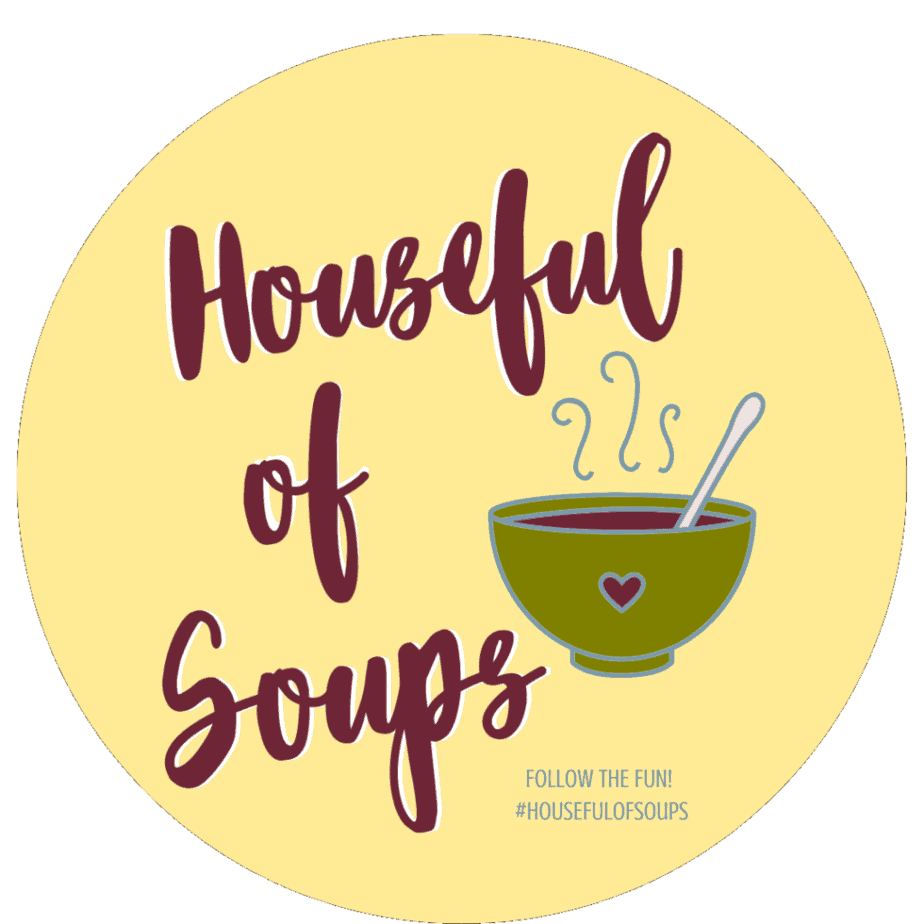 More Soup Recipes
Check out these delicious soups from our friends.
Tuscan Bean and Butternut Squash Soup from Day by Day in Our World
Zuppa Toscana Soup from Houseful of Nicholes