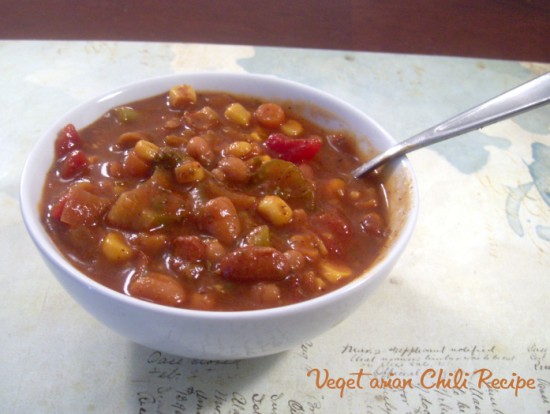 I love chili. I like it in the winter when it's cold and dreary outside. It's a kind of stick to your ribs meal that leaves you full and satisfied. Of course, I also like it in summer because I'm weird. I make this Vegetarian Chili at least once a month. I load it up with whatever vegetables are in season at the time. In the summer, it's fantastic with zucchini.
Vegetarian Chili Ingredients
1 Large onion, diced
8 oz. Mushrooms, chopped
3 Cloves Garlic, smashed
3-4 TBSP oil
2-3 Stalks Celery, thinly sliced
2-3 Large Carrots, thinly sliced or diced
2 Cups Broccoli, chopped (I used one large crown fresh)
1 15 oz can Sweet Corn
1 15 oz can Tomato Sauce
1 15 oz can Diced Tomatoes
2 15 oz cans Beans (I used a can of vegetarian pork and beans, and a can of chili beans)
1-2 TBSP Chili Powder (I use a mild one)
1 tsp Cumin
1 tsp oregano
Salt and pepper to taste (I use a seasoned salt blend)
Of course, if you like it spicy, you can adjust for your own flavorings. We're mild food eaters here.
Vegetarian Chili Directions
Place your soup pot (at least 5 quarts) on medium-high heat and add the oil.
Chop the onion and put it in the pan. It should be sizzling, but not burning.
Start chopping the mushrooms, and add to the pan as you chop them, along with the garlic. Stir a couple of times as you are chopping each vegetable to add in.
Chop/slice celery and carrots next, add to the pan.
Chop the broccoli (or add a bag of frozen chopped broccoli).
Stir every 2-3 minutes, and cook about 10 minutes.
Open your cans and dump them into the pan.
Add a couple of cans water. I usually use the tomato sauce can, and rinse the extra sauce out of it.
Stir. Taste for seasoning. Add salt, but with a light hand. You will be cooking the broth down, and you don't want it too salty.
Add the other spices; bring to a boil. Turn down heat to medium, where it should simmer. Simmer uncovered for a total of about 45 minutes, stirring every 10 minutes or so. After a half hour, taste for seasoning. Add more of whatever it needs – salt, chili powder, cumin. Continue cooking for another 15 minutes. It should be slightly thicker, and will thicken more upon standing.
Serve with optional garnishes – shredded cheddar cheese, sour cream, chopped tomatoes, chopped onions, jalapenos.
It tastes better the second day – it makes leftovers!
Total time: 90 minutes
Cook time: 90 minutes