A mirror is one of the designer's secrets to add a finishing touch to a room. It just adds that little sumtin-sumtin that you couldn't quite place what was missing.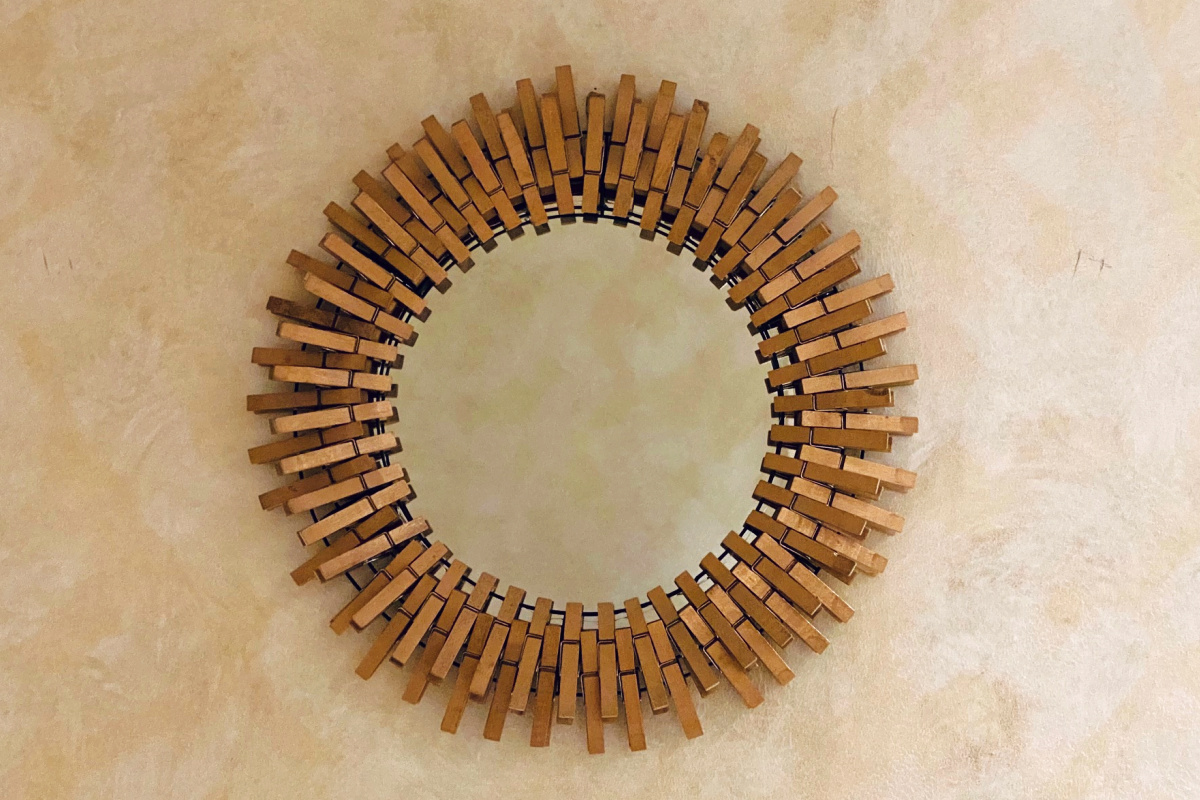 Mirrors can be sooo expensive though. This DIY Copper Clothespin Mirror has a lot of Mid Century Modern style, and is really budget friendly. Plus, who doesn't love a DIY home decor project?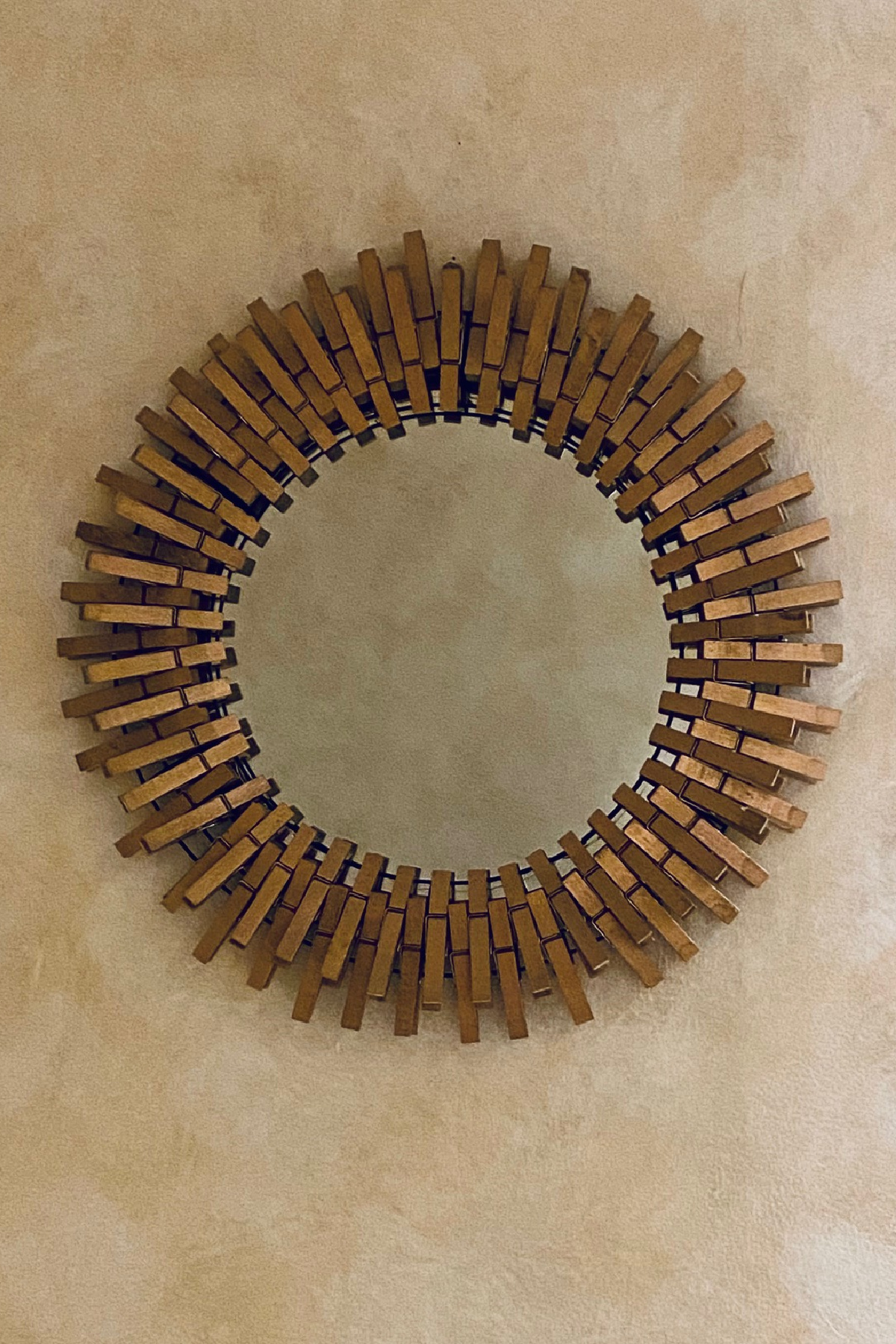 I can hear you now. Clothespins? Really?? Yes, really! They add a great textural touch, are easy to come by, and are pretty cheap. Plus, the finished mirror looks sooo cool! No one would guess that you have a clothespin mirror hanging in your home, unless you either tell them, or they get up close and personal with it.
How to Make a Copper Clothespin Mirror
Links may be commissioned.

Supplies:
You can also get the clothespins and wire wreath form at Dollar Tree. That's actually where ours came from.
Instructions: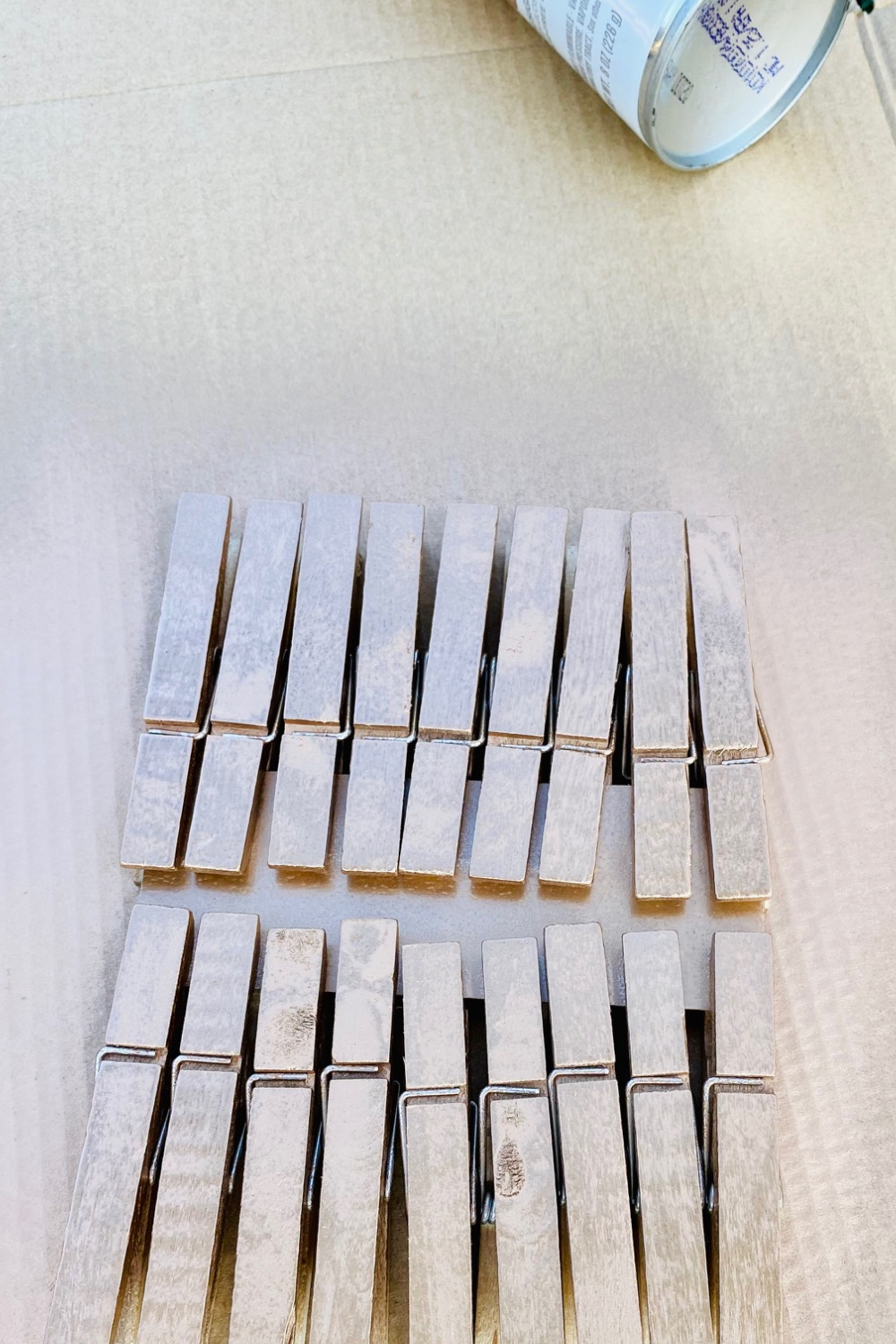 Start by spray painting all of the clothespins. You will only need about 2 1/2 packs. Once they are completely dry, you can flip the clothespins over and paint the backside. This is purely optional, as you may feel the clothespins are covered enough from the first spray. I didn't need to as I got a lot enough coverage from the first spray painting.
Start by opening a clothespin and clipping it onto the first and second wire sections of the wreath form. Clip the next clothespin onto the second and third wire section. The clothespins will be staggered. Repeat this pattern until you have the entire wreath form covered.
Once all of the clothespins have been added, flip the wreath over and add a small dot of E6000 glue to every other clothespin. On the off (non-E6000) clothespins, add a bit of hot glue.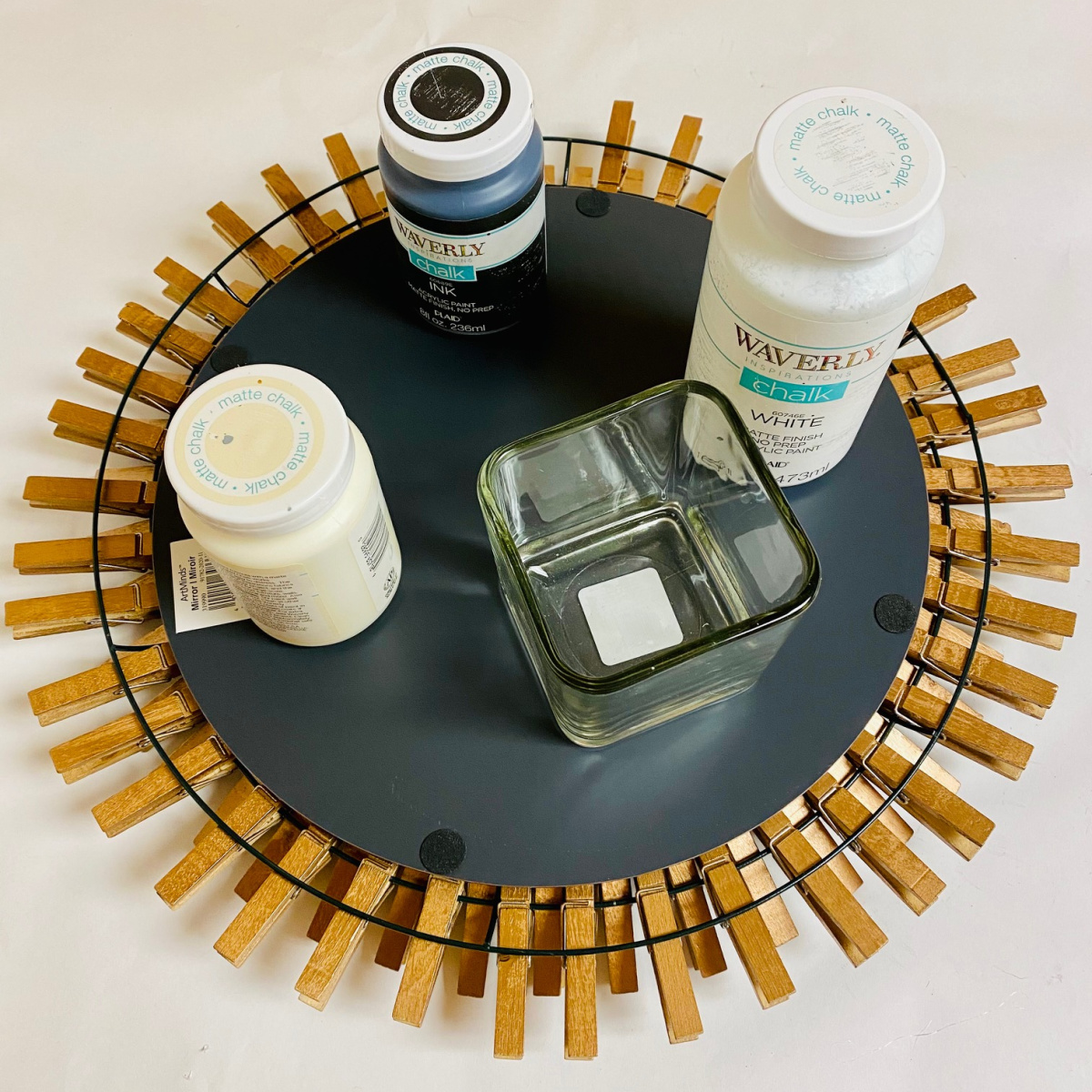 Place the the mirror on top of the glue, face down. I then added some weight and let it sit over night.
Voila! You have a pretty cool Copper Clothespin Mirror that was super quick and easy, and didn't take too long to make. It's going to look amazing hanging in your home.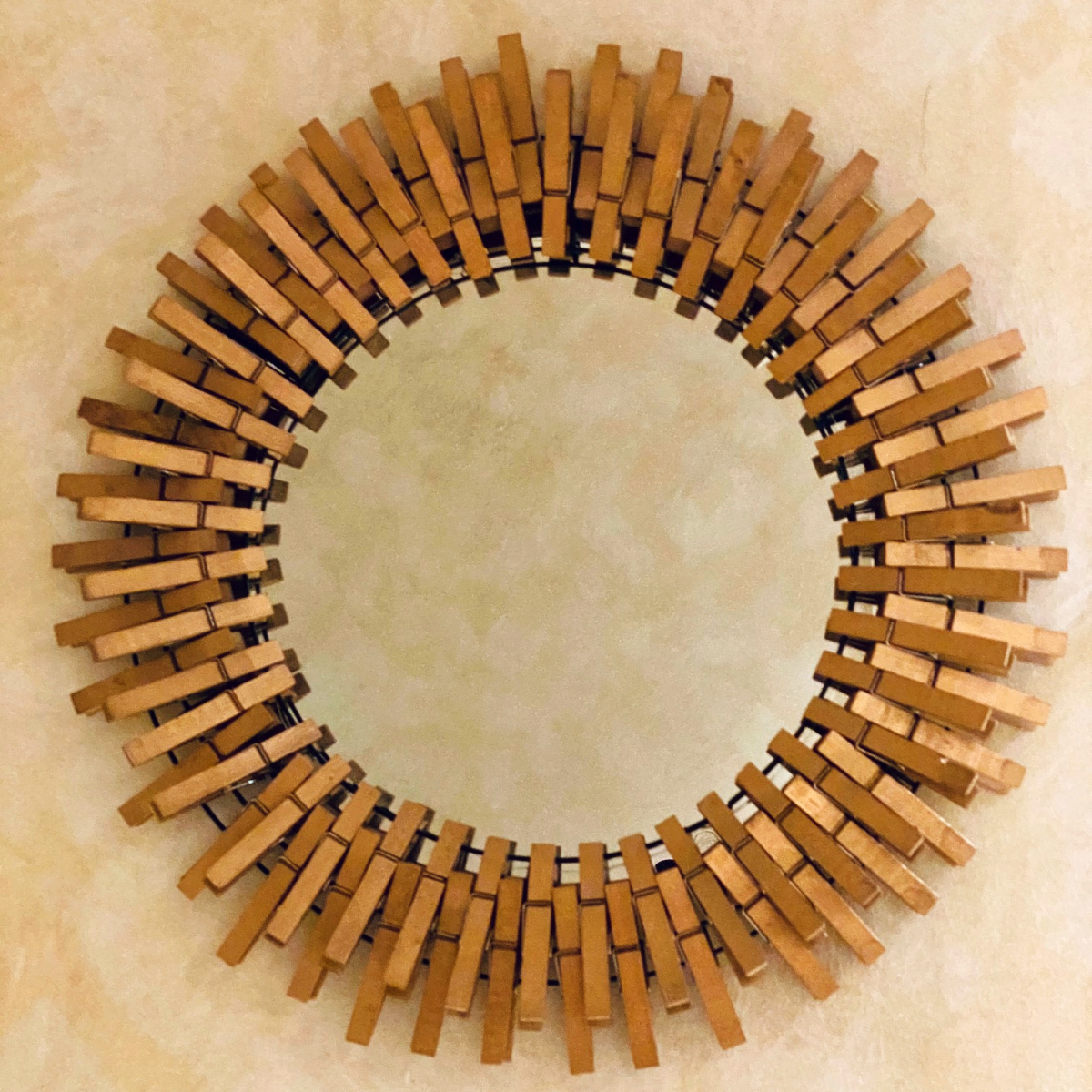 Frequently Asked Questions about Clothespin Mirrors
Can I paint this a different color?
If you wanted to change up the look, you could definitely paint this another color. I, personally, really like the copper metallic tones, and the Mid Century Modern vibes it creates. It would look great in a high gloss paint or lacquer paint of any color. This mirror would also look good painted in matte white or chalk paint tones for a rustic setting.
I love this clothespin mirror, but it's too small. Can it be made larger?
It's easy to make this larger. You'll simply need a larger wire wreath frame and more clothespins. You'll also want a larger centerpiece mirror. Conversely, if you want to make it smaller, use a smaller wire wreath form and a smaller center mirror.
I already have a mirror. Is there a way to repurpose this?
It's easy to make this a wreath! Simply omit the mirror. It would be a great art piece, too.