One of the great things about being an adult is decorating your home. You don't have your parent telling you that you can't tape stuff to the wall, or no pushpins because they'll leave holes.  You truly get to do what you want. The worst part is when you live in an apartment or a rental. Unfortunately, you usually DO have someone telling you that you can't paint or no holes in the wall.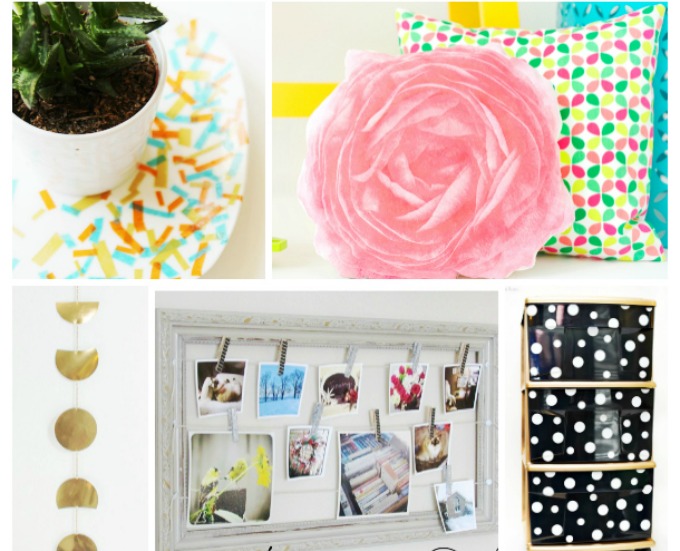 What's a trendy, DIY loving person to do?  Well, we've rounded up some really great Apartment Decor DIY project ideas that will rock your socks off.  Even better, they're all transportable, so you can take them with you when you go.
21 Great DIY Projects for Apartment Dwellers
These great DIY projects are fantastic for those that aren't in their forever home. You can easily personalize your space, and make it your own.  And when you're ready to move, you just pack 'em up, and take them with you!
Delia Creates – Simple Painted Vase
DIY Inspired- Wall Mirrors Makeover
As The Bunny Hops – Kate Spade Inspired Storage Cart
DIY Candy- DIY Floral Hanging Frame
Dream a Little Bigger – Wood Desk Chair Makeover
Things to Share and Remember – Picture Clip Frame
Mod Podge Rocks- Confetti Plate for a Plant
DIY in PDX – Easy DIY Moon Phases Wall Hanging
The Crafted Sparrow – DIY Hello Sign
Persia Lou – DIY Brick Neon Sign
Damask Love – DIY Photo Transfer Fabric Flower Pillows
Lolly Jane – Anthropology Inspired Zinc Letters
A Pair And A Spare – DIY  Ladder Shelves
Bright & Bold – DIY Wallpaper Dresser Drawers Makeover
One Artsy Mama – DIY Crate Bookcase
Cashmere and Plaid – DIY Crate TV Stand
Dream a Little Bigger- $6-Throw Ladder
Settling in Sawdust- 'Come Back with Tacos' Doormat
Paper and Stitch – Giant DIY Mood Board Organizer
Why Don't You Make Me – DIY Hanging Shelves
How Was Your Day? – Wood Pallet Coat Rack and Shelf
See how great your space can look with a bit of creativity and ingenuity?  Oh, and elbow grease!