The holiday season is the perfect time to unleash your creativity and add a touch of festive flair to your home decor.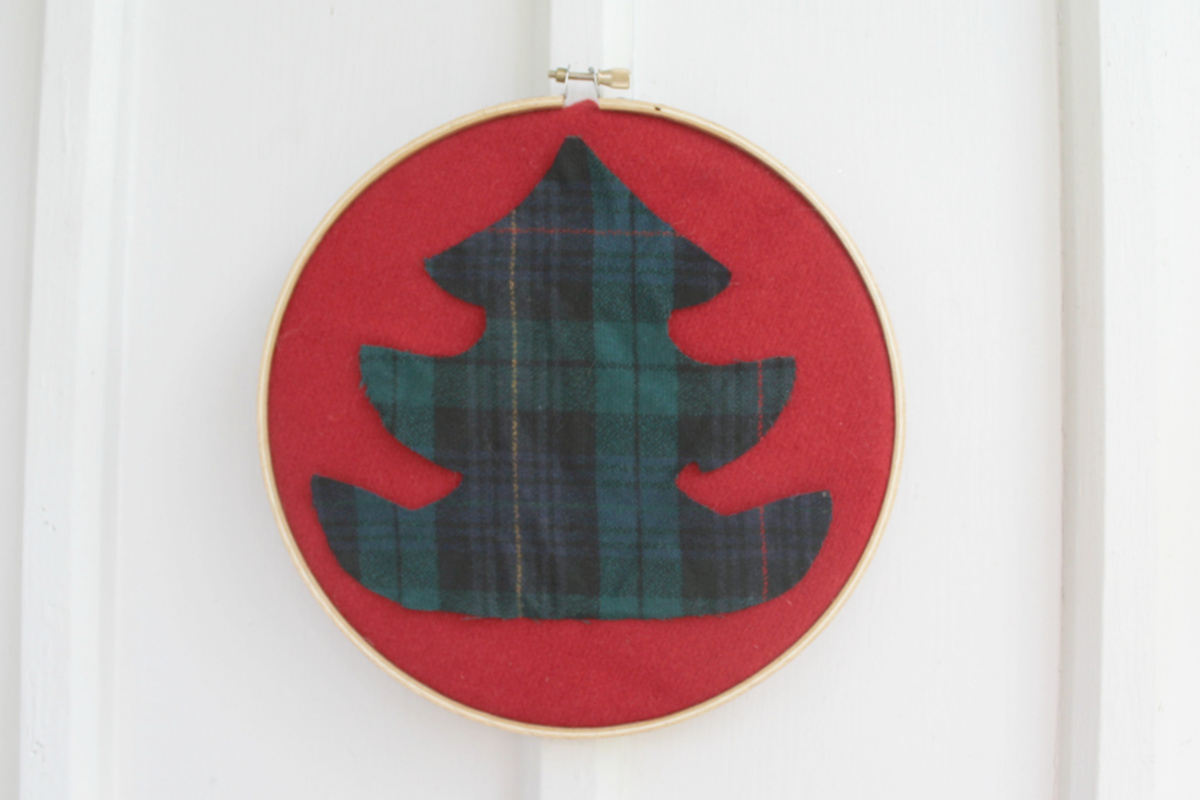 If you're a fan of crafts and enjoy a bit of DIY magic, why not try making your own Plaid Tree Wall Hanging using a wood embroidery hoop? This simple yet charming kid friendly project is a great way to personalize your space and embrace the spirit of the season.
Links may be commissioned.
It's also a great way to spend some time with the kids. With a little adult supervision, and assistance, the kids can help make these super fun plaid tree wall hangings.
How to make a Plaid Tree Wall Hanging
Materials You'll Need:
Red or grey wool fabric – or any other color of your choice. 1/2 yard should be plenty for multiple projects.
Plaid fabric of your choice. We used flannel, but a homespun plaid fabric or a woven fabric would work too.
Scissors
Step-by-Step Guide: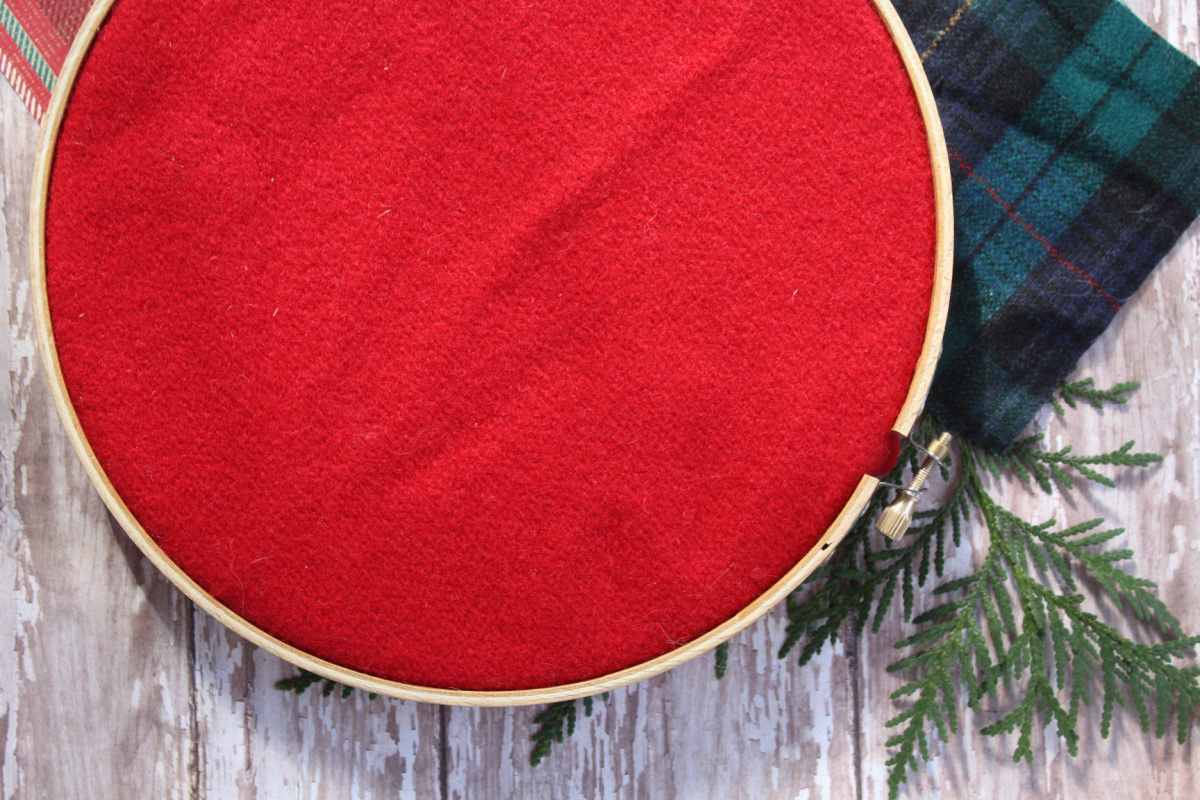 Prepare the Embroidery Hoop: Begin by placing your wool fabric in the embroidery hoop. Ensure that the fabric is secured tightly, and trim off any excess material to achieve clean edges. Pull the fabric tightly to remove any wrinkles, creating a smooth and even surface within the hoop.
Cut Out the Plaid Tree: Select your desired plaid fabric and cut out a tree shape. To ensure symmetry, you can fold the fabric in half and cut out half of the tree, or if you're feeling adventurous, freehand the tree shape for a more organic look.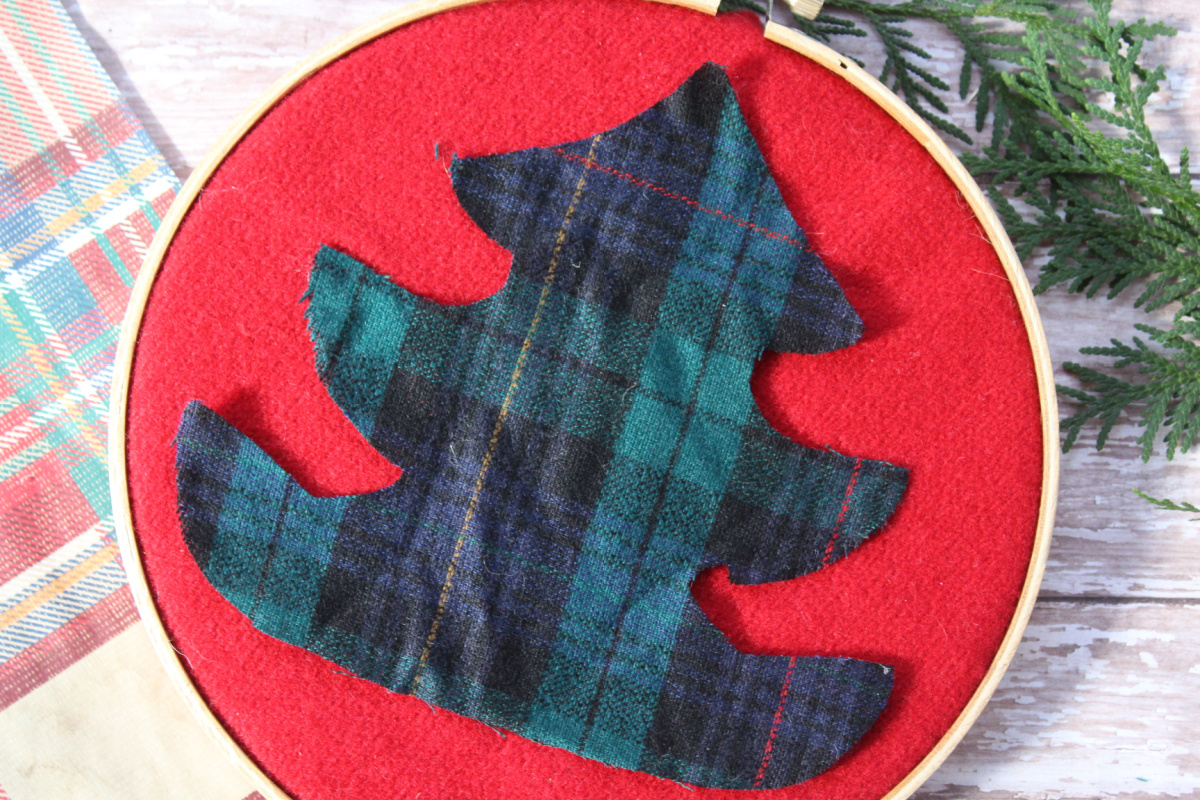 Glue the Plaid Tree: Apply fabric glue to the back edges of the plaid tree. Carefully press the tree onto the center of the red or grey wool fabric within the embroidery hoop. Smooth it into place, ensuring it adheres securely. Allow the glue to dry thoroughly.
Display Your Plaid Wall Tree: Once the tree is securely glued into place, your Plaid Tree Wall Hanging is ready to be displayed. Get creative with how you showcase your creation – you can add a festive ribbon or twine for hanging, or simply display it as is on a wall or door.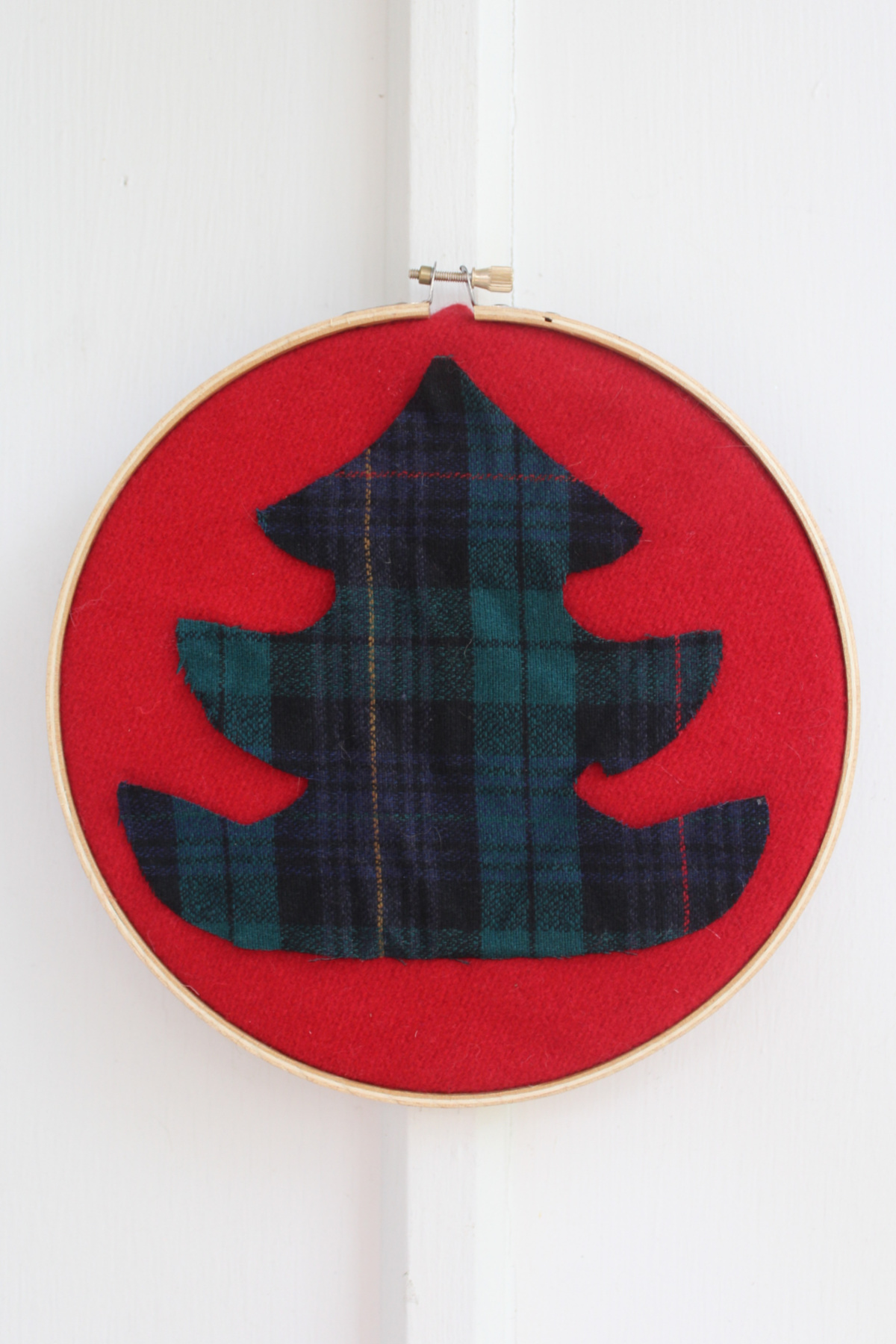 Additional Tips and Considerations
Fabric Selection: Choose plaid fabric that complements your existing decor or adds a festive touch to your space. Consider the color scheme and patterns to ensure a cohesive look.
Embroidery Hoop Size: Select an embroidery hoop size that fits well with the dimensions you have in mind for your wall hanging. Larger hoops provide more space for creativity, while smaller ones may offer a more delicate aesthetic.
Christmas Ornaments: Make these in tiny hoops with some beads, bells, embroidery, or other embellishments for a great rustic looking Christmas tree ornament.
Glue Application: Use fabric glue sparingly to avoid excess glue seeping through the fabric. Apply it along the edges of the tree shape for a secure bond. If you're working with children, ensure adult supervision when using glue.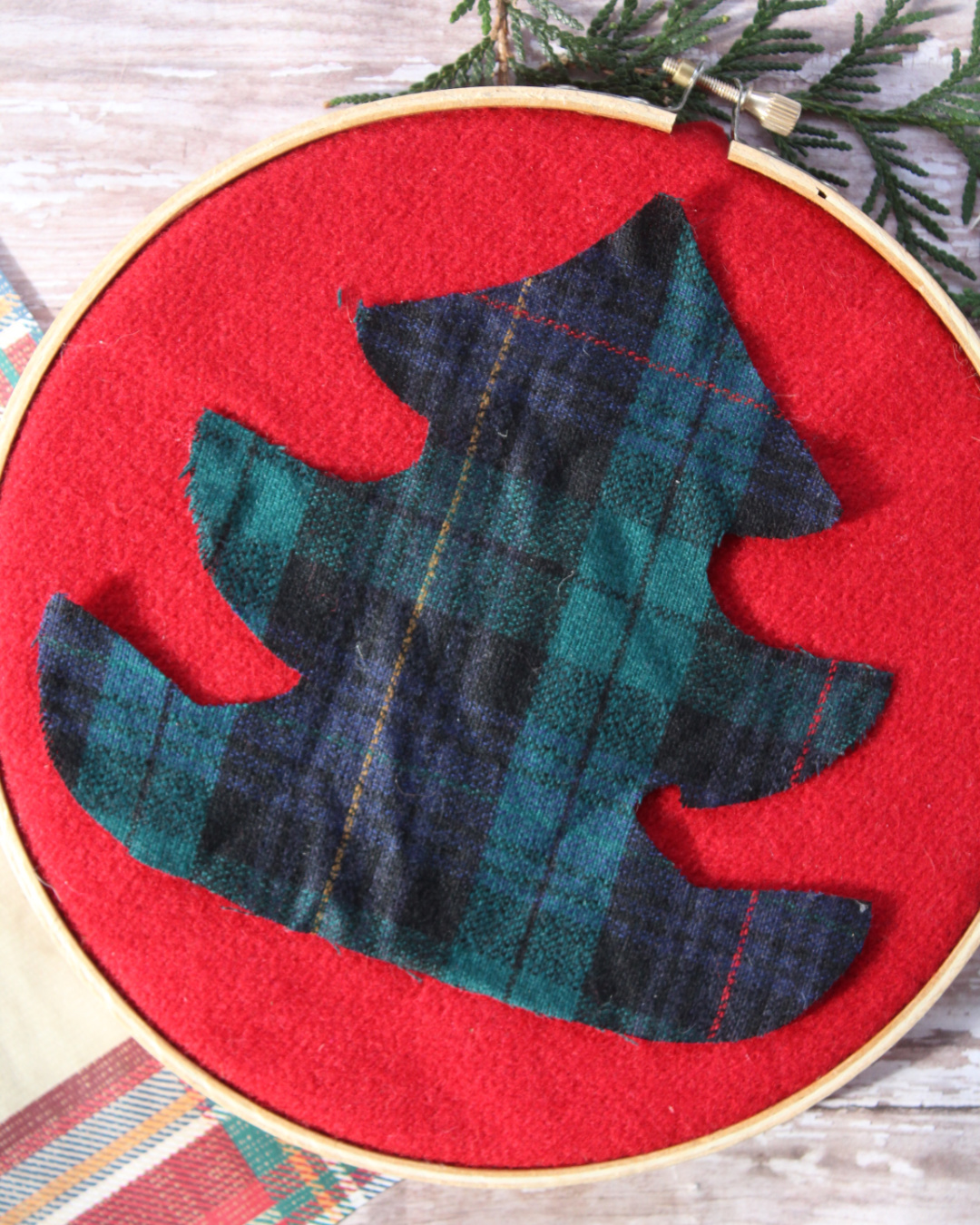 Hanging Options: If you choose to add ribbon or twine for hanging, make sure it's securely attached. You can create a loop at the top of the hoop or attach it directly to the back of the fabric.
Personalization: Feel free to embellish your Plaid Tree Wall Hanging further. Consider adding small ornaments, beads, or even stitching details to enhance the overall look. A running stitch or a whipstitch around the edge would look really cute.
Care Instructions: If the wall hanging becomes dusty, gently spot clean it with a soft cloth. Avoid using water or cleaning solutions that may damage the fabric or glue.
Gift Idea: This project makes for a thoughtful handmade gift during the holiday season. Create personalized variations for friends and family to spread the joy of crafting.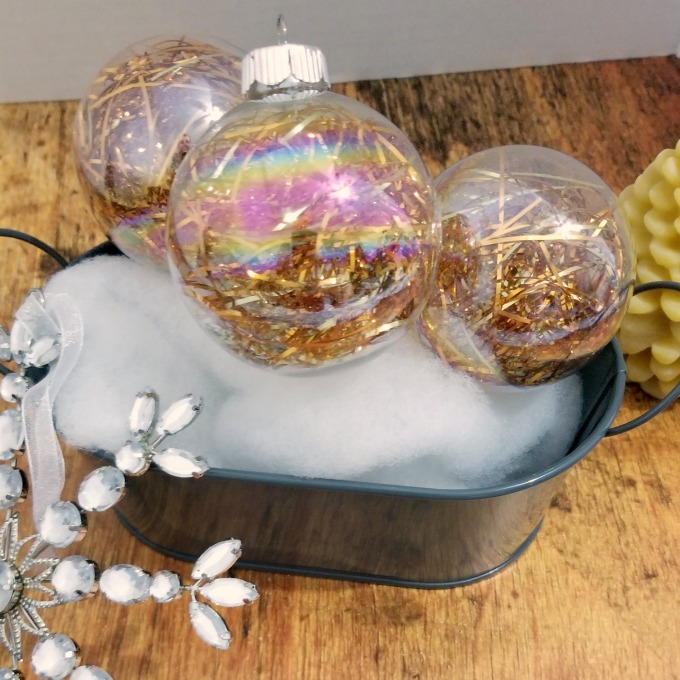 More Christmas and Holiday DIY Projects
This delightful DIY project not only allows you to add holiday charm to your living space, but also provides an opportunity for personal expression. Whether you're an experienced crafter or a beginner, this Plaid Tree Wall Hanging is a wonderful way to bring a touch of warmth and creativity to your home.
Gather your materials, set aside some crafting time, and let your imagination run wild as you embark on this festive DIY adventure. Happy crafting!