If you've been around here any length of time, you know that I love sparkle. Usually it's things that have glitter. That sparkle doesn't always have to be glitter, though. Take this Simple Tinsel Ornament for Christmas.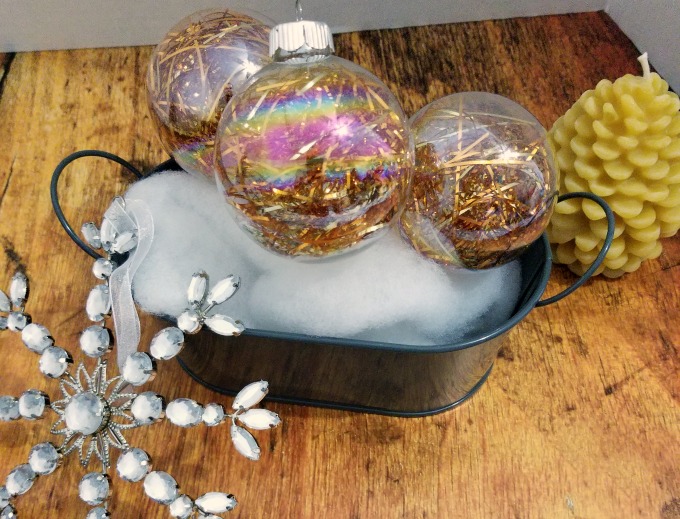 These easy diy ornaments are so simple to make, and have such a fantastic impact. Even better, they're practically mess free.
These simple tinsel ornaments look gorgeous when paired with the glitter Christmas ornaments on a tree, or in a dish. Links may be commissioned, which help support the site at no additional cost to you.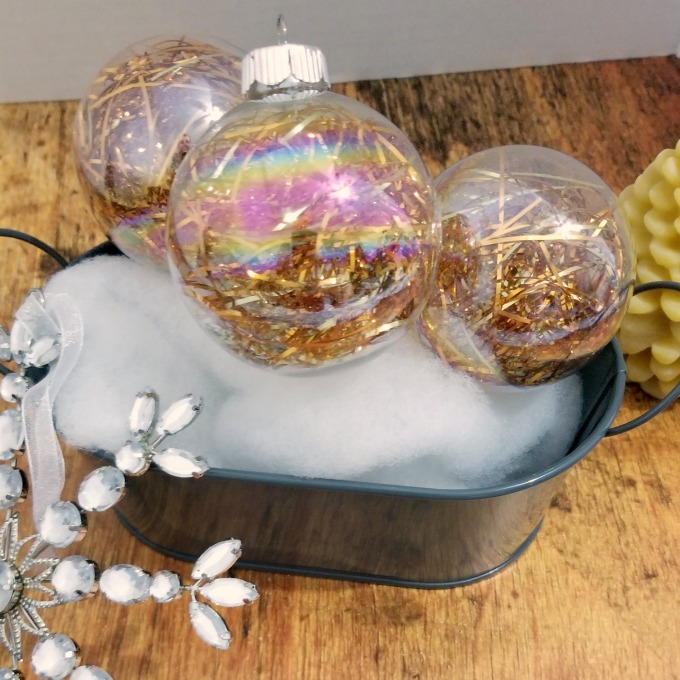 How to Make an Easy Tinsel Ornament for Christmas
Supplies
Pencil or chopstick
Scissors
Directions
Carefully remove the tops from your clear glass ornaments. They usually have a harp shaped piece of wire that hold them on, and may need to be pinched slightly to come out.
Take a pinch of tinsel and stuff it in the top hole. Be careful, as the top edge of the ornament may be rough.
Using your pencil or chopstick, push the tinsel in and move it around. You can add more tinsel if you'd like, to get the look you desire. I like it a little sparse and so that the light hits everything. I also think being able to see through the ornament a little is prettier. But that's my own aesthetic and you can fill your simple tinsel Christmas ornament as full as you'd like.
Once it's to your desired fullness, place the cap back on. if you have any straggler ends of tinsel, trim them with scissors.
Voila!  You have a simple yet elegant DIY Christmas ornament. Even those that don't make things, and aren't crafty, can do this. You could also use plastic ornaments and make these with kids.
These are great craft show sellers, too. Set up an assembly line and make these tinsel ornaments while you're watching TV. Plus, they're like $0.50 a piece to make, so the profit margin is high.