Baked or roasted figs are such a delectable treat. They're so simple to make, but really create a very showy dish. This Honey Roasted Figs with Labneh recipe is perfect for an appetizer or an elegant dessert.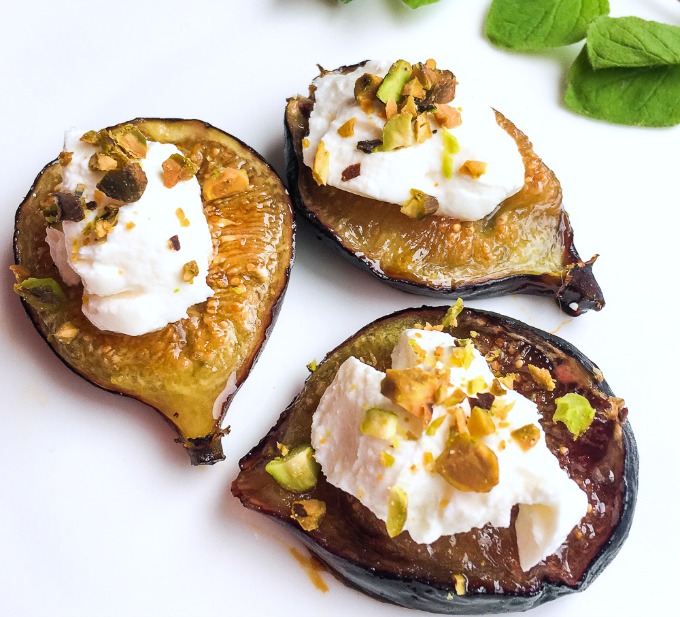 Your guests will be so impressed. They never have to know how simple this fig recipe really is, though.
You'll notice we're using labneh. You may be asking yourself "What the heck is labneh?"  It's a soft cheese that can be found in some specialty or ethnic stores. Luckily, it's also really simple to make at home. It just takes a little time. If you don't want to use labneh, goat cheese, chevre, or even a good ricotta make for a fantastic substitute.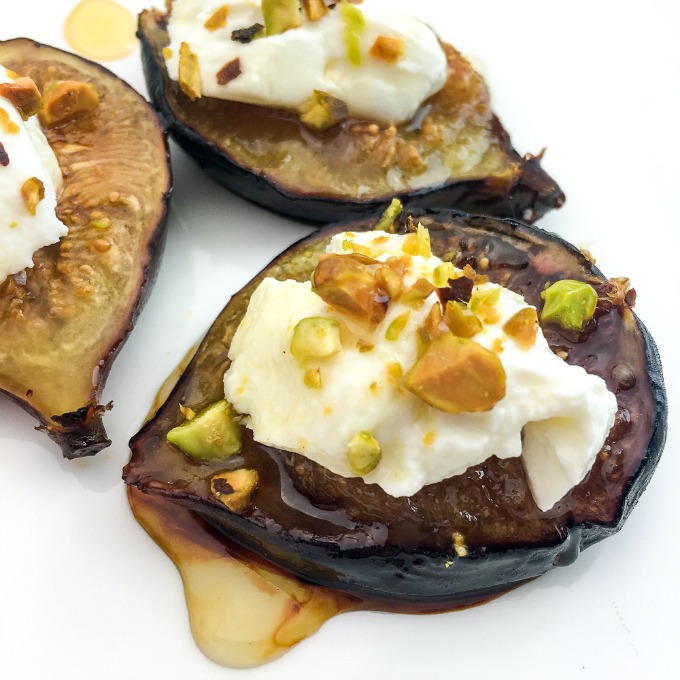 Honey Roasted Figs with Labneh Recipe
Links may be commissioned.
To make this recipe, you'll need a few things. One is a good non stick mat. You can use parchment paper, or something like a Silpat mat. If you're making your own labneh, you'll also need a fine mesh strainer and cheesecloth. You'll also want to get some really good quality honey. Local is best, but places like Nature Nate's have amazing honey, too.
Yields 16 pcs
Honey Roasted Figs with Labneh Recipe
24 hrPrep Time
35 minCook Time
24 hr, 35 Total Time
Ingredients
For the Labneh

2 c. whole-fat plain yogurt
½ t. salt

For the figs

8 large ripe figs, cut in half lengthwise
3 T. local honey, divided
¼ c. pistachios, chopped
Labneh
Instructions
For the Labneh

To make the labneh, combine yogurt and salt in a small bowl and stir until blended. Line a metal strainer with several layers of cheesecloth and position strainer over a large, deep bowl.
Transfer yogurt mixture to the lined strainer and cover. Place in the refrigerator to drain for 1-2 days. The longer the yogurt is strained, the firmer the labneh will become.

For the figs

To prepare roasted figs, pre-heat oven to 350°F and line a large, rimmed baking sheet with parchment paper or a Silpat® baking sheet. Arrange sliced figs on baking sheet, cut side up, and drizzle with some honey.
Place baking sheet in pre-heated oven and roast for 30-35 minutes. Remove from oven and let cool for several minutes.
Top each roasted fig with a spoonful of fresh labneh and a sprinkle of chopped pistachios. Drizzle with some local honey and serve immediately. Enjoy!
7.8.1.2
121
https://www.gretasday.com/honey-roasted-figs-labneh-recipe/
See how easy it was to make honey roasted figs with labneh? For an appetizer, you can also serve the figs with a good quality crusty bread. For dessert, try pairing them with a simple vanilla ice cream. Soooo good! It's so simple, yet so elegant. Bust this recipe out any time you need to impress your guests.