Are you looking for some easy cookies to bake, just in time for Easter? There is nothing better than homemade chocolate chip walnut cookies, and these are no exception. However, these cookies have been given the Easter treatment, courtesy of the addition of Pastel colored M&Ms.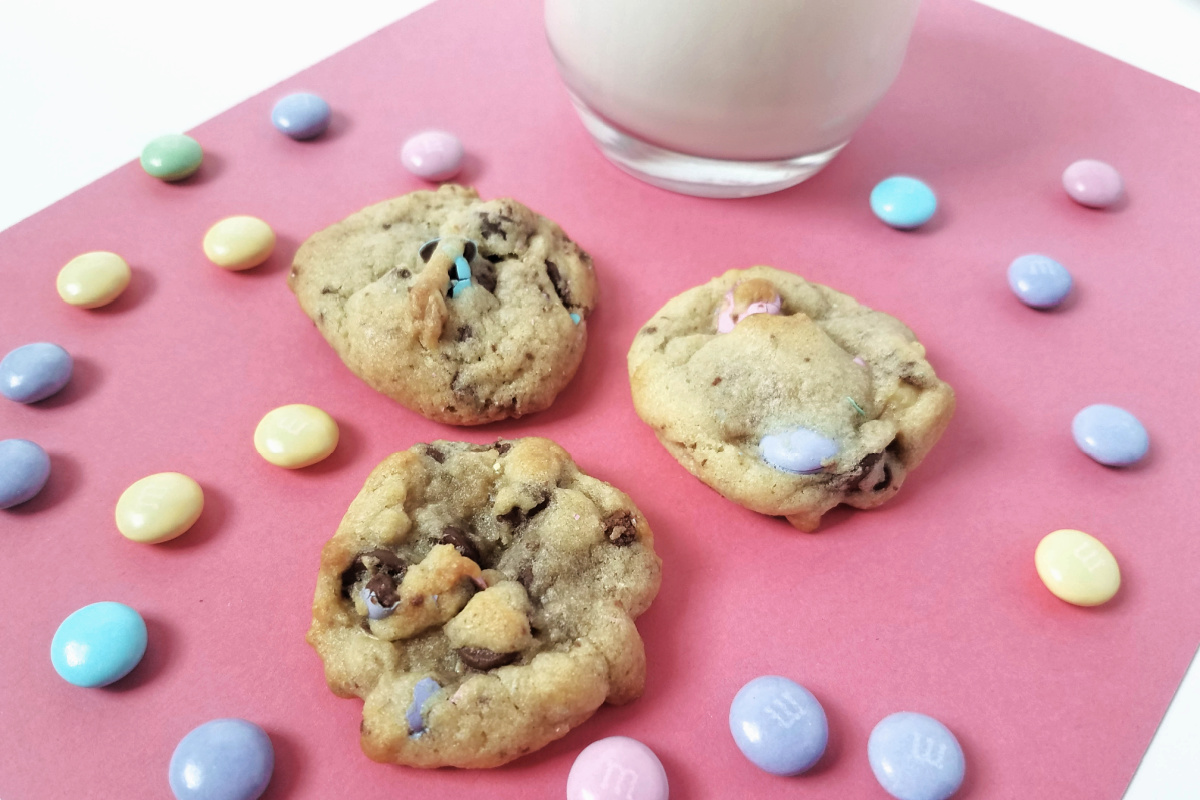 Baking for the holidays has always been a tradition in our family. Whether it was Valentine's Day, Easter, or the more traditional winter holidays, kids always enjoyed helping (and eating) with the baking. This cookie recipe is a great one to start cooking with the kids, nieces or nephews, or even grandkids.
Children love to help and there are plenty of jobs involved in the M&M Chocolate Chip Walnut Easter Cookies that the kiddos could successfully complete. It's a great way to create your own new tradition and bond with family and friends.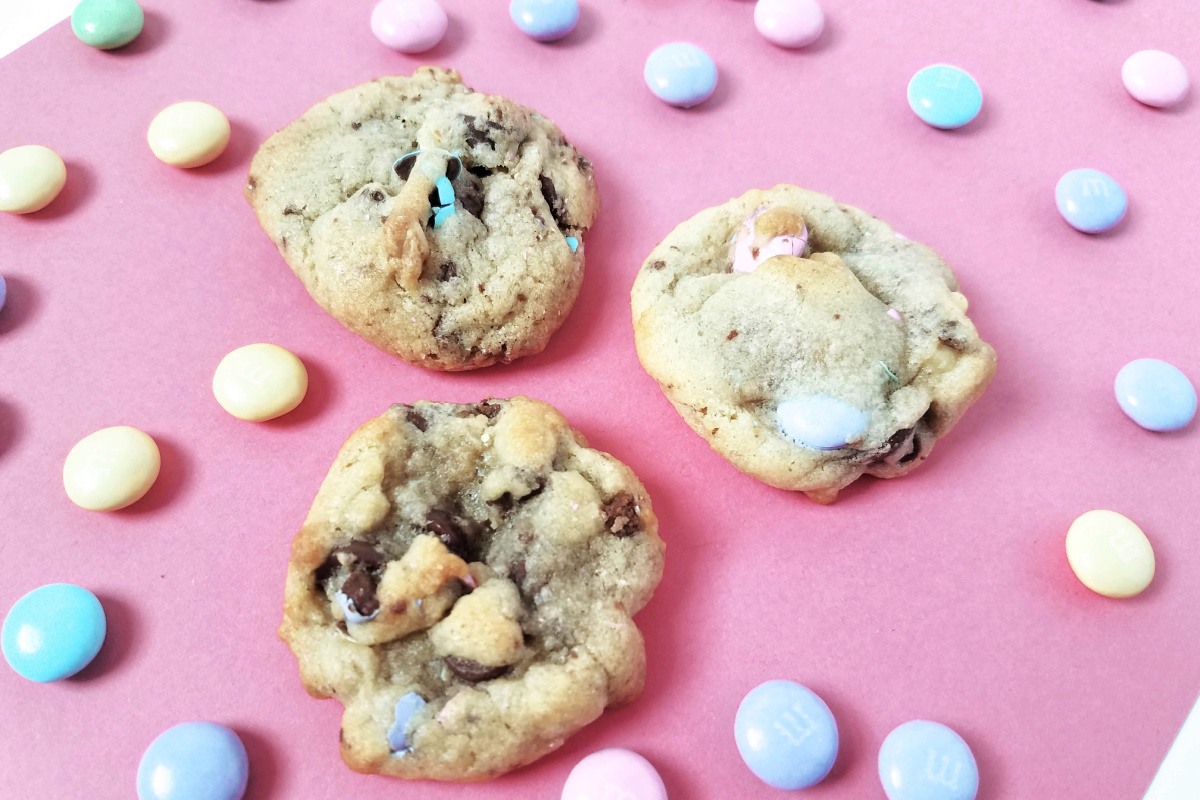 M&M Chocolate Chip Walnut Cookies Recipe
Links may be commissioned.
There are a few things you'll need to make this job easier. The first is a cookie scoop. It helps to make your cookies the same size, which helps with even baking. You'll also want a good cookie sheet. This cookie sheet is a good quality, and will last for a long time. Nonstick baking sheet liners are always a plus. They prevent sticking and also help with more even baking. You can get Silpat ones, or generic ones as well.

Of course, you'll want some great mixing bowls. These are a good size and will last forever. And you can't forget a serving tray! This plastic serving tray looks like crystal, while this ceramic bunny tray is adorable, and is perfect for Easter.
Ingredients (makes about 4 dozen)
2 1/4 cups all-purpose flour
1 teaspoon salt
1 teaspoon baking soda
1 cup butter, softened
3/4 cup sugar
3/4 cup brown sugar, packed
1 teaspoon vanilla extract
2 eggs
1 cup chocolate chips
1/2 cup chopped walnuts, about 3 oz
1 cup Easter M&Ms, chopped
Directions
Preheat oven to 350 degrees
Chop the Easter M&Ms
In a small bowl, combine the flour, salt and baking soda. Set aside.
In a large bowl or stand mixer, mix the butter, sugar, brown sugar and vanilla extract for about 2 minutes, until fluffy.
Add the eggs. Beat until fully combined.
Slowly add the dry mixture and mix well.
Fold the walnuts and M&Ms into the mixture. You can cover and refrigerate for up to four days at this point.
Drop by small, rounded teaspoons (or small scoop) onto a baking sheet lined with parchment paper, about 2 to 3 inches apart. (You can form into balls, freeze, and put into a zip-top bag for 2 to 3 months.)
Bake for 7-10 minutes, until the M&M chocolate chip walnut cookies are golden around the edges.
Remove from oven and let sit for a minute or two, then move to a cooling rack.
Baking M&M Chocolate Chip Walnut Cookies Later
If you don't have an hour or two to make your M&M Chocolate Chip Walnut Cookies, or if you don't need 4 dozen cookies at once, I have good news. You can make the cookie dough, stop, and either refrigerate or freeze the cookie dough to bake later. There are a couple of ways to do this.
If you plan on baking your cookies within a few days, mix all of the ingredients and cover tightly with plastic wrap. Store in the fridge for up to four days. When you are ready to bake, remove the cookie dough from the fridge, let warm at room temp for a few minutes, then form and bake as directed. They'll last in the freezer for 2-3 months.
If you want to freeze them before baking, go ahead and drop the dough, by scoops, onto a cookie sheet. You can place the dough balls close on your cookie sheets, so that they're barely touching. Put the entire cookie sheet in the freezer until the cookies are frozen. Then drop the frozen balls of dough into a zip top bag, and pop them back in the freezer. When you're ready to bake, remove as many cookies as you want to make, place on a cookie sheet, and bake as directed below. If you're having trouble with your frozen dough sticking, place wax paper or a non stick mat, like a silpat, down on your cookie sheet first.
So, while you leave out some carrots for the Easter Bunny to snack on – you know he gets tired and hungry with such a long journey – leave a few of these festive delights to give Mr. Bunny a burst of energy to continue on his trip.