I love Mid Century Modern design. I think a strong part of that is due to the fact that I was raised with it, and so it feels like home to me.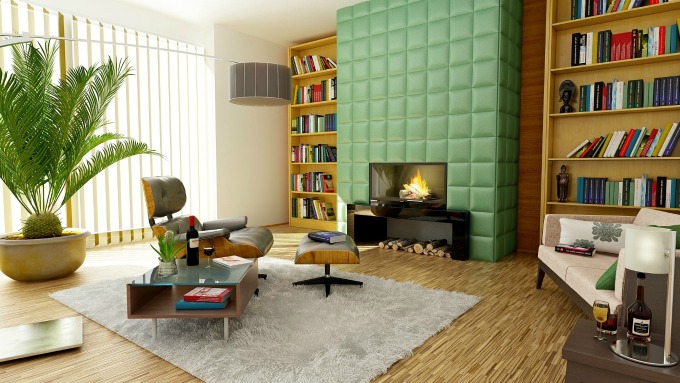 You see, my grandmother had authentic Lane walnut furniture from the 1960s when I was a kid. She had it when my mom was a kid too, to be honest.
When she got new furniture, I was lucky enough to inherit these pieces. Of course, not right away. I had to prove I was adult enough to have nice things first. Eventually, these mid century modern furnishings made their way into my 1950s desert home. So you can kind of see why we're big on retro and vintage around here.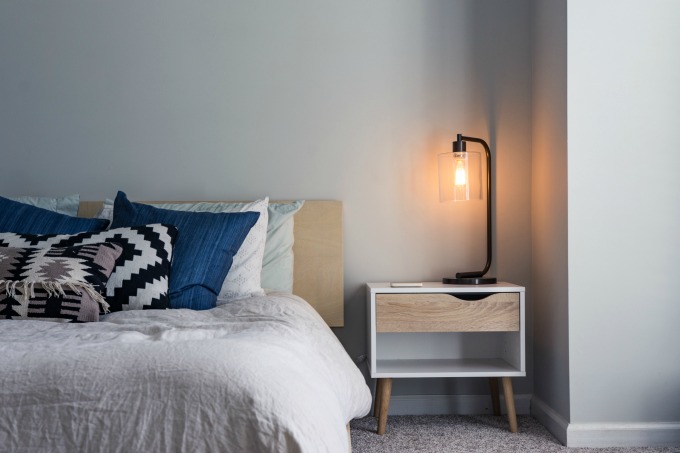 Mid Century Modern inspired pieces are common at stores like West Elm, but also on Amazon. In fact, we did a Mid Century Luxe Bedroom inspo board a while back. We've rounded up some of our favorite Mid Century Modern and Modern design pieces for your home. Even better – they're all available on Amazon. Heck yeah!
Mid Century Modern Design Finds under $150
These items are all under $150. One or two may be right around there – I can't remember to be honest! – but most are under $100. Some of these fab mid century inspired pieces are around $10. WHAAA??? Links may be commissioned. Thanks for supporting our site by shopping through them.
1 Lightweight Mid Century Modern Chairs – Set of Two – How fab are these? This pair of chairs is so retro chic, and you can't beat this price for a pair of chairs. They come in 4 colors, too.
2 Modern Hexagon Wood Framed Mirror – A mirror really adds a lot to a room. The hex wood frame on this one bumps the style up a couple notches, with not a lot of effort. Available in a round and an oval frame.
3 Mia Tripod Floor Lamp – My grandmother had a lamp like this when I was a kid. Hers was authentic from the 1960s, though, and I'm sure she paid more than $50 for it back then.
4 Walnut Satellite Clock – One of the main highlights of Mid Century Modern Design is sprockets. This clock has that design feature nailed. Talk about a statement piece.
5 Wood Decorative Droplet Coat Hooks – Kick up your boring coat hooks with these cool tear drop or water droplet shaped ones. They're super affordable, too.
6 Stainless Steel Modern Fruit Bowl – Where form and function collide. How great would this bowl look filled with lemons or citrus fruit?
7 Small Modern Fish Aquarium – This is bordering on that line between Mid Century Modern and Modern design, but it's just too cool! Add a goldfish or a betta to this fish tank for a real centerpiece.
8 Retro Abstract Cork Coasters – Everyone needs coasters. Why not make them awesome with great MCM designs?
9 Velvet Upholstered Club Chair – Velvet always adds that sumtin sumtin to a room. The luxe feel it adds to this club chair will help add a totally modern touch to your room. Comes as an office chair, too.
10 Mid Century Accent Table – Sleek modern styling with a bottom shelf for stability and metal leg tips for design. A great piece for many styles, not just Mid Century.
11 Small Faux Sedum Succulent in Planter – Succulents are all the rage. Get all of the look with none of the care with this realistic looking faux sedum. Get an echeveria friend while you're at it.
12 Floor Lamp with Built in Shelves – Is it a shelf? Is it a floor lamp? It's BOTH! The display shelves are great for accessories or a few good books, while the lamp has a bright LED light. It's the best of both worlds.
13 Large Dimmable Sputnik Chandelier – Okay, how awesome is this?? I thought I wanted a fancy crystal chandelier – because why not? – but now I know I want this. It's available in black or chrome. You'll also want to pick up the Edison bulbs that go with the chandelier, since they're not included.
14 Modway TV Stand Console – This TV console looks just like the authentic Danish furniture I used to have in my home. Only it's a whole lot less expensive. It holds up to a 47 inch TV too.
15 Modern Curved Mirror with Shelf – Every room needs a mirror, and this is a great one. It's retro in feel, but would be right at home in a modern and contemporary design space as well. It also has a bit of an ethnic flair.
16 Mango Steam Coffee Table – This boomerang shaped coffee table with wire hairpin legs looks like it's straight out of the early 1960s.
17 Droplet Accent Lamps – Lamps can really tie a room together. These accent lamps do it nicely with their fun shape and vivid colors. The drum shades add a lot of drama and design, at a budget friendly price. Available in 7 colors.
18 Pyramid Mid Century Geometric Area Rug – Another piece that skirts the lines between modern and Mid Century Modern design aesthetics. Personally, I really like this and would put it in my house. Also available in shades of blue.
19 Ava Mid Century Modern Ottoman – The clean lines and modern styling really come together in this padded ottoman. It works as a footrest, a low table, or an extra seat.
20 Extra Large 3-D Mod Wall Clock – It's the epitome of space age design. This wall clock is huge, and has stick on numbers. This allows you to put it wherever you want, and play with the shapes a little. Super fun piece, and would look great in a den or study.
Even if you don't want everything to be Mid Century Modern design in your home, you can definitely add touches of it with these fab selections.