I have a confession to make. I've been working on a bedroom makeover for about as long as I've lived in my townhouse. Now, in all honestly and transparency, I should probably say "working on" It's slow going, y'all. So. Slow. Going.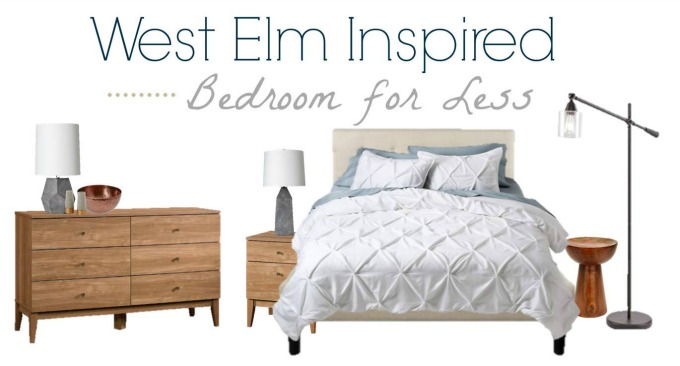 Part of that is because I'm picky, and a little indecisive. Do I want something bold and colorful or really modern or totally luxurious and relaxing? I DON'T KNOW! And every time I travel, I find something new I either have to have, or totally change what I want. To help this indecision, we've been putting together some bedroom moodboards. This West Elm Inspired Modern Bedroom combines that luxe feel and the Mid Century Modern aesthetic that I love. The best part is that it can be had for a fraction of the cost of the original.
What? How is that possible? We've scoured the interwebs to find pieces that have the same feel and look as the West Elm pieces. This is a great solution when you're not sure that you're ready to commit to the quality of West Elm. Or you have champagne tastes and currently running on a beer budget. Whatever your sitch is,
Mid Century Luxe Bedroom Inspiration
We've linked to the West Elm pieces, and the copycat we used to construct our room. Links may be affiliate links, which help support our dreams and goals of actually redoing our bedroom. And that pesky glitter habit we have.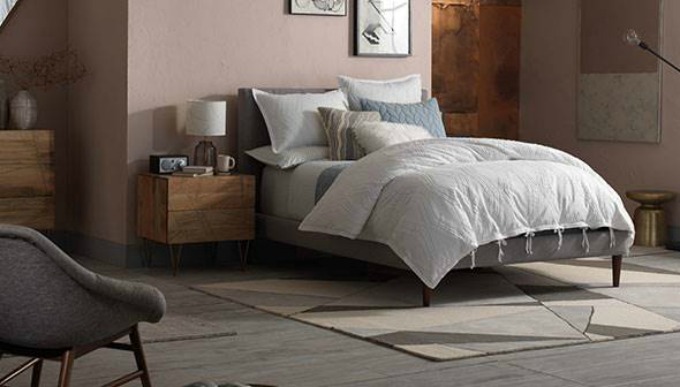 Original | Copycat
Grid-Tufted Simple Bed | Zinus Upholstered Button Tufted Bed
Roar + Rabbit Zig Zag Chenille Duvet | Pinched Pleat Comforter Set
Roar + Rabbit Brass Geo Inlay 6 Drawer Dresser | Project 62 Siegel 6 Drawer Dresser
Roar + Rabbit Brass Geo Inlay Nightstand | Project 62 Siegel Nightstand
Concrete Lamps as shown are unavailable. Here are some similar styles
Modern Angular Table Lamp
Roar + Rabbit Shadow Geo Wool Rug | Amhearst Collection Ivory & Light Grey Rug
Cement Bud Vase with Glass Insert
Thirstystone Hammered Copper Bowl
It's amazing how close we were able to come with some of these pieces. You can almost get the whole room done for the price of the West Elm dresser. Whoa!