Margaritas are one of my favorite drinks. I just love the flavor, but then again, I'm a huge fan of citrus. These Lime Margarita Cookies with Tequila Glaze add a whole new dimension to your cookie baking repertoire.
In the past couple of years, margaritas have really had a renaissance. A glow up, if you will. Once relegated to the frozen concoctions that came from a mix and a machine, more and more people are learning the art of the classic margarita.
I mean, margaritas are everywhere you look. They're being used as one of the most popular fragrances in bath and body care and candles. "No, I haven't been drinking, it's my body butter!" There's no surprise that these cookies are oh so popular.
One caveat – these lime margarita cookies aren't for the kids. They have booze in the glaze, and are better for adults. If you wanted to make them kid friendly, you could omit the tequila. These cookies are a great addition to our Cinco de Mayo festivities, too.
Lime Margarita Cookies with Tequila Glaze
Links may be affiliate links.
These cookies are really easy to make, but no one needs to know that. The Lime Margarita Cookies are a variation on the classic slice and bake cookie that we all grew up with. Since the icing is so simple, and you'll really taste the tequila, you do want to use a good quality tequila that you like to drink in the glaze. You're only using a little, and the good stuff will only enhance these cookies.
There are a few things you'll want to make these Lime Margarita Cookies easier. One is a good mixer. This Kitchenaid stand mixer is a perfect addition to anyone's kitchen. This is one of the better ones, not the low end stand mixers that pop up everywhere. A silicone baking mat is a must have if you plan on making lots of cookies, or do a fair amount of cooking. Nothing sticks, and they clean up so well.
To get the soft green color, you need a bit of food coloring. These gel food colors incorporate amazingly, and just a little dab'll do you. A microplane citrus zester is a must have for your kitchen drawer. It allows you to zest citrus, grate spices, ginger, chocolate, and so much more. And to serve these cookies, you'll want a gorgeous platter. I love Fiesta Ware, and this oval platter is a great backdrop for your delicious cookies.
Lime Margarita Cookies with Tequila Glaze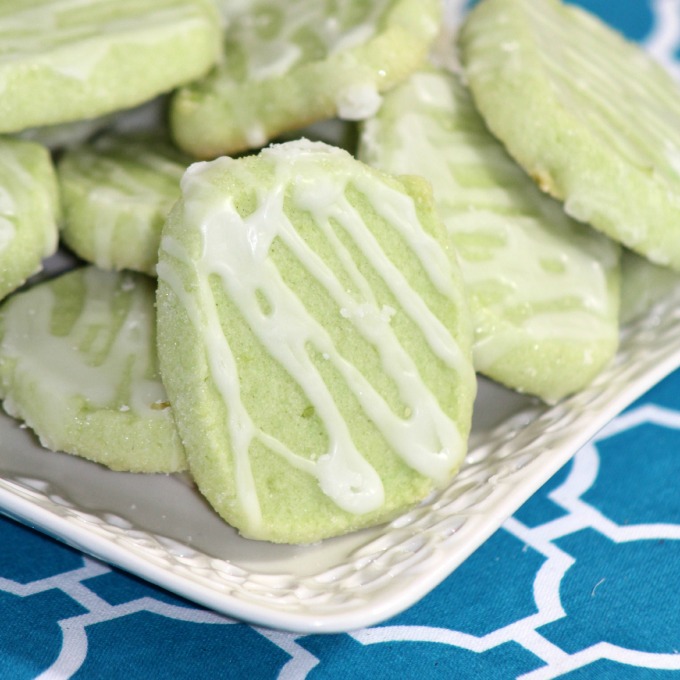 Total Time
1 hour
35 minutes
Ingredients
For the Cookies
2 C flour
1/4 tsp salt
3/4 C stick margarine, softened
1+ C sugar
1 egg
1 TBSP freshly grated lime zest
1 tsp orange extract
Green food coloring
For the Glaze
1 C powdered sugar
1 TBSP water
1 TBSP good quality tequila
Instructions
Cookie directions
Beat the softened margarine and sugar on medium until it becomes light and fluffy.
Add in the egg, while continuously beating.
Add in the lime zest, orange extract, and 4-5 drops of green food coloring.
Continue mixing until all ingredients have been thoroughly incorporated.
Slowly begin adding the flour and salt. Add about 1/4 c at a time.
Continue mixing.
Divide the dough into 2 equal parts and roll each into a log.
Wrap the dough log in wax paper and refrigerate for 1 hour.
Preheat oven to 350 degrees.
Remove cookie roll from the refrigerator.
Roll the cookie roll onto a sheet of wax paper covered with sugar.
Make sure the complete roll has been covered in sugar.
Slice the dough into even pieces placing them on a ungreased cookie sheet.
Bake at 350 degrees for 15 minutes or until edges just start to brown.
Cool completely on a baking rack.


For the Glaze
Mix the powdered sugar, and tequila in a bowl.
Add 1/2 tsp of water at a time to get a nice loose consistency that drizzles nicely.
Drizzle glaze across cooled cookies, and allow to set before serving.
Nutrition Information:
Amount Per Serving:
Calories:

267
Total Fat:

3g
Carbohydrates:

50g
Protein:

8g
If you wanted to make these lime margarita cookies non-alcoholic, you could sub in some lime juice or even orange juice for the tequila in the glaze. If using lime juice, I'd use 1/2 tbsp lime juice and 1/2 tbsp of water. If you also wanted to make them really special, you could sprinkle just a touch of salt on top of the glaze. Use a flaky salt like a good fleur de sel.
See how easy it is to make these Lime Margarita Cookies with Tequila Glaze? If you like this cookie recipe, don't forget to share on social media, or pin to Pinterest to save it for later.