One of the things that distinguishes a city is the food.  Believe it or not, some major cities don't have that good of food, while some small towns have amazing food that you'd never expect. The Minneapolis area is a foodie's delight.  There are so many great restaurants at all price points. We sampled a few of these on our recent trip to the area. Some of these meals were comped, and some we paid for.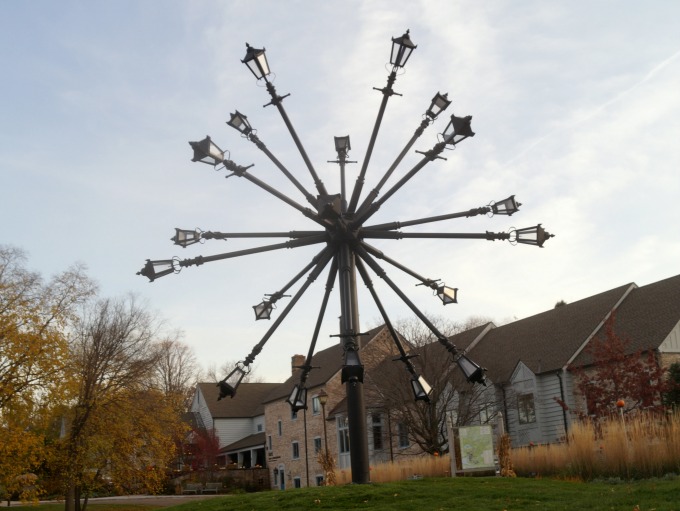 The first night, we looked and looked for somewhere to try. With it being a Friday night, everywhere was fairly busy. And the places that weren't busy, we wondered why they weren't, and decided not to find out! Instead, we went back to our hotel and ordered room service, as we were tired from traveling.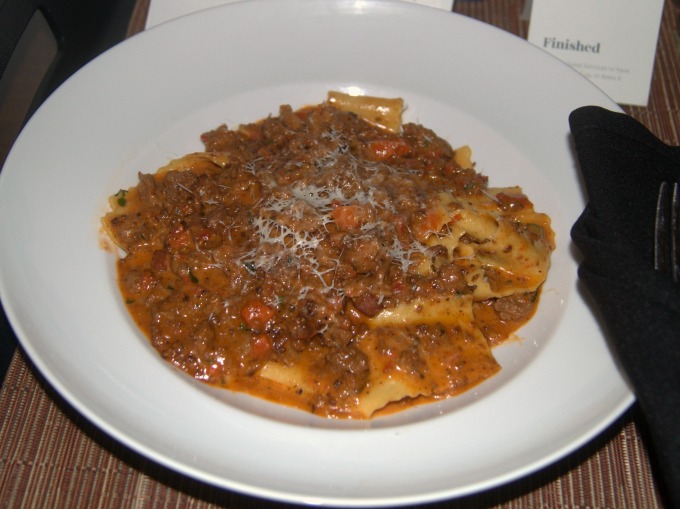 We ordered Bolognese Pappardelle and a pasta with asparagus and enoki mushrooms. Both dishes were good, and really hit the spot.  The Bolognese Pappardelle was sooo good, and I've been craving it ever since.  Perhaps a copycat recipe will be coming up soon.  They also sent up a dessert sampler that was amazing.  SO GOOD!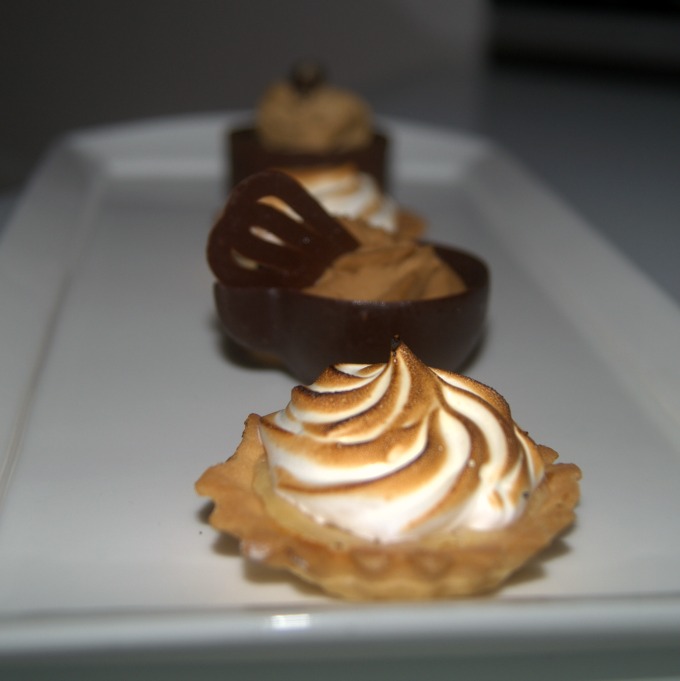 Saturday was mostly a grab and go kind of day.  I don't even remember where we went to eat, except Starbucks. It was THE BEST Starbucks I'd had in a really long time, so thanks barista dude!
Lela Restaurant
Saturday night, we decided to try Lela.  It was in our hotel, and convenient.  We were attending the Minnesota Wild game, and decided to grab something at the game, then have dinner afterward. We arrived about 10:30, and discovered that Lela had a late night happy hour.  SCORE!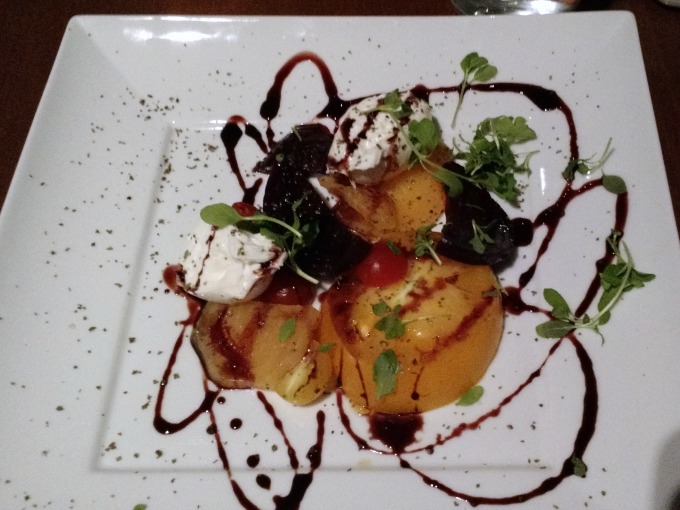 At Lela, we tried a little of everything. I had a Ginger Margarita, which was so good. I'm a huge fan of ginger, and the lime salt just kicked it up a notch. We had Tomato Burrata Salad, which I really enjoyed.  It has heirloom tomatoes, beets, burrata cheese, and a little smoked salt for finishing.  Now, I'm a gourmet salt fan, and the smoked salt was the perfect finishing touch. I also had the Blue Crab Cake and Macaroni and Cheese.  The crab cake was good, and I'd skip the mac and cheese next time.
My mom, who was traveling with me, had the Brussels Caesar Salad and Lobster Truffle Gnocchi.  The Caesar salad was good, and the Lobster Truffle Gnocchi were okay. It was sort of bland and flavorless, and didn't have lobster. The dish was more like gnocchi in a thinned down lobster bisque.
Spoonriver
On Sunday, we went and had brunch at Spoonriver.  This is one of the first restaurants that really embraced the farm to table, eat local movement in Minneapolis. The owners have been working with local growers since the 1970s, and have a real love for vegan and vegetarian foods. Don't be afraid, though – they have great options for carnivores, too!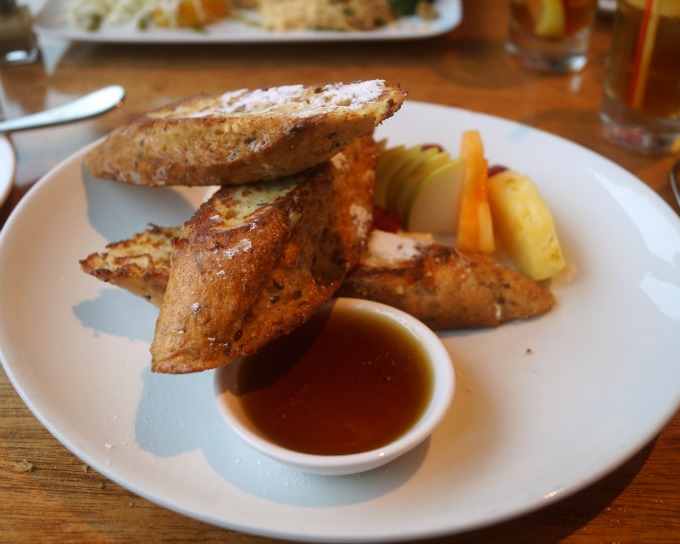 We started with the Spoon Dips, which was hummus and a red pepper spread, along with a nice mix of veggies, olives, and focaccia. It was a great assortment of flavors and textures that really worked well together.  For my meal, I had the French toast.  It was huge, thick slices of bread with Greek yogurt, fruit, and real maple syrup. The Greek yogurt gave it the feel of stuffed French toast, only healthier.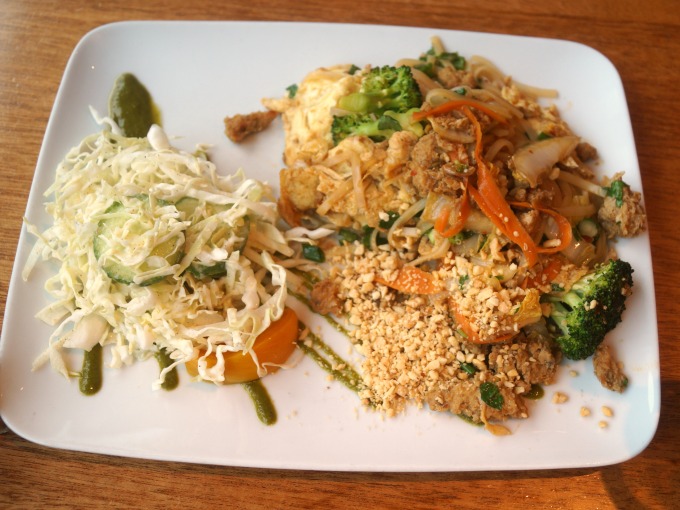 My mom had the Singapore Noodle Scramble, which had loads of veggies, chicken sausage, and rice noodles scrambled with eggs. It was something different and unique, and oh so tasty. The combination was something we'd never have thought to put together, but it really worked nicely.
FireLake Grill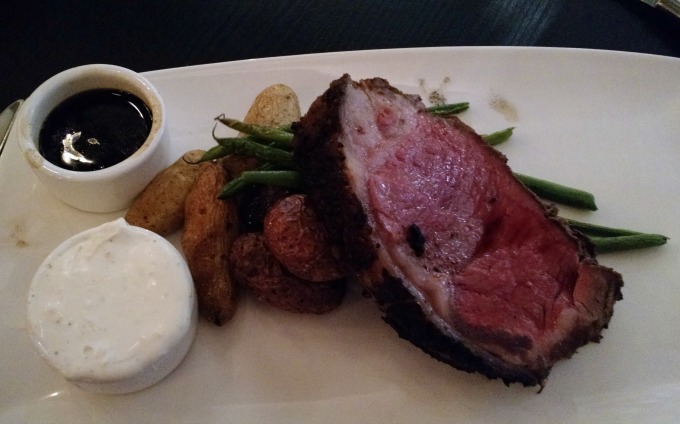 Sunday night, we ate at FireLake Grill in Downtown Minneapolis.  It was connected to the Radisson Blu Minneapolis, and was super convenient. Firelake Grill is a luxe, upscale take on Minnesota comfort food.  They're strong proponents of locally sourced foods, and serve locally made cheese and grass fed meats. I had the Rotisserie NY Strip, and it was so good.  So good. The cut and cooking style is more like prime rib than the traditional NY Strip, and their horseradish sauce was delightful. The fingerling potatoes and green beans really complemented the whole meal nicely.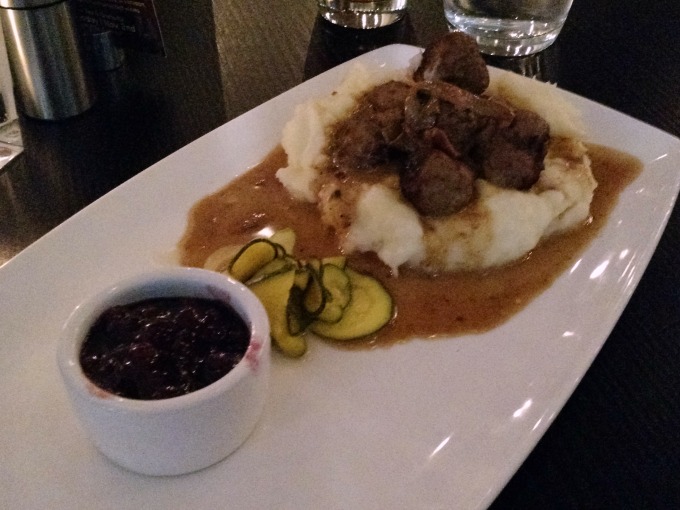 My mom had Lena's Meatballs, which are a lot like Swedish meatballs.  They're a combination of a lot of different locally sourced meats, and served with white cheddar mashed potatoes, lingonberry compote, and zucchini pickles. The meal was good, but the zucchini pickles stole the show.
For dessert, we ordered the Meyer Lemon Tart and Warm Maple Bread Pudding. FireLake Grill was apparently out of bread pudding, so they sent a Peanut Butter Chocolate Mousse with us. It was good, but not what I was in the mood for. The Meyer Lemon Tart was especially delicious, though.
The next day, I was back in St Paul, taking a tour of the Xcel center.  Afterwards, I saw the sights of the city, and ventured over to Cossetta's. I was told that this is an authentic St Paul experience, and one you should have in the city. Dude – that is why I'm here!! We thought we'd beat the crowd, only to find out that there were literally busloads of high school students there.  I was told that THIS is the REAL Cossetta's experience, with a laugh. I had Chicken Marsala, which is one of my favorites. It had great flavor, and I could see why the place was so popular.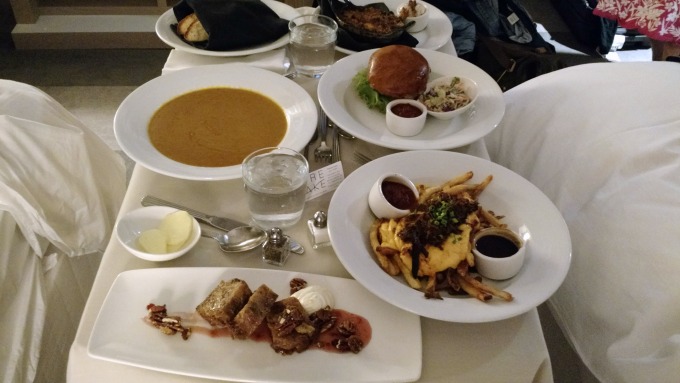 On the last night, we debated about finding somewhere new to try. We decided that since the next day was a long one, we'd go back to the hotel and have FireLake Grill again. This time, we ordered room service. We had Dirty Fries, which are French fries covered in BBQ brisket, cheese curds, and gravy.  I also had the Essential Cheeseburger, which is a pretty traditional burger with white cheddar and stone ground aioli. My mom had a bowl of Butternut Squash soup. We also ordered the Warm Maple Bread Pudding (again!) and the Haralson Apple Crisp with Baklava Ice Cream.  These desserts were both SO GOOD. The bread pudding was almost like a sticky toffee pudding, and how can you go wrong with apple crisp?  I mean, can you?  Is it possible?  No, I don't think it is.
All in all, we seriously ate our way through Minneapolis. Minneapolis and St Paul are a foodie's delight, and there are so many more places to try!