Special thanks to Best Buy for sponsoring this Kitchen Trends post
Kitchens and kitchen trends are one of those things that always seem to be forefront in our minds. Maybe it's because we spend so much time in there, or perhaps it's because the kitchen is the heart of the home.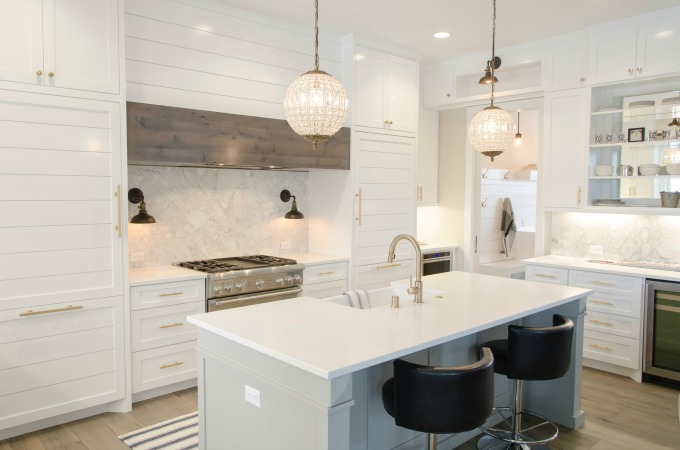 No matter the reason, we always want to be up on kitchen trends, even if we're not planning a remodel.
We've gathered up some of our favorite trends for your kitchen space that are sure to be major in 2019 – and beyond.
Hot Kitchen Trends You'll Want to Know About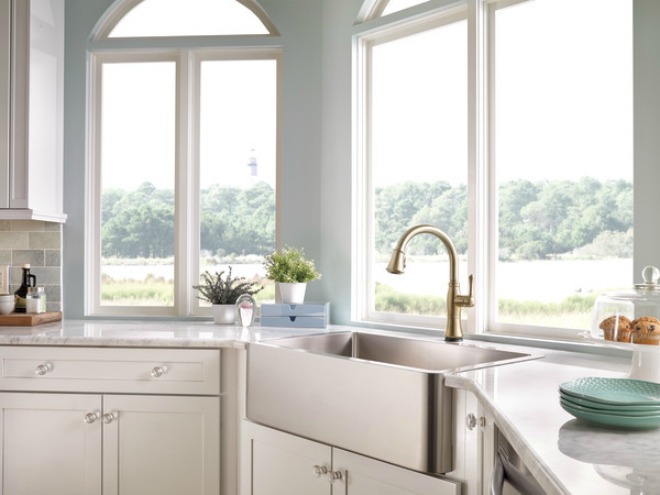 Polished Brass
Yes indeed. The old beloved (ha!) standard Polished Brass fixtures are making a comeback. The new polished brass is sleeker, and almost seems to be a bit more gold in tone. That may be my eyes playing tricks on me, and just the difference the way the color is showing up in bold white kitchens. It adds a nice, elegant touch at a reasonable price point, too. Plus, polished brass is easy to match from brand to brand.
Two tone cabinets
More and more, we're seeing two colors of cabinets in kitchens. People are opting for a darker base cabinet and a lighter color for the uppers. One popular combo is dark grey or black on the bottom cabinets and a light grey or white on the upper cabinets.  This kitchen trend works really well if you're painting your cabinets, or having them refaced, too.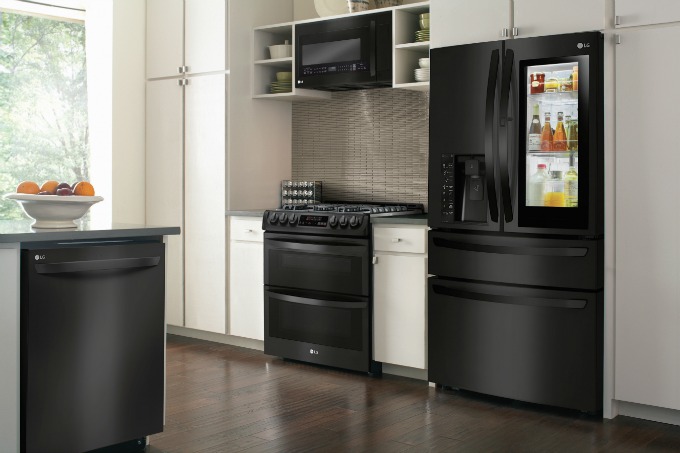 Tech in the kitchen
From refrigerators that can tell you what you need, and send pictures of their contents to wi-fi enabled devices, our kitchens are going high tech. Everyday tools that are using technology to make our lives easier, and our cooking better. There's even a fridge magnet that can scan barcodes and makes a grocery list that gets sent to your phone.
Wood Look Tiles
Just about everyone likes the look of hardwood floors. However, they're not always the best option. One of the hot kitchen trends is wood look porcelain tiles. The wood look tiles are a great option, especially for areas like kitchens and bathrooms. This flooring choice is easy to clean, easy to maintain, and practically indestructible.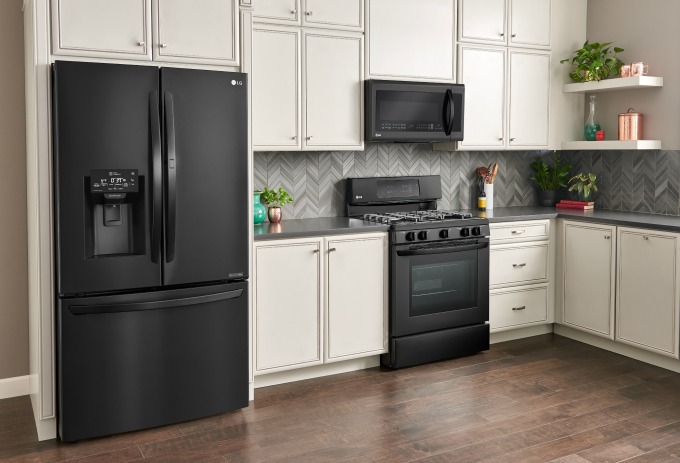 Matte Black
Matte black is one the new major kitchen trends. It started with the fixtures and has moved into appliances. LG has introduced a new line of appliances that are Matte Black stainless steel.
This combines the ease of stainless with the cool, contemporary touch of matte black. They're also smart appliances, like fridge mentioned above, and are wi-fi and voice enabled. You can control your appliances with your voice, remotely. How cool is that??
Looking to upgrade your appliances? Right now, Best Buy is offering up to $350 off select appliance packages. You could have all new kitchen appliances in time to host the holidays. Wouldn't that be nice?