I like hockey.  No, that's not true.  I live for hockey.  And when it's the playoffs?  I seriously plan my life around the games.  It almost doesn't even matter who's playing.  Unless it's the Ducks, because I just cannot get behind them.  AT ALL.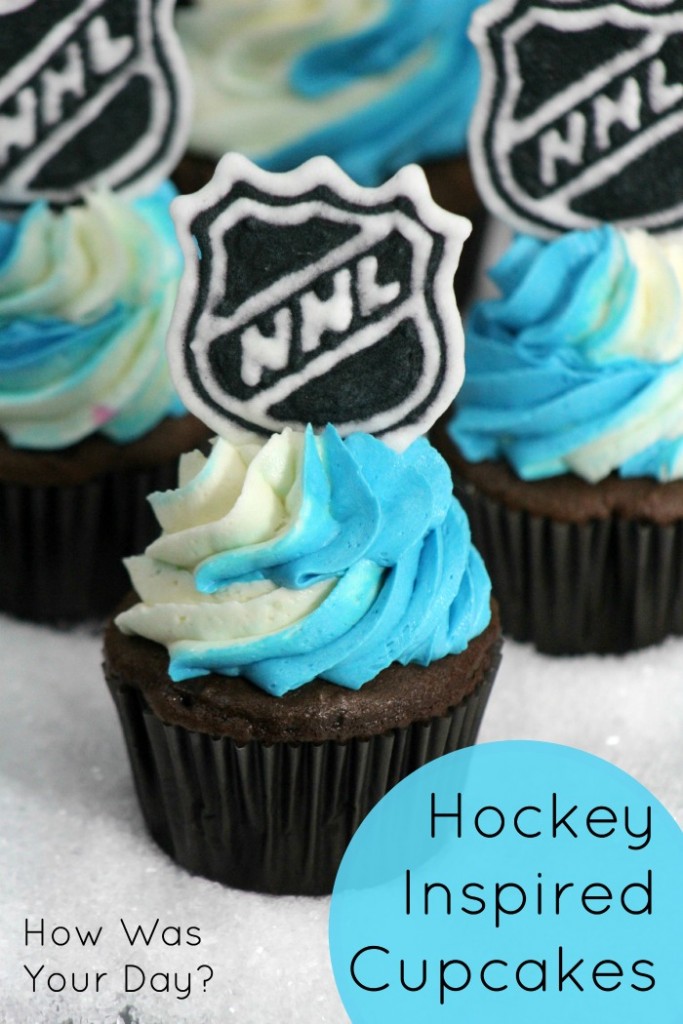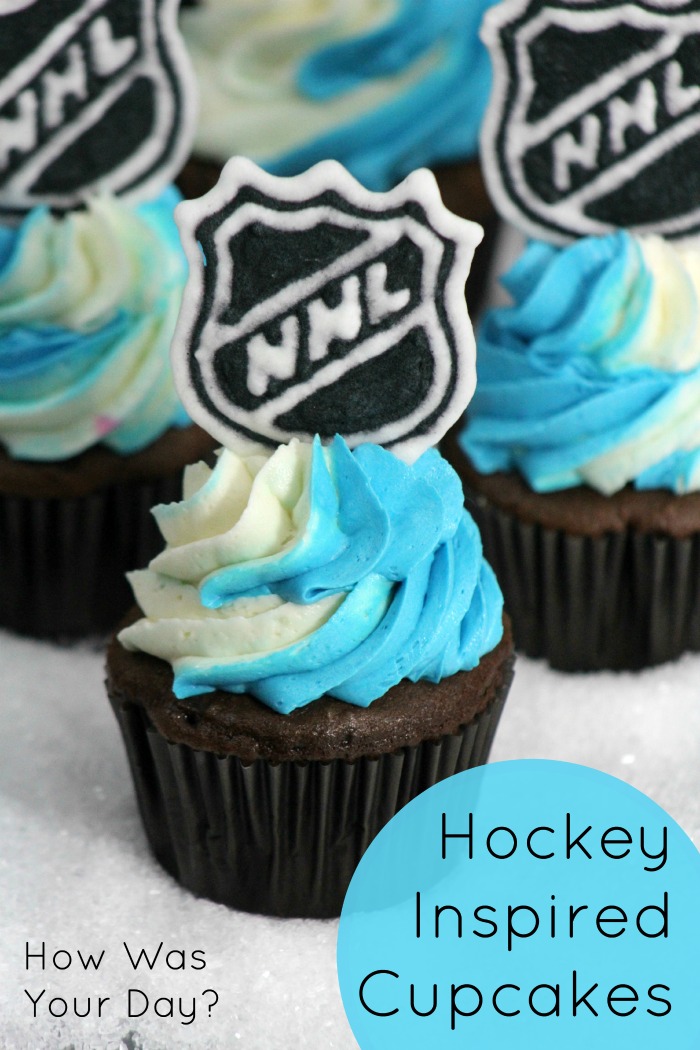 Anyway, because hockey is such a big part of my life, we're doing these Hockey cupcakes for all the other fanatics out there.  Make up a batch for your next viewing party!
Hockey Themed Cupcakes
To make these hockey themed cupcakes, you'll need to following tools.  These may be affiliate links.
Greta
Yields 18
Hockey Themed Cupcakes
These hockey inspired cupcakes will be the envy of every get together. Rich chocolate cake topped with a delicious buttercream that looks like ice.
15 minPrep Time
40 minCook Time
55 minTotal Time
Ingredients
Cupcake Recipe:

2 2/3 C flour
1 1/2 C cocoa
1/2 tsp baking soda
4 tsp baking powder
1/4 tsp salt
3 C granulated sugar
2 tsp vanilla extract
1 1/2 TBSP soft unsalted butter
4 eggs
2 C whole milk

Frosting Recipe:

4 C powdered sugar
1 C unsalted butter, soften
4 TBSP heavy whipping cream
Blue gel food coloring
Instructions
Cupcake Directions:

-Preheat oven at 350.
-Line cupcake pan with paper cupcake liners.
-Cream sugar with butter until light and creamy.
-Add eggs....1 at a time.
-Beat after each egg addition.
-Add vanilla extract.
-In a separate bowl....add flour, baking powder, baking soda, salt, and
cocoa .
-Mix until thoroughly combined.
-Begin adding the dry mixture in with the butter and sugar combination.
-Alternate the dry ingredients with the milk.
-Beat well until all combined.
-Scoop the batter into the paper liners until each cup is 3/4 filled.
-Bake at 350 for 20-25 minutes.
-Cool for 10 minutes.
-Remove from cupcake tin and allow to continue to cool.
-Cream butter and powdered sugar in a mixing bowl until it is creamy.
-If it doesn't cream add 1 TBSP of the whipping cream until it does.
-If it is creamy test to see if the frosting can make and keep a stiff peak.
-If the frosting doesn't do this then add 1/2 C powdered sugar.
-Test to see if the frosting now makes and keeps a stiff peak.
-If not add more powdered sugar. If it does....
-Divide the frosting into two bowls. The first remains white.
-In the second bowl add several drops of the blue gel food coloring.
-Stir to make sure the blue color is thoroughly blended.
-Scoop the white frosting into a pastry bag with a large star tip.
-Scoop the blue frosting into the same pastry bag.
-Twist the open end of the pastry bag to push the frosting out.
-Frost the cupcakes, using a swirl motion.
Add the decoration of your choice to the frosted cupcake.
7.8.1.2
45
https://www.gretasday.com/how-to-make-hockey-themed-cupcakes-for-the-nhl-lover/
Voila!  You have made some pretty fantastic NHL hockey themed cupcakes that are ideal for your next hockey gathering.