Dinosaur Christmas ornament. As soon as you say those three little words, people start to get excited. I can't think of many people that don't love dinosaurs. This kitschy cool DIY Christmas ornament is the perfect way for them to showcase their fandom.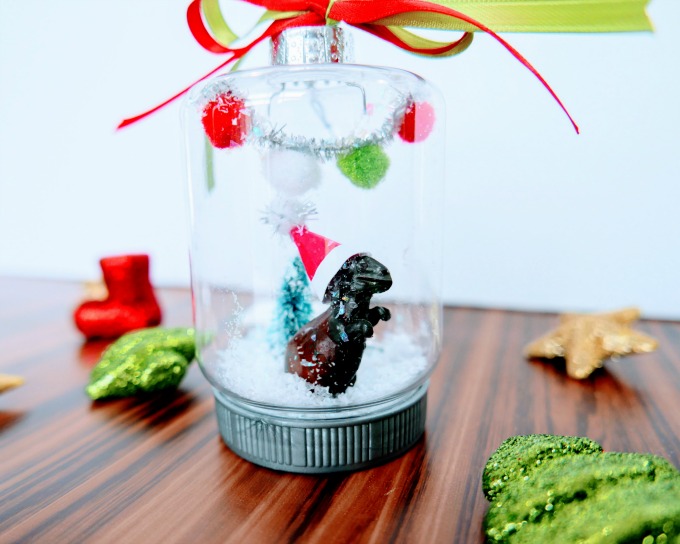 From coloring books to Jurassic Park, dinosaurs are always a hit with kids and even a lot of adults. I love dinosaurs, and I know a lot of kids who devour anything that has to do with them. This dinosaur ornament doubles as both a fun Christmas ornament and a craft that you can make with the kids. It's an immediate keepsake that the everyone will love now and enjoy remembering later.
Personally, I love fun and kitschy cool Christmas ornaments. Things like the Snowglobe Christmas Ornaments and the Gumball Machine Ornaments really add that sense of whimsy to your tree.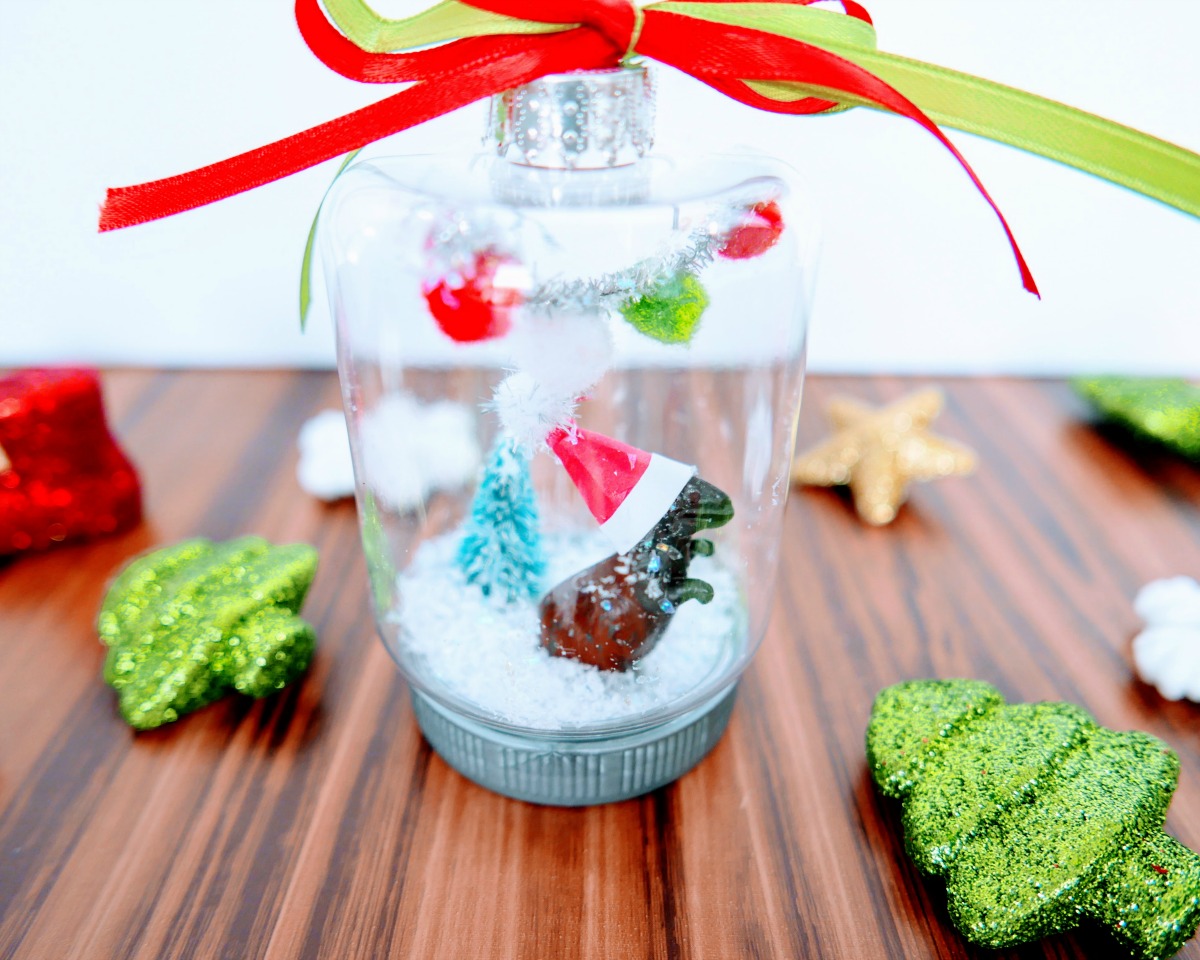 Kitschy Cool Dinosaur Christmas Ornament
Links may be commissioned.
This dinosaur ornament is a great craft to do with the kids. That being said, there are some steps that you'll want to do yourself. You'll notice that in addition to many of the standard kid-safe craft supplies listed below, a hot glue gun also makes an appearance. Obviously, you'll want to operate the hot glue gun to make sure the kids don't burn themselves. Other than that, the kids can help with almost every step of this DIY Christmas ornament.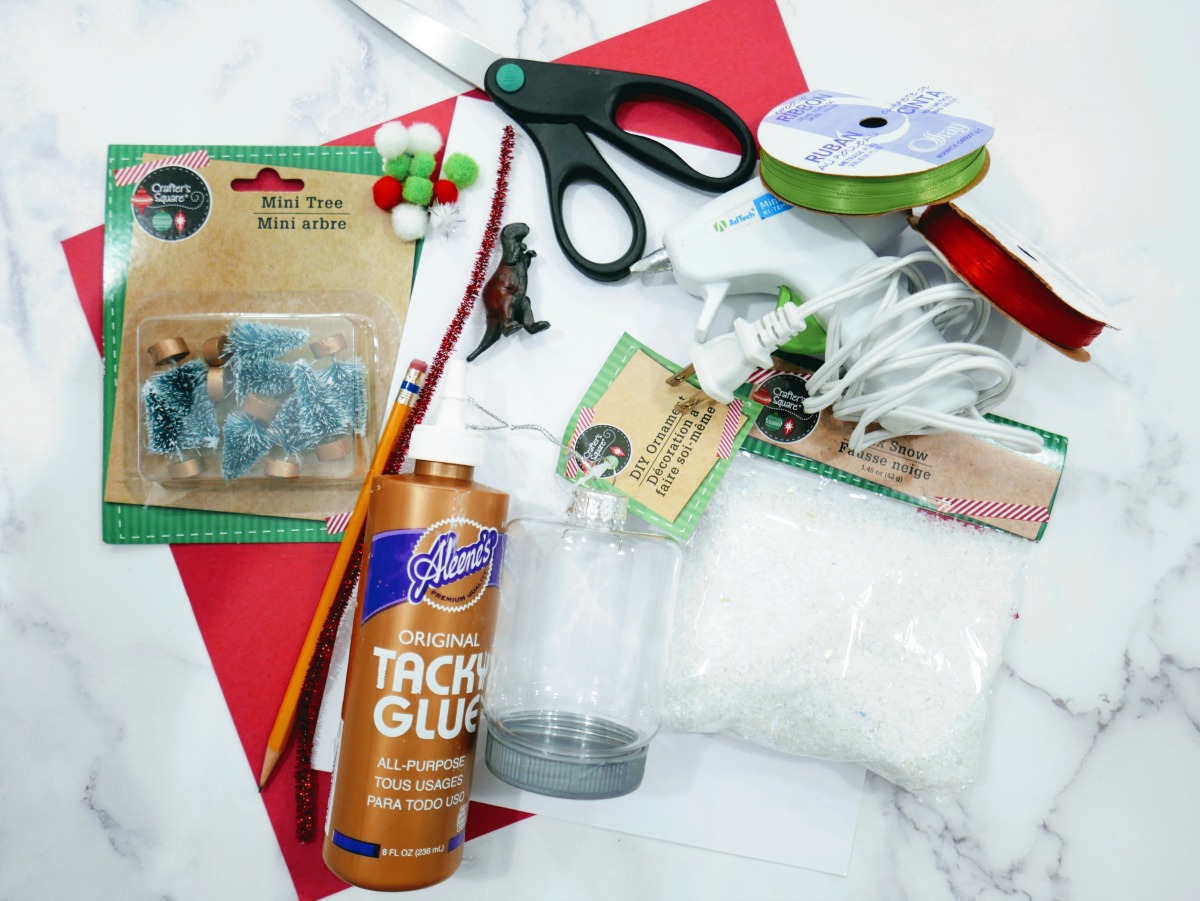 Supplies Needed
1 sheet of red cardstock
1 sheet of white cardstock
Pencil
Scissors
Tacky Glue (Elmer's Glue, or any other adhesive glue would work as well)
1 small white craft pom pom
Hot glue gun and glue sticks
Sparkly pipe cleaner (silver, gold, red or green)
4 small craft pom poms (I used red, green, and white)
Directions: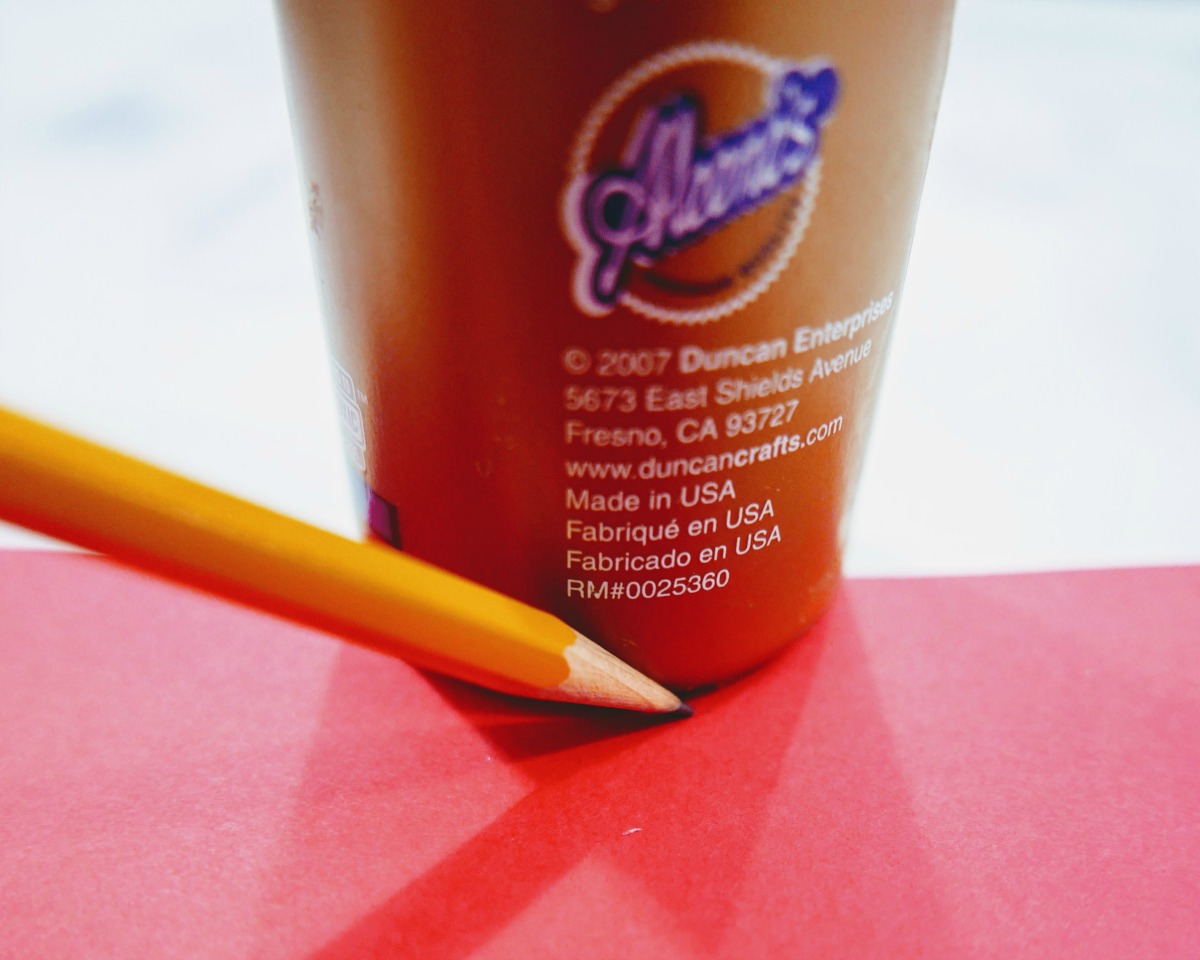 Place the bottle of tacky glue on the edge of the red cardstock, with half the bottle on, and half off. Trace the semi-circle shape onto the cardstock with a pencil. (You could also trace any other circular shape that is approximately 1 ½" in diameter) Using scissors, cut out the red semi-circle.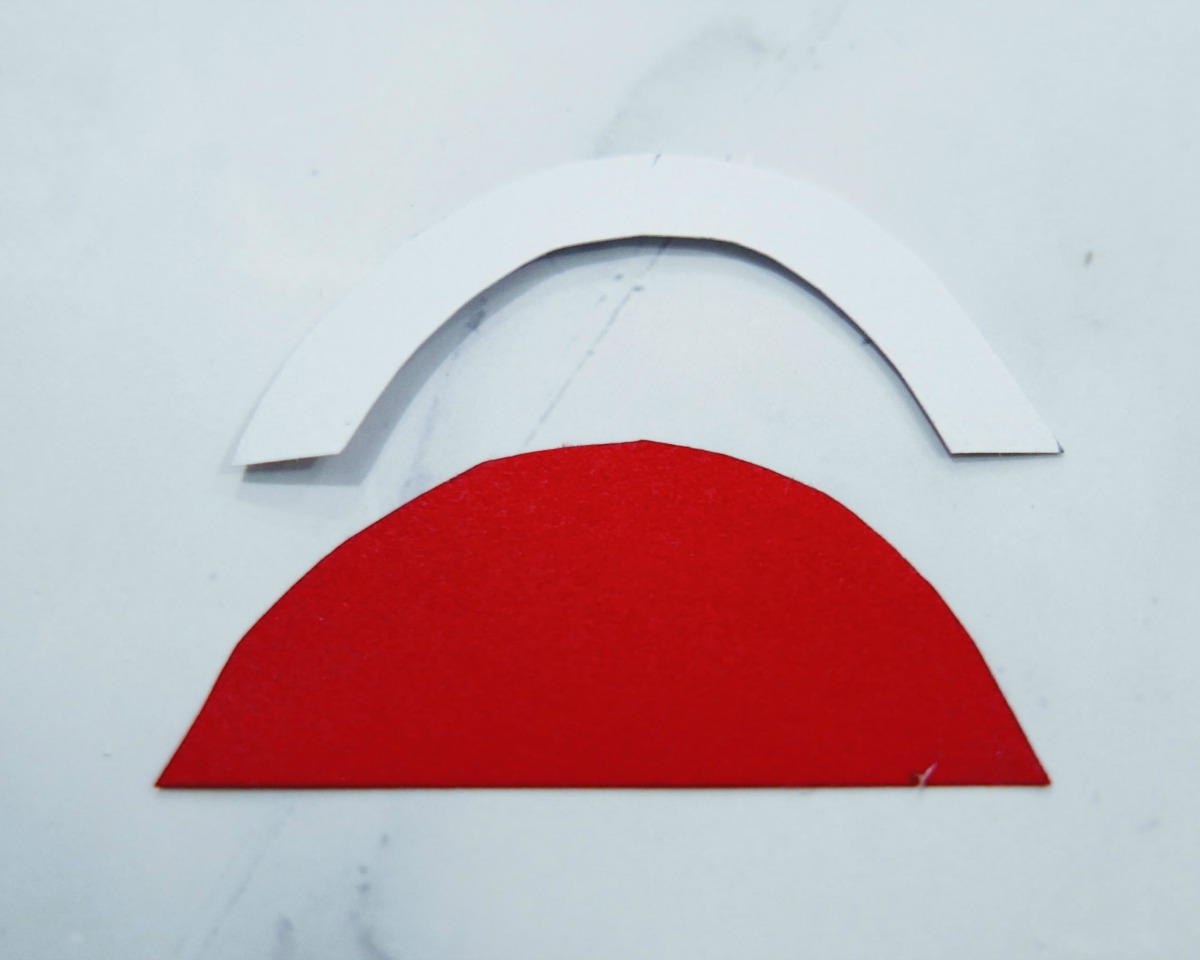 Place the red semi-circle onto the white cardstock, and trace the semi-circle again. Cut out the white semi-circle, and then cut another semi-circle within the white, leaving you with an approximately ¼" rainbow shape.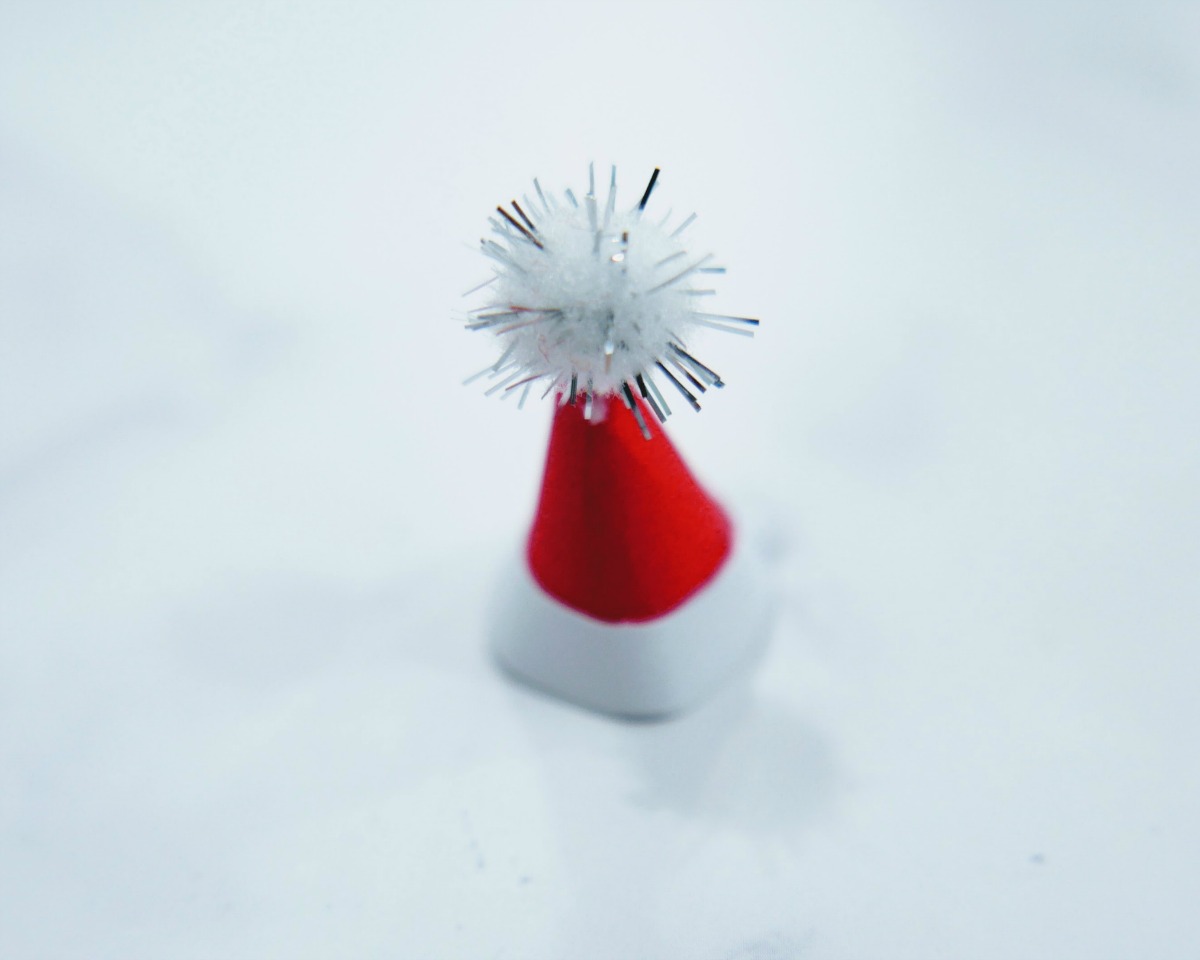 Fold the red semi-circle into a cone shape, and apply tacky glue to the seam to seal. Apply tacky glue to the bottom border of the cone, and wrap the white rainbow shaped strip around. Hot glue one small white pom to the top of the cone to complete your Santa hat.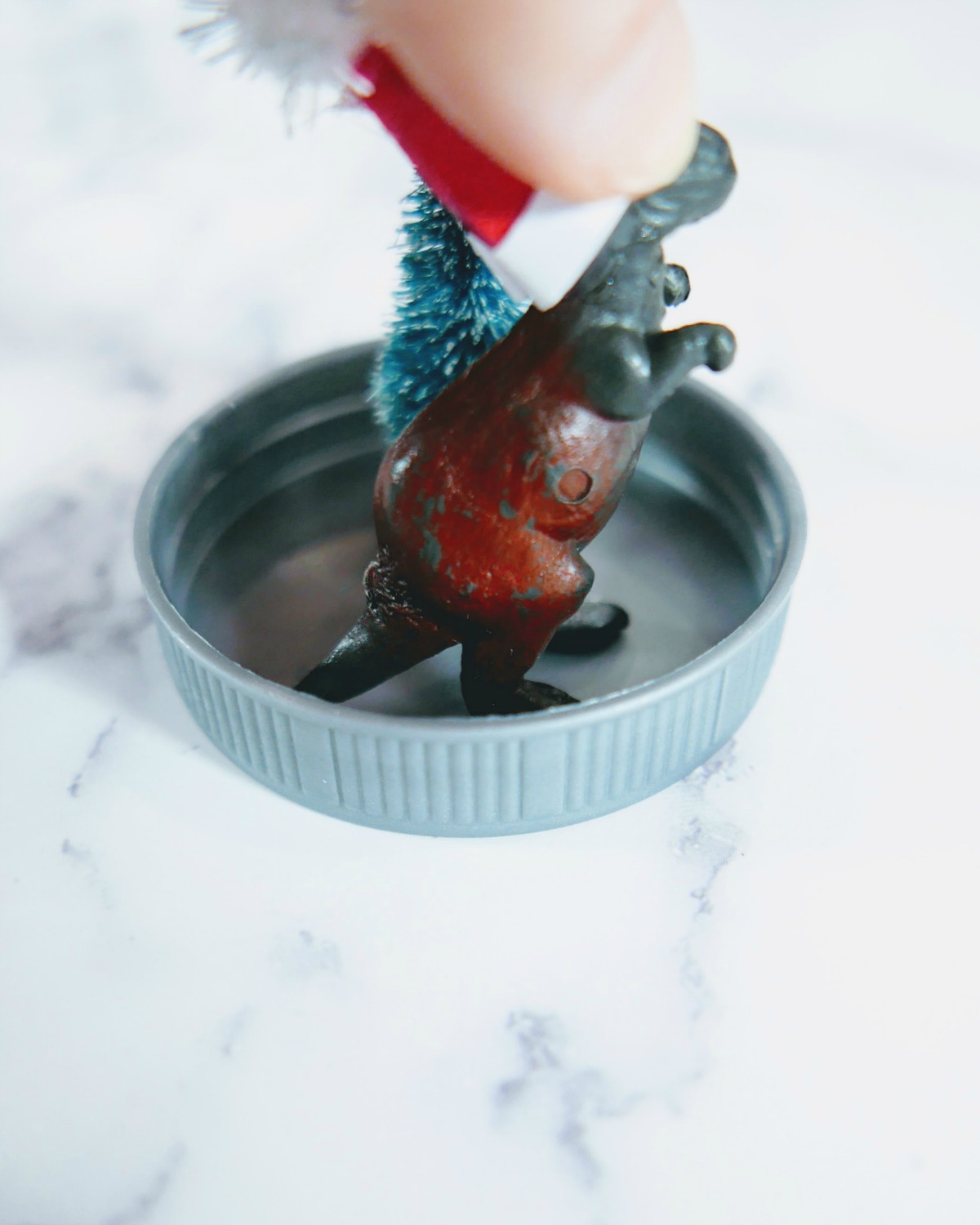 Hot glue the Santa hat to the dinosaur's head. Next, hot glue the mini tree to the inside of the ornament lid, and hot glue the dinosaur's feet diagonal to the tree.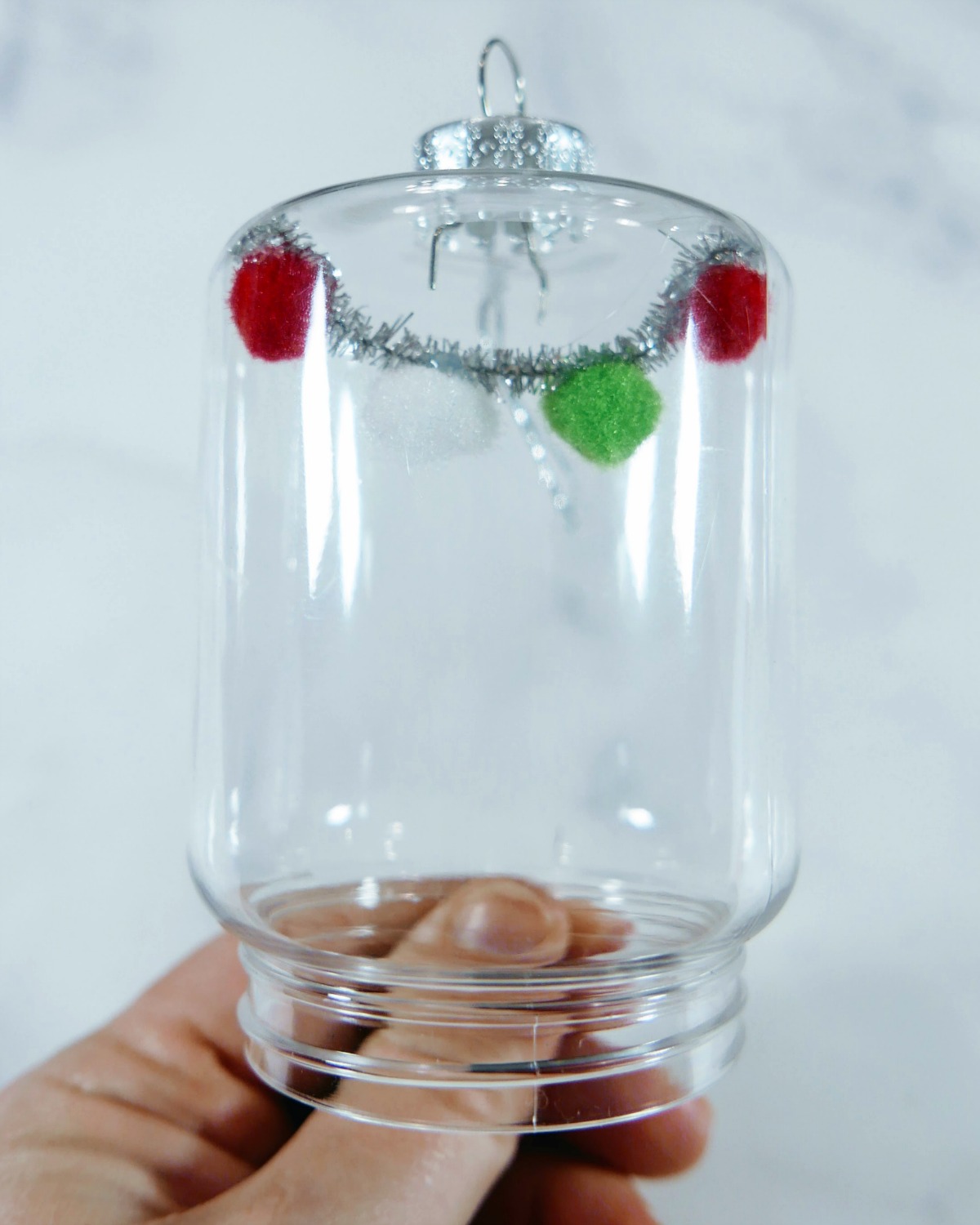 Cut a piece of pipe cleaner approximately 1 ½" long. Bend into a slight curve, and hot glue pom-poms to the pipe cleaner in alternating colors of red, green, and white. Apply hot glue to the ends of the pipe cleaner, and attach it to the inside top of the ornament. I found it easiest to hold the pipe cleaner between my pointer and middle finger to slide into the ornament.
Turn the ornament upside down, and pour in faux snow. Screw the lid onto the ornament.
Cut a piece of green and red ribbon approximately 12" long. Thread through the ornament hook, and tie in a bow.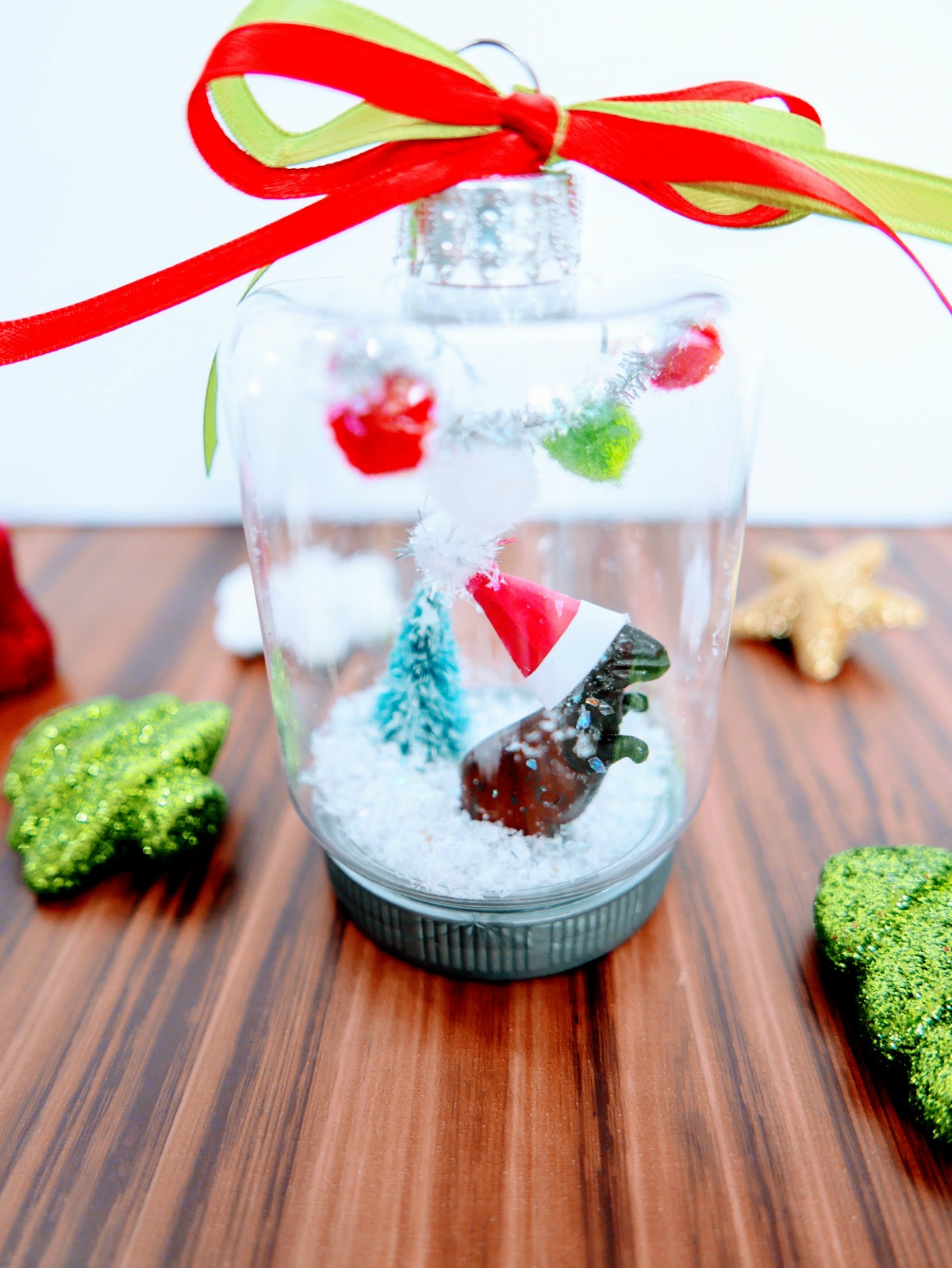 Make This Dinosaur Christmas Ornament With Your Kids
There you have it. It's not that difficult to make this adorable dinosaur ornament, and the kids will love helping you do it. So grab your supplies, put on some Christmas music, and make this dinosaur Christmas ornament with your kids. You'll not only be making an ornament, but you'll also be making memories that the kids will remember for years to come.