Make these adorable Gumball Machine Christmas Ornament for everyone on your list!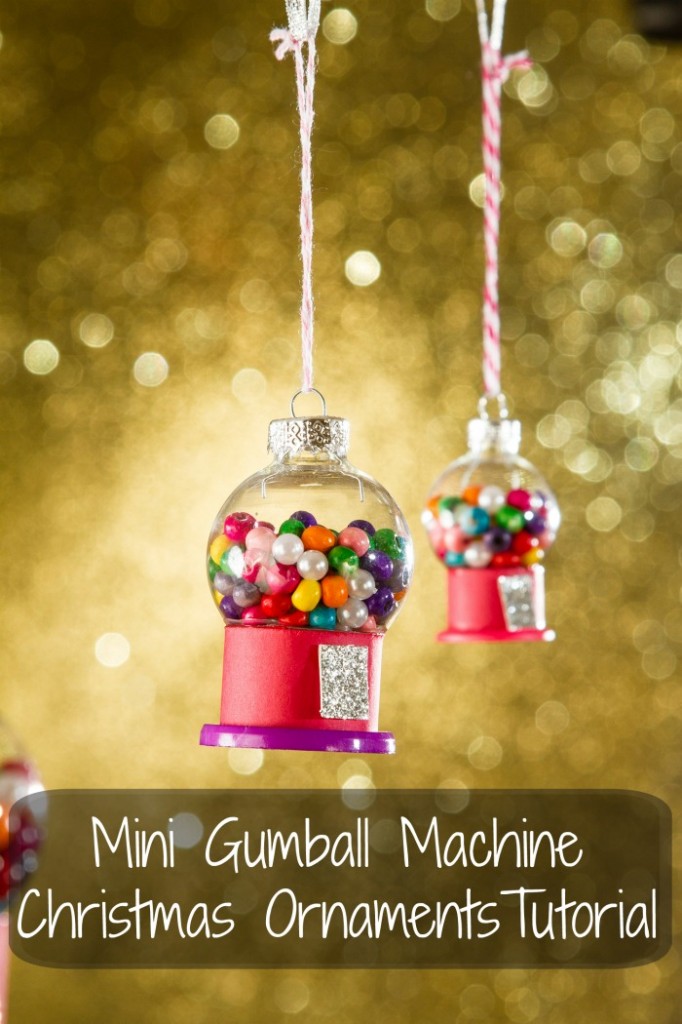 I am a notoriously late Christmas shopper.  Really, for just about any occasion, but Christmas especially.  One year, when I was about 8 or 9, my grandmother took me Christmas shopping.  On Christmas eve.
As we were gallivanting from store to store, and place to place, I happened upon the best gift for just about everyone on my list – gumball machines.  I mean, who doesn't want a gumball machine?  And for Christmas?!?!  HECK YEAH!!  Long story short, but some people recognized that gumball machines are, in fact, awesome while others didn't.
Gumball machines hold a special place in my heart, because of this event.
Mini Gumball Machine Christmas Ornament Tutorial
Supplies
3/4 x 5 inch Cardstock
Scrap of silver cardstock
1 1/2 inch Clear Glass  Ball Ornament
Multi-colored seed beads – Size 6 or 8 work great.  Size 6 beads are also known as E beads.
1 1/2 inch diameter button
6 inches of Baker's Twine or ribbon
Tacky Glue
Clothespin
Directions
Roll the strip of card stock into a 11/4-inch-diameter tube and secure it with tacky glue. Clamp it with a clothespin until the glue dries.
Glue one end of a small rectangle of silver glitter card stock to the tube.
Fill a 11/2-inchdiameter clear glass ball ornament with seed beads.
For the base, glue the tube to a large button (ours has a 11/2-inch diameter), then glue the ornament in place.
Voila!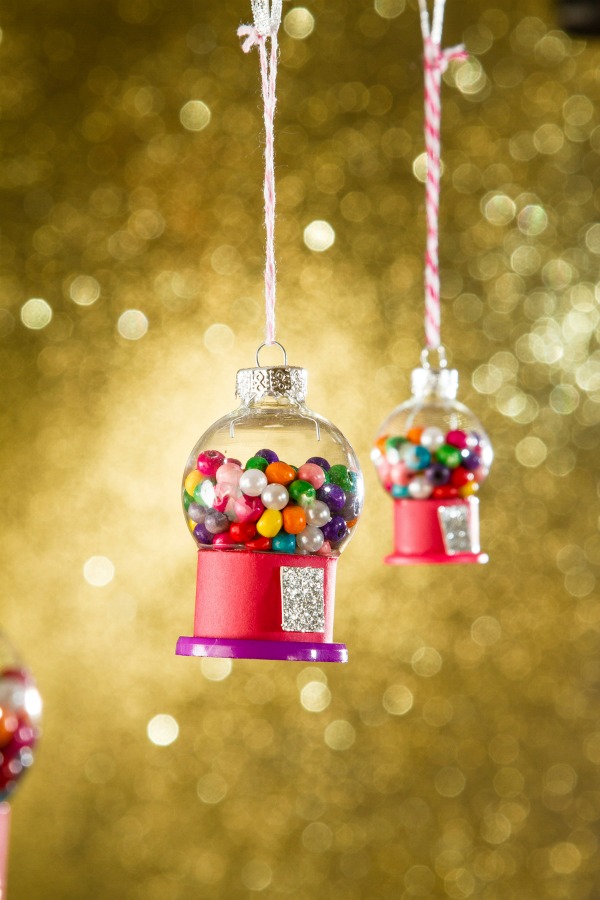 Cost of materials: $10-12 to make 24 or so ornaments
Time: 30-45 minutes, including drying time.
Will you be adding these Gumball Machine Christmas Ornament to your tree?