It's spooky season! Halloween kinda snuck up on us a little this year, I'm gonna admit it. However, we've rounded up some of the greatest, most fun, and cutest yet spooky items for Halloween home decor.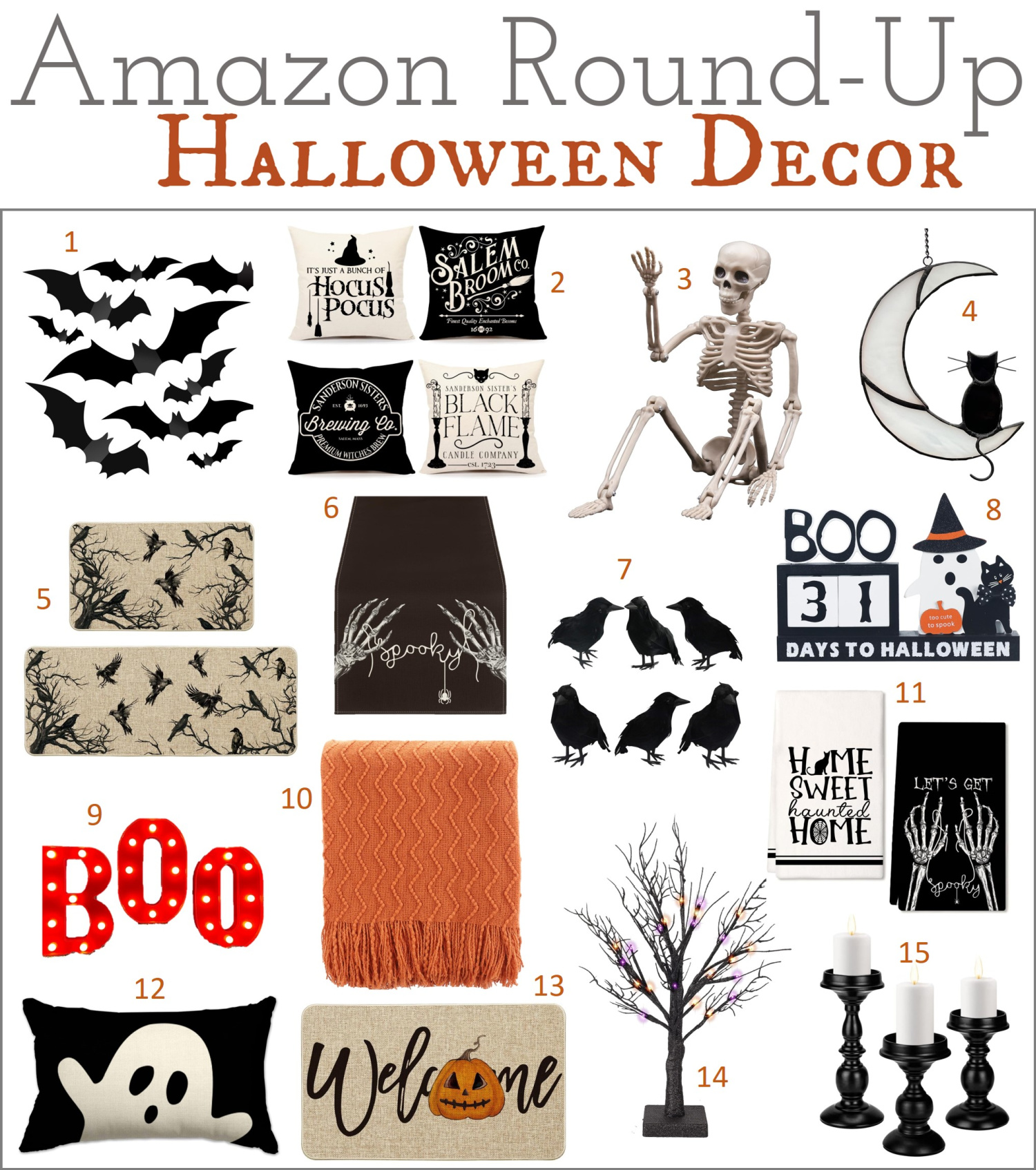 Even better, these are all from Amazon. and that means they can be on your doorstep in plenty of time to enjoy Halloween. Most of these items are pretty affordable, too, so they won't break the bank.
Links may be commissioned.
Our Favorite Cute yet Spooky Halloween Decor Finds from Amazon
56 PCS Reusable PVC 3D Decorative Scary Bats Wall Stickers Comes with Double Sided Foam Tape
Bats, bats everywhere! There are enough bats to cover some serious wall space in this package. These are great for indoor or outdoor use, and are self-stick with the tape tabs included. Set the mood for a spooky night.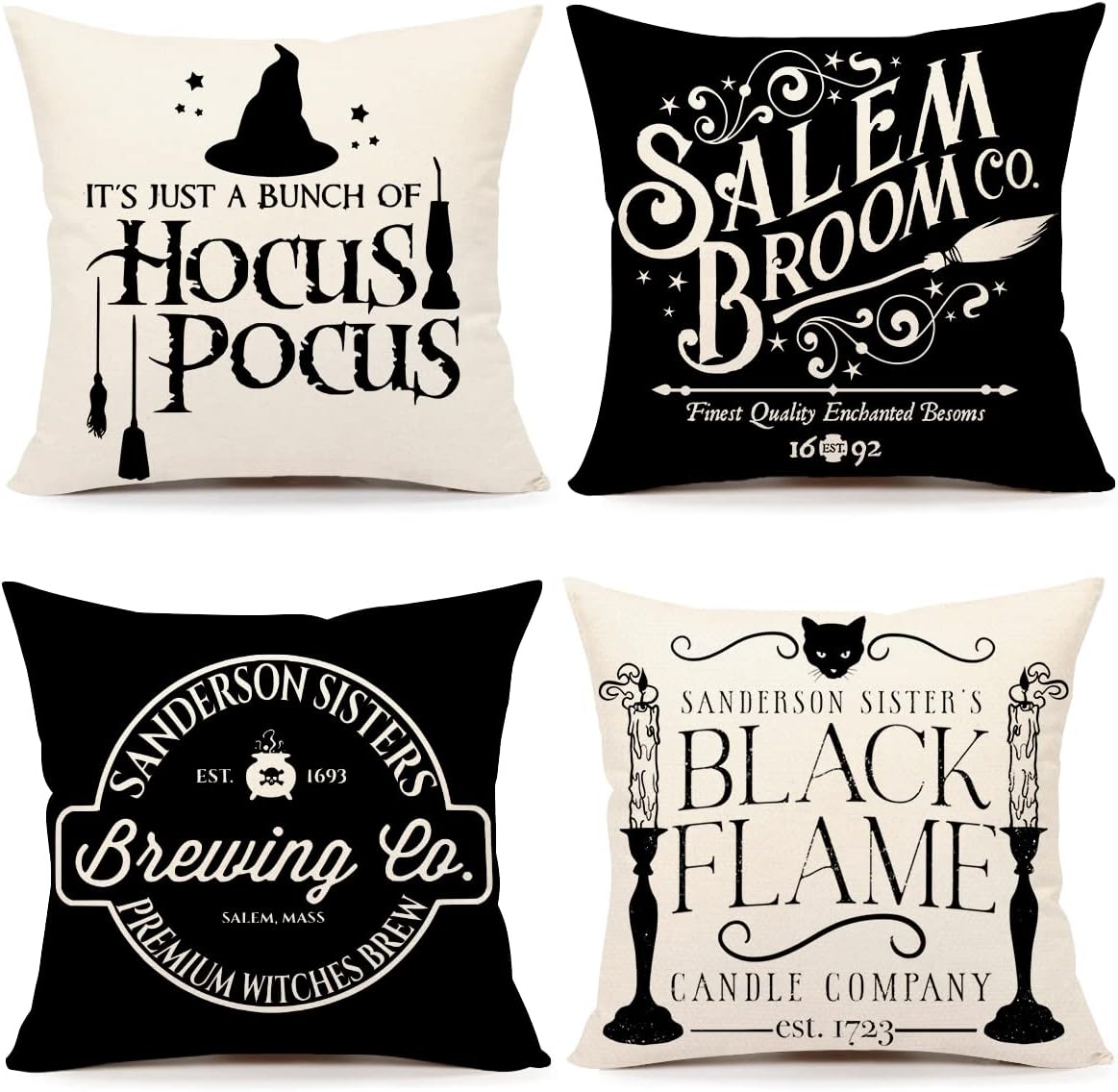 Set of 4 Halloween Hocus Pocus Farmhouse Saying Throw Pillows Slipcovers – 18×18
Love Hocus Pocus, but don't need the Sanderson sisters all over everything? We got you! This selection of black and white slip covers for you decorative pillows are inspired by the movies, but with a wink and a nod. The designs aren't so Halloween based that they can't be used for longer, either. It feels like you've given a nod to the holiday without being garish. Add your own pillows or pillow inserts
16″ Posable Plastic Full Body Skeleton with Movable Joints for Outdoor Indoor Halloween Decor
Well howdy, Mr Skeleton in all your glory. Boo back at you. The 16 inch posable skeleton is great for inside or out. Mr. Skeleton is 16 inches tall, in proportion and fully articulated to pose in almost any way you can think imagine. You can get a taller posable skeleton, too!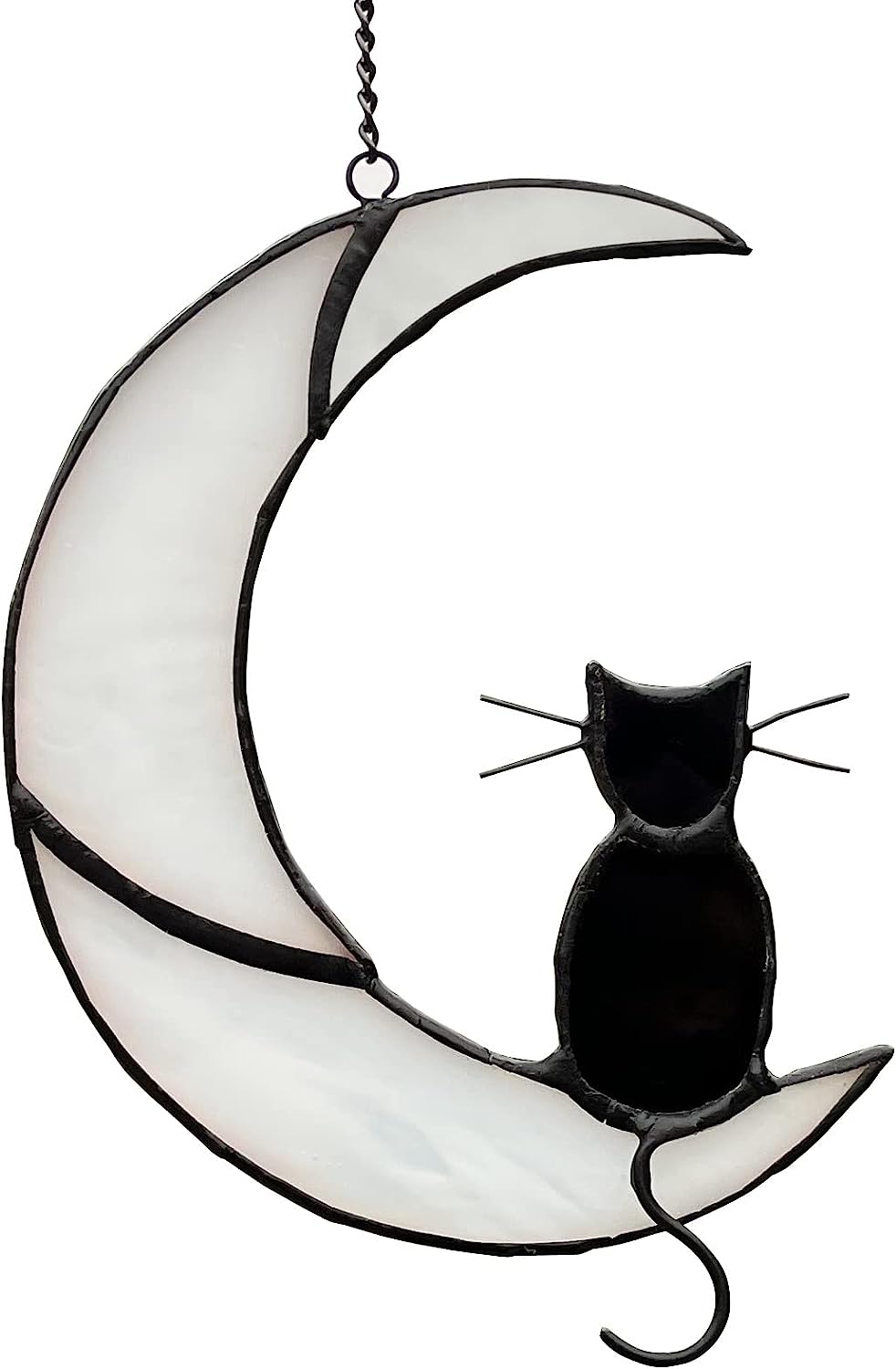 Black Cat On White Moon Stained Glass Window Hanging Suncatcher
Black cats are a main symbol of Halloween and this stained glass ornament is fitting with the theme. Our cat is perched fittingly on a crescent moon surveying his surroundings. Hang it in a sunny window or anywhere you want to spread some Halloween feelings. This also makes a perfect gift for any cat lover in your life.
Crows on Tree Branches Halloween Kitchen Mats Set of 2, Home Decor Low-Profile Kitchen Rugs for Floor – 17×29 and 17×47 Inch
Edgar Allen Poe wrote "Quoth the raven, nevermore" and since the 1800's ravens have been steeped in the mystery of Halloween. This set of indoor rugs uniquely catches the black birds in nature and adds to their eerie quality. Great for an entry, hall, or bathroom, too.
Skeleton Hand Spooky Halloween Table Runner, 13×72 Inch
A black table runner is just the accessory to start your kitchen decorations for Halloween. Using this one with spooky skeleton hands on the end takes the eerie factor up a notch or two. Lay your table with your Halloween party foods and you'll be all set.
Halloween Black Feathered Crows, Birds with Real Feathers
Here's a novel and creepy feature for Halloween; a group, called a murder, of feathered and lifelike crows. Almost life size, they can be placed anywhere for effect. They're made of real black feathers, with plastic bodies and wire legs for ease of posing.
Wooden Halloween Countdown Calendar
This is a really cute idea for pre-school and primary school kids. It's a "countdown to Halloween" daily calendar where you change the numbers to count it down. Younger kids would get a kick out of it, and make the waiting time not so frustrating.
LED Marquee Light Up Letters "BOO" Halloween Lights
These BOO light up marquee lights would be great in a front window, on a hall table or mantle, or just about any place you might want to add some holiday spirit. They are battery operated, so you don't have to worry about cords or plugs being handy. They can sit on a flat surface or hang for even more options.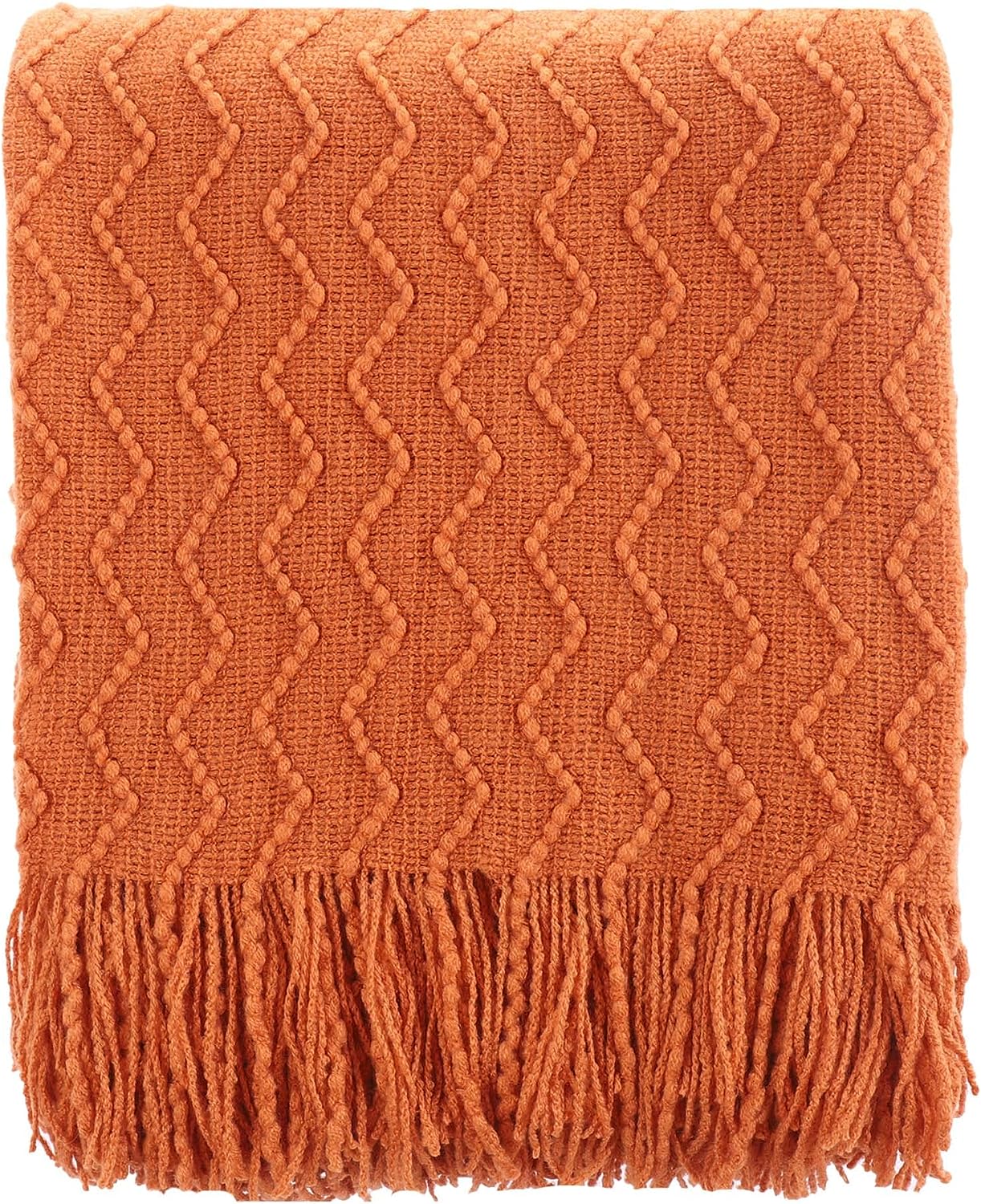 BATTILO HOME Decorative Burnt Orange Throw Blanket with Fringe, 50″x60″
This orange throw is a great way to bring in the color of Halloween, but have something you can use throughout the Autumn. A soft burnt orange color that looks great as an accent for many color schemes. Pair with the pillow slip covers above for a unique statement.
Halloween Kitchen Dish Towels, 18×26 Inch
Are you ready for your Halloween party? Not unless your kitchen has a set of spooky skeleton dish towels. This set is standard sized towels with various skeleton, skull, and other kinda scary designs to make your kitchen Halloween ready.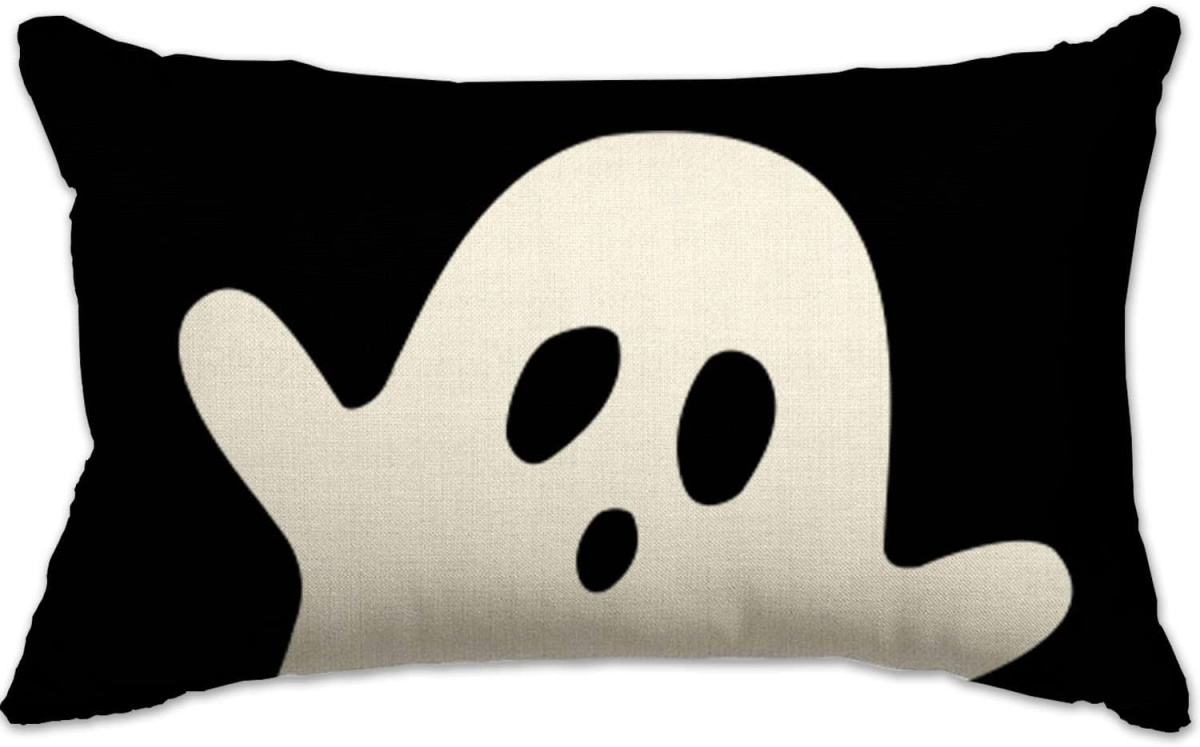 Ghost Halloween Lumbar Pillow Covers
Another pillow cover that has a friendly ghost decoration on it. Its simple black and white design is all Halloween but without the scary designs many seasonal decorations have. This is made for a lumbar support pillow, but any 12 x 20 inch pillow will work.
Pumpkin Halloween Welcome Low Profile Doormat
Greet your guests at your door with a seasonal Halloween doormat. Several available here with pumpkins or ghosts. Choose your background of creamy beige or subtle black, and voila!, your door is now festive.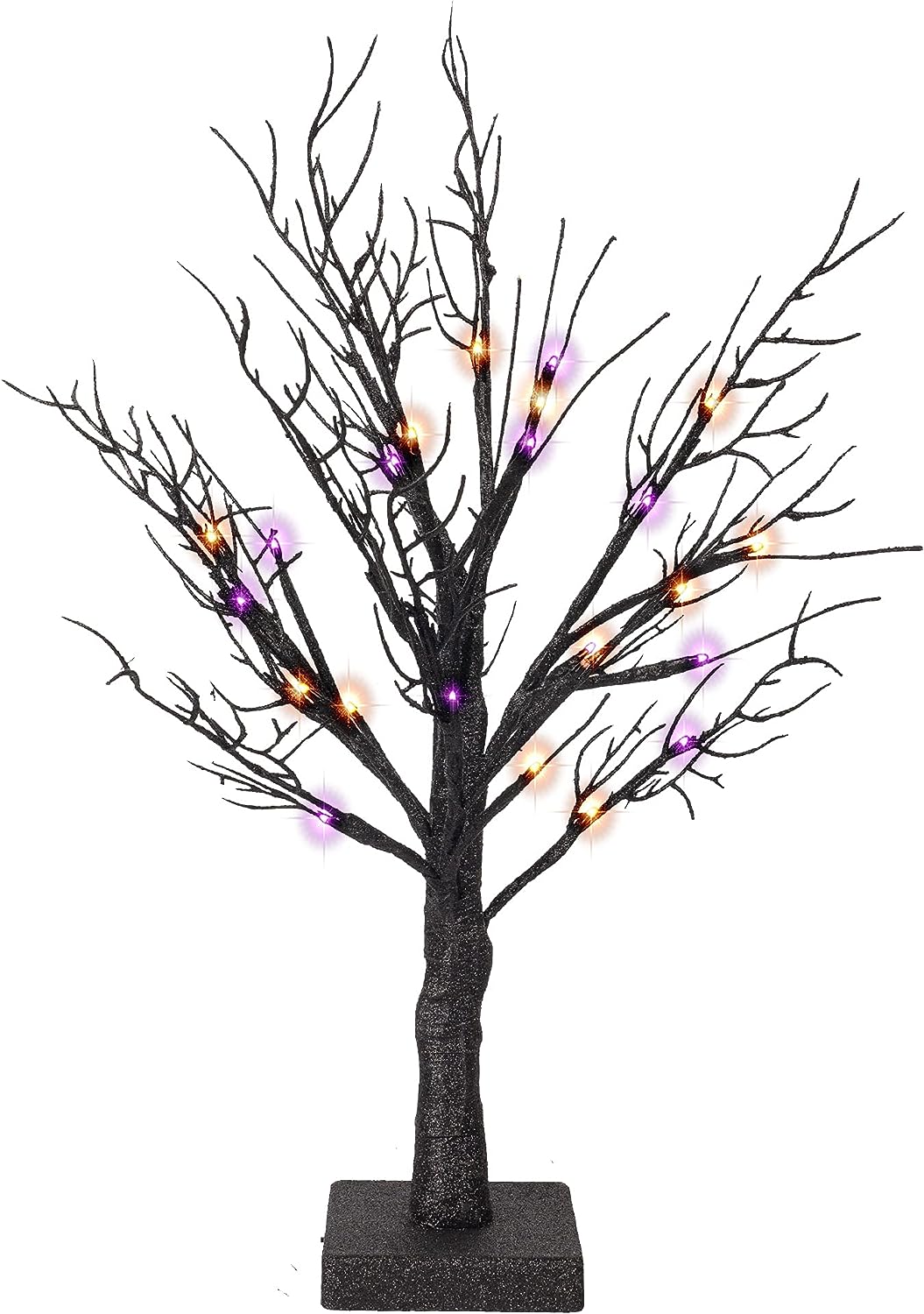 Lighted Black Birch Spooky Tree, 2FT Halloween Battery Operated Tree
This is it. I had never known I needed this until I saw it; a Halloween Tree. Two feet tall of black leafless branches and it comes with little lights that are spiders. Add some fake spiderweb and you'll be good to go. (Sung to the theme of Oh Christmas Tree) Oh, Spooky Tree, oh Spooky Tree, how empty are thy branches…
Black Candle Holder Set for Pillar Candles
Although a set of three pillar candle holders would be a design statement in any décor, they are especially fitting at Halloween. Great for an entry or hall, or on a kitchen table all decked out with Halloween decorations. Use flameless pillars for kids and they will feel so grown up.