If you're a fan of rich, decadent desserts that combine the flavors of chocolate and pecan pie, then you're in for a treat.
We're going to guide you through the steps to create mouthwatering Chocolate Pecan Pie Cupcakes that are sure to impress your family and friends.
These cupcakes are a delightful fusion of classic pecan pie and chocolate cake, topped with a cinnamon-infused frosting and drizzled with luscious salted caramel sauce. They're ooey gooey delightful, a little messy, and a total taste of fall.
Chocolate Pecan Pie Cupcakes Recipe
Links may be commissioned.
We're using a boxed cake mix, to help keep things easier You could definitely use a from scratch cupcake recipe.
Ingredients:
For the Cupcakes:
1 box of Triple chocolate cake mix
3 large eggs
1 ¼ cups water
½ cup canola oil
For the Pecan Pie Topping:
1/4 cup sugar
1/4 cup brown sugar
2 tablespoons cornstarch
3/4 cup light corn syrup
4 tablespoons unsalted sweet cream butter, melted
1/2 teaspoon kosher salt
2 large eggs, lightly beaten
1 1/2 cups chopped pecans
1 teaspoon pure vanilla extract
For the Cinnamon Frosting:
1 cup unsalted sweet cream butter, softened
2 1/2 cups powdered sugar
1 teaspoon vanilla extract
1 tablespoon ground cinnamon
3-5 tablespoons heavy whipping cream
1 bottle of Salted Caramel Sauce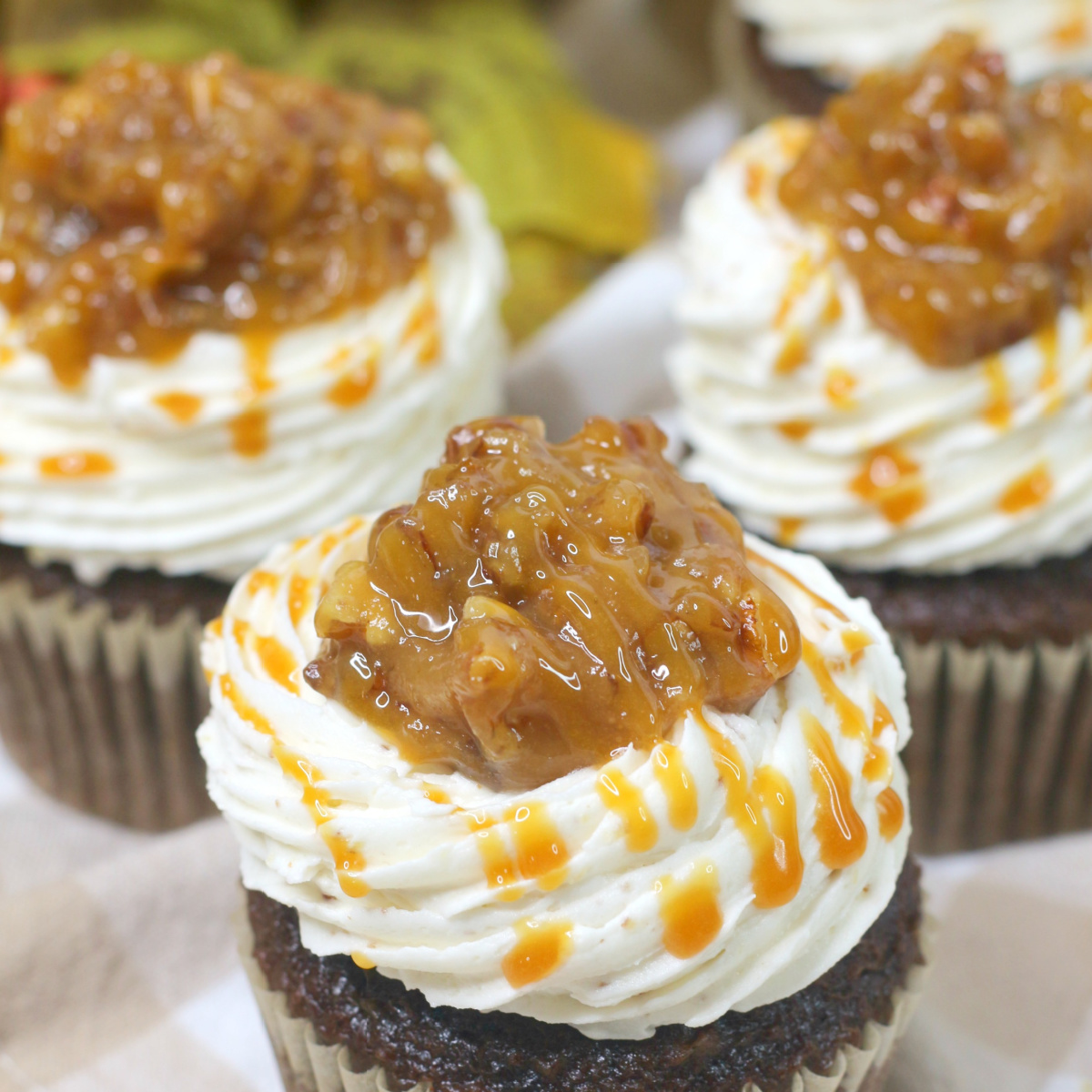 Directions:
1. Prepare the Cupcakes:
Preheat your oven to 350 degrees Fahrenheit and line a cupcake pan with cupcake liners.
In a large bowl, combine the triple chocolate cake mix, eggs, water, and canola oil. Mix until well combined.
Fill each cupcake liner about 2/3 full with the cupcake batter.
Bake in the preheated oven for approximately 22 minutes or until a toothpick inserted into the center of a cupcake comes out clean.
Remove the cupcakes from the oven and let them cool completely on a rack.
2. Make the Pecan Pie Topping:
In a medium saucepan, stir together sugar, brown sugar, cornstarch, light corn syrup, melted butter, and kosher salt.
Bring the mixture to a boil over medium heat.
Remove from heat and stir in chopped pecans and pure vanilla extract.
Transfer the pecan pie mixture to a bowl, let it cool on the counter for 10 minutes, then refrigerate it for 1 hour.
3. Create the Cinnamon Frosting:
In a stand mixer, combine softened butter, powdered sugar, vanilla extract, ground cinnamon, and heavy whipping cream.
Mix on medium speed until stiff peaks form in your frosting.
Scoop the frosting into a piping bag fitted with a star tip.
Helpful Hints:
Read the Recipe Thoroughly: Before you start, read through the entire recipe to familiarize yourself with the steps and ingredients.
Use High-Quality Ingredients: Choose fresh, high-quality ingredients for the best flavor and texture.
Room Temperature Ingredients: Ensure your eggs and butter are at room temperature for smoother mixing.
Don't Overmix the Batter: Mix the cupcake batter until just combined.
Check for Doneness: Use the toothpick test to determine if the cupcakes are done.
Allow Cupcakes to Cool Completely: Let the cupcakes cool before frosting to prevent your frosting from melting.
Pipe Frosting Creatively: Get creative with your frosting designs. We used a star tip, but a round tip would look great, too.
Store Properly: Store leftover cupcakes in an airtight container.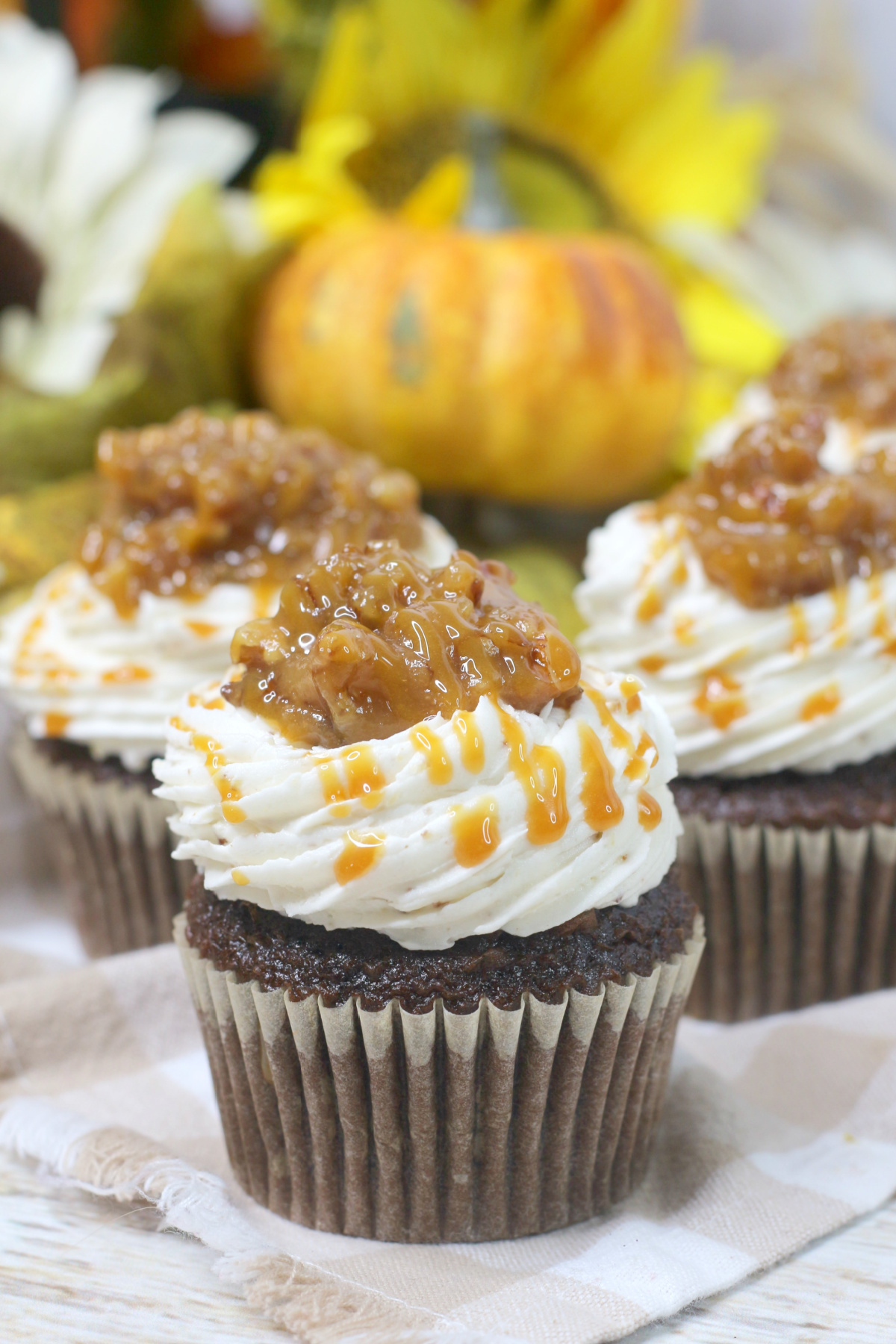 Recommended Products
Cupcake Pan – We like this cupcake pan from Cuisinart. It's heavy and bakes evenly.
Mixing Bowls
Hand Mixer or Stand Mixer – While Kitchenaid Mixers are the go-to for stand mixers, there are lots of stand mixer options on the market at all price points.
Measuring Cups and Spoons – I like metal measuring cups and spoons. I find they don't stain and they come really clean.
Spatulas – Can you really ever have enough spatulas? I say probably not!
Cooling Rack
Decorative Cupcake Liners
Piping Bag and Tips – This is a great set to have, especially if you like to cook or bake.
Oven Thermometer – It's always a great idea to know if your oven's temperature is off.
Kitchen Timer
Baking Mats
Conclusion:
These Chocolate Pecan Pie Cupcakes are a delightful combination of flavors and textures that will satisfy your sweet cravings. Whether you're celebrating a special occasion or simply indulging in a sweet treat, these cupcakes are sure to be a hit. Give them a try.