I'm always looking for a quick meal that doesn't necessarily consist of convenience foods. Like a lot of you out there, I tend to grab whatever is close by when I'm busy. That usually means making a meal of things that are not healthy. At all. That's why I love this recipe. This Chicken Bacon Ranch Wrap is a quick and easy meal that's great for lunch or dinner. It's delicious, healthy, and fast. That's a great combination for anyone who has limited time and still wants to maintain a somewhat healthy diet.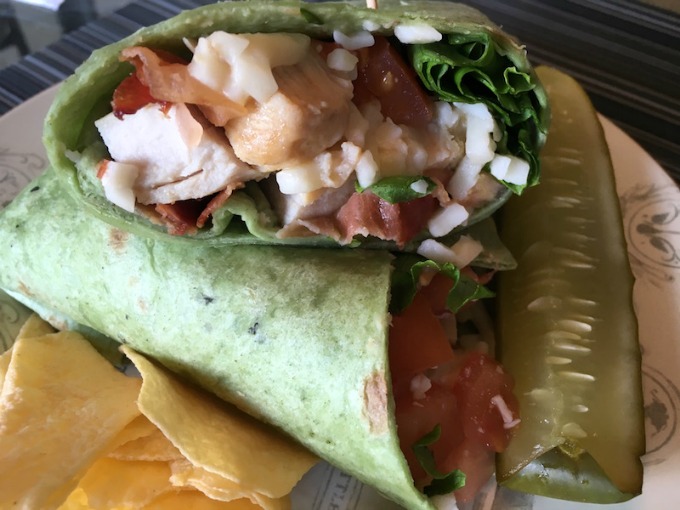 When you work from home, you often find yourself falling into the rut of grabbing a frozen tv dinner or junk food instead of eating a proper meal. Sometimes, lunch will be a bag of chips and a candy bar, and dinner might be a protein bar. That's if you have one. Otherwise, it might just be whatever you have in a bag or wrapper that's easy to grab. The great thing about this recipe is that you can make the ingredients ahead of time.
These wraps couldn't be easier. Just make your ingredients ahead of time and heat them up before you make your wrap. If you really wanted to make this quick and easy, pick up a rotisserie chicken to use. It works great for this Chicken Bacon Ranch Wrap sandwich recipe.
Chicken Bacon Ranch Wrap Recipe
Yield: 2
Delicious Chicken Bacon Ranch Wrap Sandwich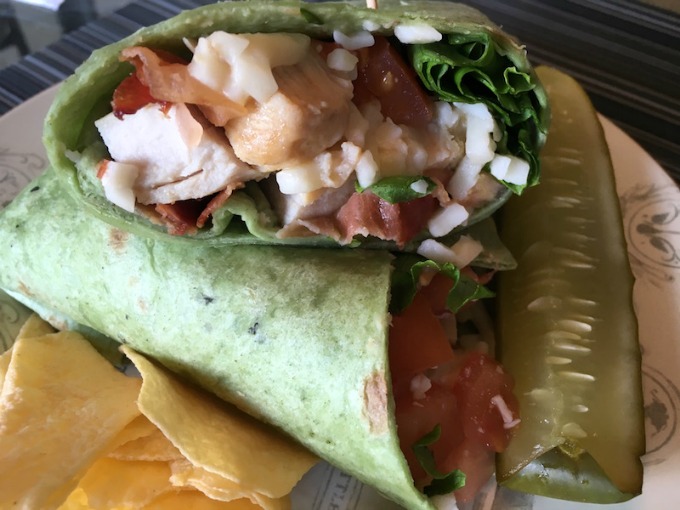 A delicious and easy Chicken Bacon Ranch wrap that makes a great lunch or quick weeknight meal.
Ingredients
2 8-inch spinach wraps
4 leaves Romaine lettuce, washed and dried, tough ribs at bottom removed
5 oz. chicken breast, cooked, warmed and cut into small chunks
6 slices of bacon, cooked but not too crispy
1 ripe tomato, cleaned, seeded and cut into small chunks
1 ½ oz. shredded provolone cheese
1 ½ oz. shredded mozzarella cheese
2 T. ranch dressing
Instructions
To assemble, place one wrap on a smooth surface and top with 2 Romaine lettuce leaves.
Add half the chicken, bacon, tomato and cheese on top of the lettuce, making sure to evenly distribute across the length of the wrap.
Drizzle with half of the ranch dressing.
Gently roll one side of the wrap over the assembled ingredients and continue rolling until you reach the other side.
Fold the end of the wraps up so that your goodies don't fall out.
Cut rolled wrap in half and secure each side with a toothpick. Repeat with second wrap. Serve with a dill pickle and your favorite potato chips or side dish.
Nutrition Information:
Yield:
2
Serving Size:
1
Amount Per Serving:
Calories:

793
Total Fat:

42g
Saturated Fat:

15g
Trans Fat:

0g
Unsaturated Fat:

23g
Cholesterol:

145mg
Sodium:

1465mg
Carbohydrates:

47g
Fiber:

4g
Sugar:

3g
Protein:

55g
Nutritional info is provided as a courtesy, and may not be completely accurate
See how simple this is? It only takes a few ingredients, and you can customize this wrap with any kind of lettuce or cheese you like. You can really use any kind of leftover chicken, and this Chicken Bacon Ranch Wrap is so good that even the picky eaters in the group will enjoy it. You can easily double or triple this, too, to feed a crowd. Serve with your favorite side dishes like a good pasta salad or coleslaw, and you've got a meal that anyone will love.
If you're not a fan of wraps, make this into a sandwich instead. Serve your Chicken Bacon Ranch Sandwich on brioche or Hawaiian buns for a little something special. It's great on toasted bread, as well, for a nice texture addition to your meal.
With the school year kicking back up, this Chicken Bacon Ranch Wrap is great for sports moms, too. Make 'em up and take them to the field or arena for an on-the-go meal that you can enjoy no matter where you are. They're even good cold for lunch at school or work. You really can't go wrong here.
Can this be made low carb?
If you're doing the low carb thing, you can use either a low carb wrap or skip the wrap and use lettuce leaves. Personally, I like butter lettuce when I'm doing lettuce wraps, but any lettuce will work well. You can also change out the type of cheese, or omit it completely. A sharp cheddar would be delicious here. This recipe is really more of a guide than a set-in-stone situation. Substitute any ingredient you like to suit your taste or just to keep things interesting. Because after you try this once, you'll be making it again and again.
Gather up the simple ingredients you'll need to make this recipe and start cooking. I guarantee that you will love it. With so many different ways to enjoy it and the ability to substitute any ingredient for one that suits your palette, you'll have a recipe in your rotation that's perfect for almost any situation, from an on-the-go meal to a fun family meal that everyone will love.