I'm always looking for a quick meal that doesn't necessarily consist of convenience foods. This Chicken Bacon Ranch Wrap is a quick and easy meal that's great for lunch or dinner.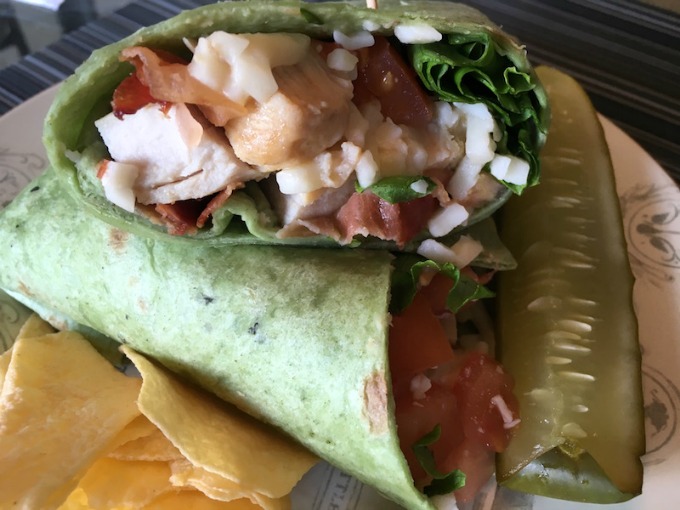 When you work from home, you often find yourself falling into the rut of grabbing a frozen tv dinner or junk food instead of eating a proper meal. The great thing about this recipe is that you can make the ingredients ahead of time.
Just heat them up before you make your wrap. A rotisserie chicken also works great for this.
Ingredients
2 8-inch spinach wraps
4 leaves Romaine lettuce, washed and dried, tough ribs at bottom removed
5 oz. chicken breast, cooked, warmed and cut into small chunks
6 slices of bacon, cooked but not too crispy
1 ripe tomato, cleaned, seeded and cut into small chunks
1 ½ oz. shredded provolone cheese
1 ½ oz. shredded mozzarella cheese
2 T. ranch dressing
Instructions
To assemble, place one wrap on a smooth surface and top with 2 Romaine lettuce leaves.
Add half the chicken, bacon, tomato and cheese on top of the lettuce, making sure to evenly distribute across the length of the wrap.
Drizzle with half of the ranch dressing.
Gently roll one side of the wrap over the assembled ingredients and continue rolling until you reach the other side.
Fold the end of the wraps up so that your goodies don't fall out.
Cut rolled wrap in half and secure each side with a toothpick. Repeat with second wrap. Serve with a dill pickle and your favorite potato chips or side dish.
7.8.1.2
124
https://www.gretasday.com/chicken-bacon-ranch-wrap-sandwich-recipe/
See how simple this is? You can really use any kind of leftover chicken, and this Chicken Bacon Ranch Wrap is so good that even the picky eaters in the group will enjoy it. You can easily double or triple this, too, to feed a crowd. Serve with your favorite side dish like a good pasta salad or cole slaw.
With the school year kicking back up, this Chicken Bacon Ranch Wrap is great for sports moms, too. Make 'em up and take them to the field or arena.