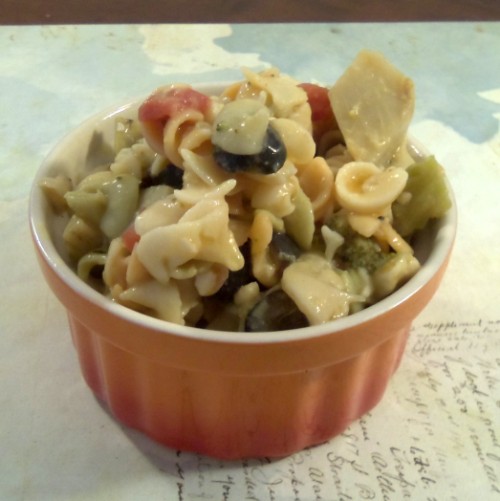 I tend to be a creature of habit. There are some things that I just love, and no matter what, I cannot break out of the cycle. This Pasta Salad recipe is one of the things that I make a lot. It's great as a side dish, but hearty enough for a meal. Plus, it's fairly quick and makes a lot.
Pasta Salad Ingredients:
One bag Rotini Pasta (approx 12 oz or so) I like the multi-colored kind, as it makes it prettier.
8 oz sliced or whole mushrooms (generally one carton)
A good sized stalk of Broccoli – I know. It's about 1-2 cups, or a package of frozen broccoli.
8 oz Mozzarella cheese (one ball) – I like to use the non-fresh mozzarella, as it stands up better.
A large jar of marinated artichoke hearts – these are generally 12-14 oz.
Small can of sliced olives.
One can of Garbanzo Beans (also called chickpeas)
A pkg of dry Salami. Approx 4 oz, but I like to use the 8 oz packages.
A double recipe of this salad dressing.
Salt and pepper to taste
To make this pasta salad recipe:
In a large pot, bring water to a boil. Add a little bit of salt and a little bit of oil, if desired. Once boiling, add the pasta.
Make the dressing while waiting for the water to boil.
While the pasta is cooking, chop up the broccoli and slice the mushrooms if using whole ones. I like them to be bite sized pieces.
When the pasta has just a couple minutes left to cook, toss in the broccoli and mushrooms. They only need a couple minutes to cook.
Drain the pasta & veggies once cooked.
Start slicing the salami and dicing the cheese. I generally cut the salami rounds into three strips and the cheese into bite sized pieces.
Drain the artichoke hearts, olives, and garbanzo beans.
You can return the pasta & veggies to the pan or put them in a big bowl. Add olives, artichoke hearts, and garbanzo beans. Stir to combine. Add in the salami and cheese. Stir to combine again.
Dress to taste. I generally put about ¼ of the dressing on as I'm stirring ingredients in, then add another ¼ of the dressing. The pasta absorbs the dressing, so you may need to add more once the salad is chilled.
You can omit any ingredients you want. Or, you can add ingredients, too. It's pretty forgiving.