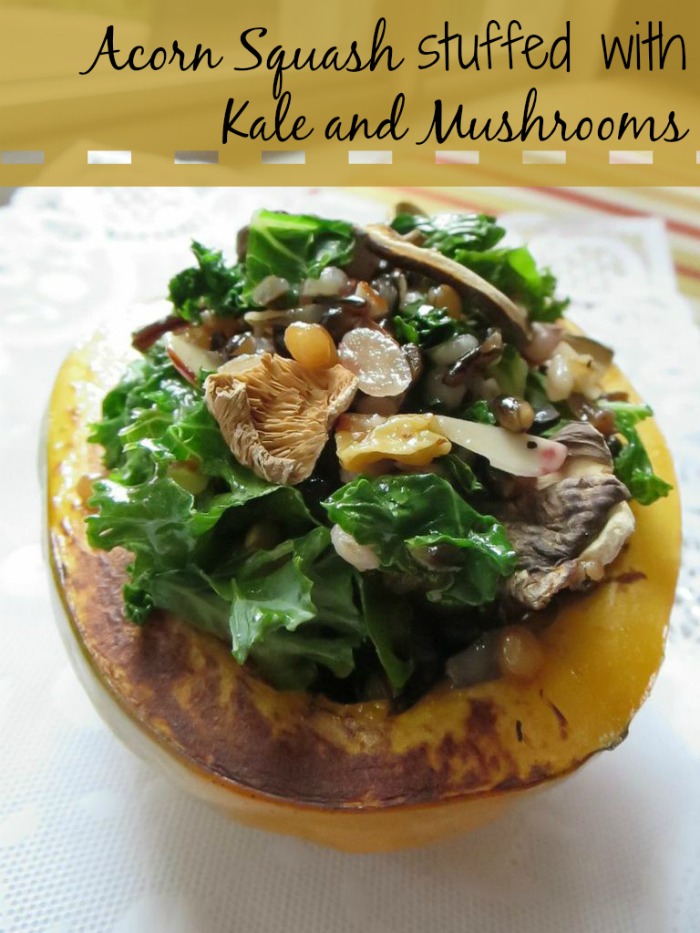 With the cooler weather of fall upon us, it's time for us to change what we eat. I don't know about you, but I'm always looking for something that's hearty, warm, and tastes good. If I can sneak some good for you foods into my diet, well, that's even better.
Squash has always been one of my favorite foods, in all of its many forms. My mom always made stuffed squash when I was growing up, but she usually used zucchini. This acorn squash stuffed with rice, kale, and mushrooms is a fall and winter version that is sure to please.
Acorn Squash Stuffed with Rice, Kale, and Mushrooms recipe
Yield: 8
Acorn Squash Stuffed with Kale and Mushrooms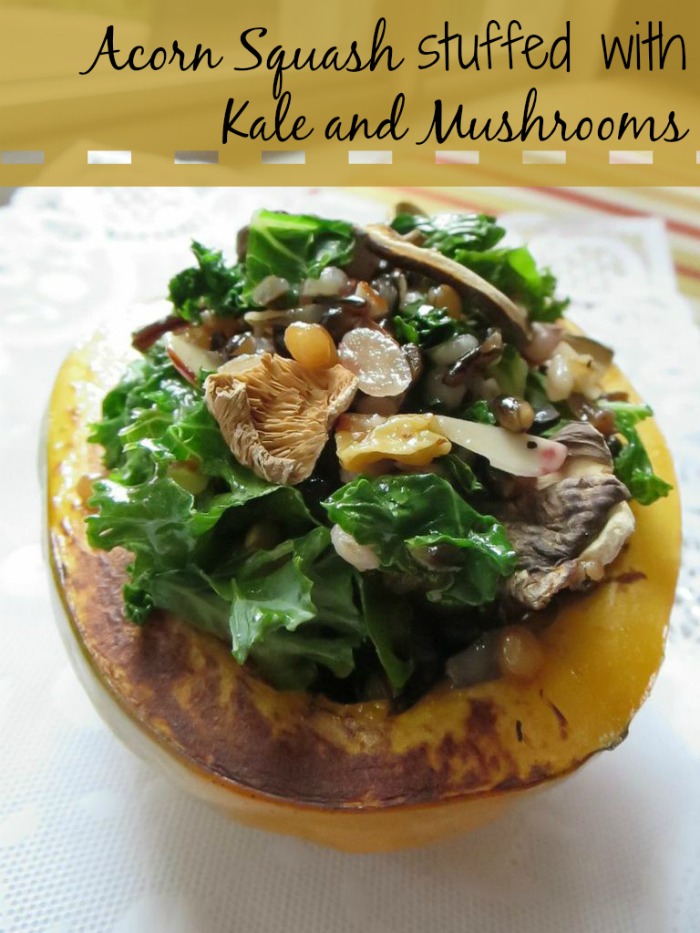 Prep Time 15 minutes

Cook Time 50 minutes

Total Time 1 hour 5 minutes
Ingredients
4 Acorn Squash, ideally 1-2 lbs each, halved lengthwise and seeds removed
5 teaspoons or more to taste, Salt
2 teaspoons, Ground Black Pepper
2 cups wild rice
3 oz Grapeseed oil
1 teaspoons fresh ground pepper
1 Tablespoons minced garlic
2 cups thinly sliced shiitake mushrooms (stems removed)
4 cups cleaned and rough chopped kale
2 Tablespoons toasted sesame seeds
2 Tablespoons chiffonade ( cut like ribbons) mint leaves
Instructions
Pre heat the oven to 475
In fine meshed strainer, place rice and run under cold water until clean.
In medium sized pot, add rice + 2 t of salt + 4 cups of cold water. Cover the pot with a lid and bring to a boil on high heat. Once boiling, reduce heat until rice is simmering. Simmer for 30-45 minutes or until the rice has absorbed the water and is cooked. (Note: rice can be cooked up to two days in advance)
On baking sheet, place squash flesh side up and rub with 1 oz grapeseed oil + 2 t of salt + fresh ground pepper. Place in the oven and bake for 25-30 minutes or until tender. Use a fork to test for tenderness.
In a separate sauté pan heat 1 oz grapeseed oil on medium-high heat. Add shiitake mushrooms + garlic + 1/2 t of salt and sauté until mushrooms are cooked but not browned. Remove from heat and place in large bowl.
In the same sauté pan used for the mushrooms, heat 1 oz of grapeseed oil on medium-high heat. Add kale + 1/2 t of salt and cook quickly using tongs or a spatula. Keep the kale moving so it doesn't brown. Once wilted, remove and place in bowl with shiitake mushrooms.
In bowl, add cooked wild rice + sesame seeds and mix together.
Taste rice mixture and season accordingly
Fill the cooked squash halves with the rice mixture. Garnish with mint
Nutrition Information:
Yield:
8
Serving Size:
1
Amount Per Serving: Calories: 232Total Fat: 12gSaturated Fat: 1gTrans Fat: 0gUnsaturated Fat: 10gCholesterol: 0mgSodium: 287mgCarbohydrates: 30gFiber: 7gSugar: 2gProtein: 5g

Nutritional information is provided as a courtesy, and may not be accurate.



Recipe courtesy of South Fork & Spoon + Ango.