Are you looking for some new dinner ideas? Do you love your slow cooker? Then check out these awesome 12 slow cooker dinner ideas.
No one wants to get in the kitchen and slave over the stove. Especially not when it's so hot outside. Who wants to heat the house up even more? Or maybe you're just really busy. With the longer days, there seems to be so many more activities going on – baseball, swim team, dance, even just being outdoors until all hours of the night. And if you have a slow cooker or crock pot, you know how awesome it is to just add the stuff for your meal, and kinda forget about it.
12 Slow Cooker Dinner Ideas
Slow Cooker Corned Beef with Champagne ~How Was Your Day? – Give the traditional corned beef recipe an upgrade with the addition of a little leftover bubbly.
Crock-Pot Pork Stew ~The Country Chic Cottage -I have to admit, I don't think I've ever had pork stew. I like stew, and I like pork, so it reasons that I'd like this. Right?
Healthy Chicken Tortilla Soup Slow Cooker Recipe ~Must Have Mom – Chicken Tortilla Soup is one of our family's favorites. Now, we can make it at home, and in a slow cooker. YAY!
Low Carb Crock-Pot Pork Chops ~Wife Mom Geek – Who needs Cream of Whatever soup when you have delicious pork chops that are healthy, too. This is one of those slow cooker dinner ideas I would not have thought of.
Crock-Pot Chicken Sweet & Spicy ~The Classy Chapter – Mmmm…BBQ Chicken that's homemade. No need to head out to a restaurant when you can make it at home.
Crock-Pot Whole Chicken Fajitas ~Live Simply – Who doesn't love chicken fajitas or chicken tacos? I have to admit, this is one of those slow cooker dinner ideas I would have never come up with! Serve with some authentic Mexican rice for a real treat.
Slow Cooker Shredded Mexican Chicken ~How Was Your Day? – This is a great addition to burrito bowls, tacos, on top of green salads, or just eat it with rice and our homemade guacamole and Chunky Salsa.
Crock-Pot Chili ~Typically Simple – Who doesn't like chili? While it's traditionally thought of as a cold weather meal, I like chili year round. Check out our Slow Cooker Chili Three Ways, too.
Crock-Pot Shredded Beef BBQ ~Carolyn's Homework -This is another one that everyone is sure to love. I mean, who doesn't like BBQ Beef? Okay, I'm sure there are some of ya out there, but yeah…This is going on my meal plan!
Slow Cooker Ravioli ~The Country Chic Cottage – Better than that icky stuff in a can, and the sauce is homemade. YAY!
Easy Crock-Pot Braised Shepherd's Pie ~Live Simply – No one wants to spend allll day slaving away to make a family favorite. Now, they don't have to!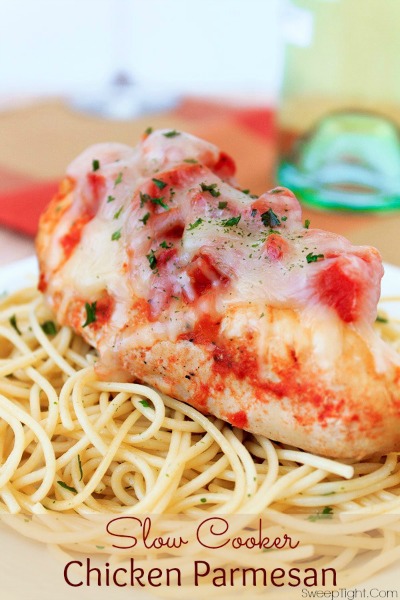 Easy Slow Cooker Chicken Parmesan ~Sweep Tight – This is another restaurant favorite that you can make at home. It's not breaded, so it's healther, too. Win Win!
Which of these Slow Cooker Dinner Ideas will you be trying?