I have been in the midst of redoing my house. Okay, I admit it – that's a lie. I want to re-do my house, but I am sort of at a standstill. Do I go super Mid Century Modern, even though that's not at all what my house's style is? Maybe I should go a little more cottage chic, although that's not really my house's style either.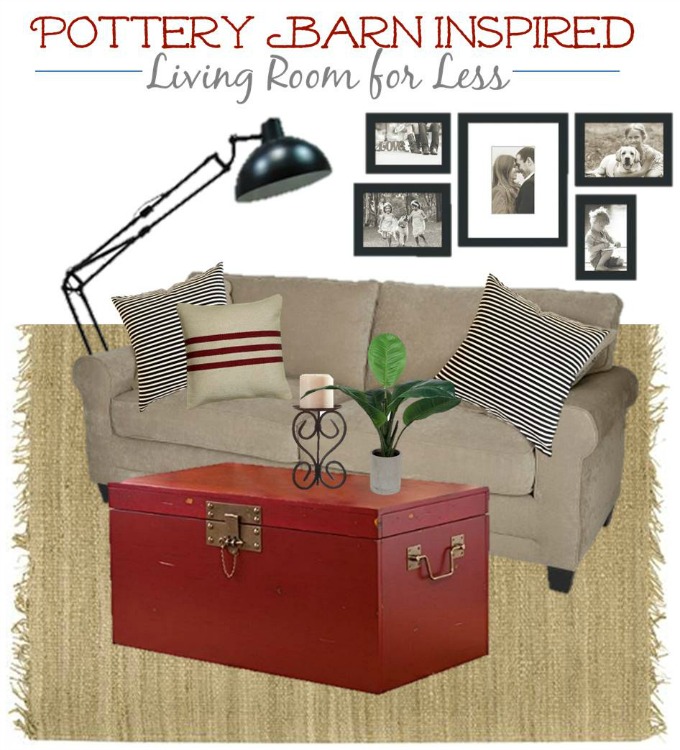 As you can imagine, I've been perusing a lot of home décor websites, catalogs, and magazines. I've sort of been lusting after some pieces from Pottery Barn lately. Alas, those items can add up really quickly. Before you know it, you've blown your budget, and you have like a lamp and a wood sign.
If you're like me, and totally feeling the Pottery Barn vibe, this is for you. We've taken one of the Pottery Barn inspiration rooms, and made a Pottery Barn inspired  version. Ohhh yeah!
Pottery Barn Inspired Living Room
The pieces for our Pottery Barn inspired living room are as follows. They may be affiliate links, which helps keep us powered by Coffee & glitter. Remember, too – prices may vary slightly.  They may be higher or lower than those shown.
Serta Copenhagen Sofa ($448, compared to $1349) // Rowan Trunk Coffee Table ($312, compared to $499)(similar style for $193)  // Set of 2 Black Striped Pillow Covers ($44, compared to $29.50 each)(similar style, $22.50) // Rizzy Home Red Stripe Accent Pillow ($45) // Threshold Jumbo Architect Lamp (Sold out, compared to $249) // 8 x 10 Jute Rug ($205, compare to $509) // Set of 5 Frames ($17, compared to $215!!) // Green Artificial Plant ($20)(different style, $35) // Metal Candle Holder ($13)(similar style, $15)
With just a little ingenuity, and some shopping around, you can find dupe pieces that look really great in your own home. And it's not even like they're knockoffs, just similar styles put together. Start looking at things when you're out shopping creatively.
Are you digging this Pottery Barn copycat Living Room?  What's your favorite item?