Melon smoothie. It immediately sounds delicious and refreshing, right? Smoothies are all the rage right now, but let's face it – drinking that glass of green sludge stuff isn't for everyone. Heck, drinking that green stuff isn't for me. I have to admit, I've pretty much been ignoring this smoothie trend, as I wanted nothing to do with it. Until now. Ladies and gents, I want to talk about the melon smoothie.
Summer is the season of the most amazing fruit available. Berries are ripe, soft tree fruits are ripe, and melons are at their peak of sweetness. Oooh…melons…Don't even get me started on my love of melon in the summer! They're cool and firm and bursting with sweetness. They're pretty much the best thing about summer. Why not make a melon smoothie that has this delicious, fleeting summer fruit as the star of the show? Shouldn't melons finally get their place at the smoothie table? Yes. The answer is yes.
This delicious melon smoothie is filled to capacity with melon goodness. It uses three different kinds, in fact. Even better, it has no added sugar. That's right, it gets all of its sweetness from the fruit alone. And since we used almond milk, it's vegan, too. It's literally summer in a glass, and it is so good.
Fresh Melon Smoothie Recipe
Links may be commissioned. We'll make a small percentage if you purchase through them.
If you're planning to make a lot of smoothies, you're going to want a really great blender. We used a Nutri Ninja for this melon smoothie since it was just one serving. If you're going to be making a batch of melon smoothies for the whole gang, you might want something like a larger Ninja Blender or even a Vitamix blender. Whether you're making one serving or making enough smoothies for an army, a great blender is key. You have to get everything nice and smooth. After all, they're called smoothies, not chunkies.
Yield: 1
Fresh Summer Melon Smoothie
A great smoothie can really get your day started right. Our summer melon smoothie is sure to make your day even better! Vegan, too.

Prep Time 10 minutes

Cook Time 5 minutes

Total Time 15 minutes
Ingredients
1/4 C Golden Dewlicious melon, cubed
1/4 C Sugar Kiss melon, cubed
1/4 C Summer Kiss melon, cubed
1/2 C ice cubes
1/2 C Almond Milk
Instructions
Wash, skin, seed and cube the melons.
Add 1/4 C of each melon in a blender.
Add ice cubes.
Add Almond milk.
Pulse until well blended. If you like your melon smoothies a little more liquid, keep blending.
You can also add a scoop of vanilla protein powder to your melon smoothie, if desired.
Nutrition Information:
Yield:
1
Serving Size:
1
Amount Per Serving: Calories: 185Total Fat: 2gSaturated Fat: 0gTrans Fat: 0gUnsaturated Fat: 1gCholesterol: 0mgSodium: 70mgCarbohydrates: 45gFiber: 4gSugar: 42gProtein: 4g

This smoothie recipe uses a lot of fancy-sounding melons, but I'm going to let you in on a little secret. They're basically versions of cantaloupe. Sneaky sneaky, eh? These melons are amazingly sweet, and help with not needing any added sugar. But, if you need a little more sweetness, you can add a drizzle of honey for the perfect touch.
The great thing about this melon smoothie is that you can pretty much use any type of melon in this recipe that you'd like. Add a twist with some watermelon or honeydew. There are tons of melon varieties out there, and all of them are sweet, delicious, and ready to be blended up into a summertime smoothie that absolutely everyone will love.
Another thing I love about this smoothie is that they're a great way to kickstart your day. You can add a scoop of protein powder to this one for an extra boost of protein and nutrients to get your day started on the right foot. It's a delicious way to get in some extra servings of fruit, and with no added sugar, you can feel good about drinking it.
So grab up some of the melons I listed in my recipe or choose your own – there are no rules here – and start making one of the most delicious smoothies you've ever had in your life.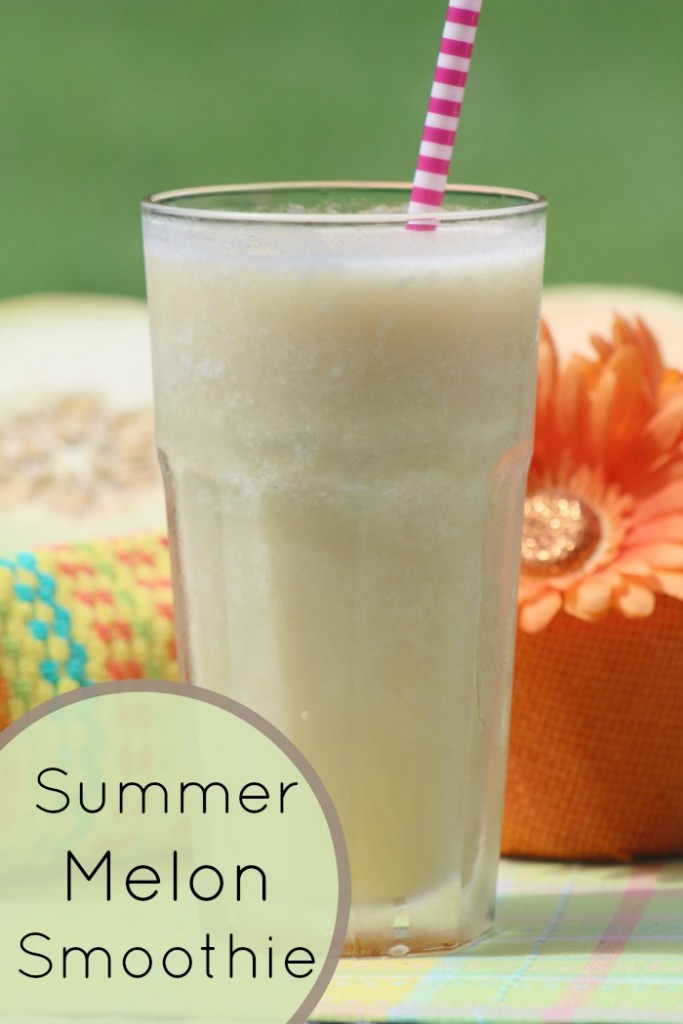 For more fun Pinterest remakes, visit a few of my favorite bloggers: