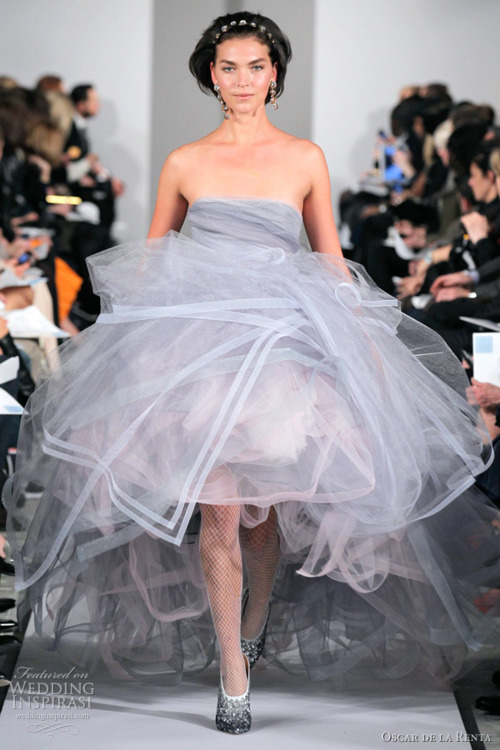 It used to be that people only got married during the Summer. Well, if they were having a big wedding, that is. Nowadays, weddings are happening year-round. The only problem with this, is that you need to prepare for a Winter wedding much differently than you do for a summer wedding.
Here are some of the hot Winter Wedding Ideas for 2012 + 2013
Winter 2012 & 2013 Wedding Dresses
Wedding Dresses are leaning back towards the elegance of yesteryear. Lace, silks, and brocades can be seen in dresses from the top designers. Modern twists like high-low hemlines, sheer necklines, and bare backs are also on-trend. And, of course, lace sleeves are still so hot, thanks to Kate Middleton.
Colored gowns are very popular this season as well. Most brides are keeping it to a soft shade like silver, icy blue, or a blush pink.

Winter Wedding Accessories
Warm accessories not only play up the glamour of your winter wedding, they're almost a necessity! Great items like a cashmere wrap, faux fur stoles, and luxurious capes are all popular choices. They not only hearken back to a bygone era, these luxe wraps help to keep the winter chill at bay.
Jewelry, as always, depends on your gown. Choose simple jewelry when playing up color or going with an ornate gown.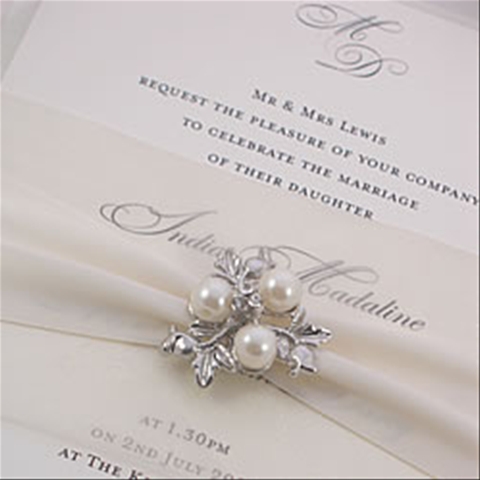 Winter Wedding Invitations
The classic elegance of invitations is back in a big way. Script fonts, calligraphy, and heavy cardstocks are all popular. Choose a rich shade of Navy, Eggplant, Aubergine, or Chocolate for your lettering. Silver lined envelopes and metallics are great accents.

Winter Wedding Photos
Black and white photos are quite popular. Outdoor winter scenes are also popular, with or without snow.

Winter Wedding Food Trends
You want your guests to be warm, right? Soups are a popular option for first courses. The classics of Filet Mignon or chicken are still extremely popular choices. Vegetarian selections like pasta, stuffed Portobello mushrooms, and risotto are also gaining in popularity.
Warm drinks are great cocktail alternatives. Hot Chocolate or Cappuccino bars are fantastic and fun additions to a wedding. As a bonus, they help break the ice and get people talking.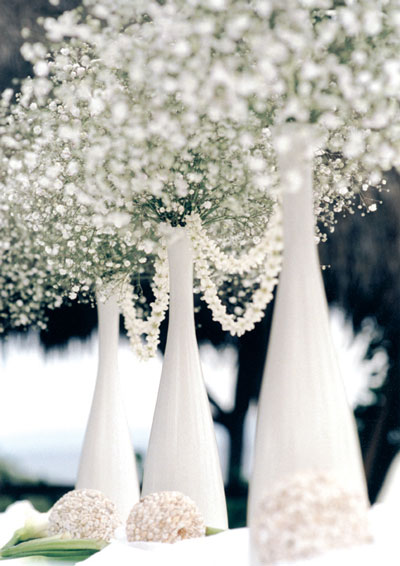 Winter Wedding Décor Ideas
Most winter weddings are indoor affairs. More than that, they tend to be elegant affairs in locations like ballrooms, as they need to be temperature controlled. Due to this environment, winter weddings are much more formal affairs.
Ice vases, crystals, and tall white blooms or branches are fabulous options. Unless your wedding is explicitly Christmas-themed, try to steer clear of red, green, holly, and items like that as well.

Winter Wedding Cakes and Desserts
Winter Wedding cakes are elegant, with lots of white on white or crystal on white decorations. Silver accents are also extremely popular, and a gorgeous choice.
While wedding cakes will always be a popular choice, there are tons of other options. Tiers of cupcakes are still a trendy alternative.
Another option is to have a dessert bar. S'mores stations, candy tables, and other DIY options get your guests moving and interacting.
Hopefully these trend tips help make planning your wedding easier.