It's that time of year again! When we convince ourselves that we're going to start exercising more, even though it's brutally cold outside. That this is the year we're going to get in shape.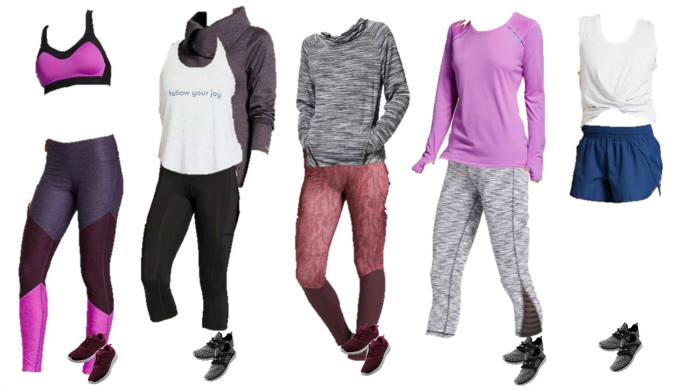 Hey, maybe this IS the year for you! If so, that's awesome. You're going to need some new workout gear though. It's not as easy as throwing on a couple of mismatched things from your junky clothes, especially if you're working out in cold weather. We've gathered some great workout wear options that can be mixed and matched. The best part – they're all from Target.
Yep, Target. That store that beacons women from all walks of life with their fun products. Best of all, these workout wear pieces are good quality and reasonably priced. Total win!
Target Workout Wear Mix and Match Wardrobe
Links may be affiliate links.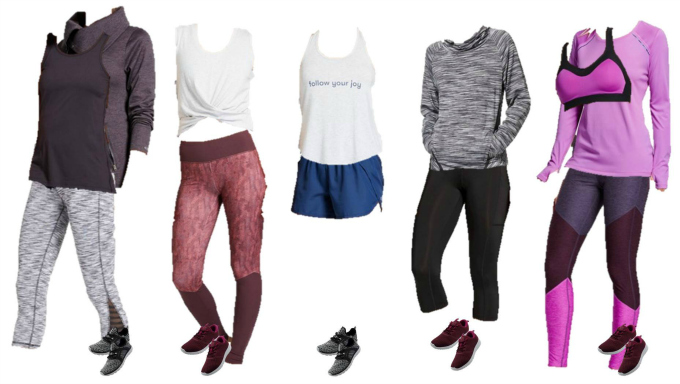 1 Tech Fleece Asymmetrical Jacket (shown in Dark grey, also available in black) +Performance Long Tank Top (shown in Black, available in 4 colors) +  C9 Champion Feedom Mesh Capri Leggings (shown in Grey Spacedye, available in 3 shades) + Poise Performance Athletic Shoes
2 Twist Front Tank (shown in Eggshell, available in 4 colors) + JoyLab Long Ribbed Leggings + Limit 2.0 Performance Athletic Shoes
3 Follow Your Joy Graphic Tank + Women's Run Shorts (Shown in Midnight, also available in two patterns) + Poise Performance Athletic Shoes
4 C9 Champion Tech Fleece Cowl Neck Pullover (shown in Neutral spacedye, also available in purple spacedye) + C9 Champion Embrace Capri Leggings + Limit 2.0 Performance Athletic Shoes
5 Long Sleeve Tech T-Shirt (shown in Lilac, available in 4 colors) + Medium Support Strappy Back Sports Bra (shown in purple, also available in white) + C9 Champion Freedom Heather Blocked Leggings + Limit 2.0 Performance Athletic Shoes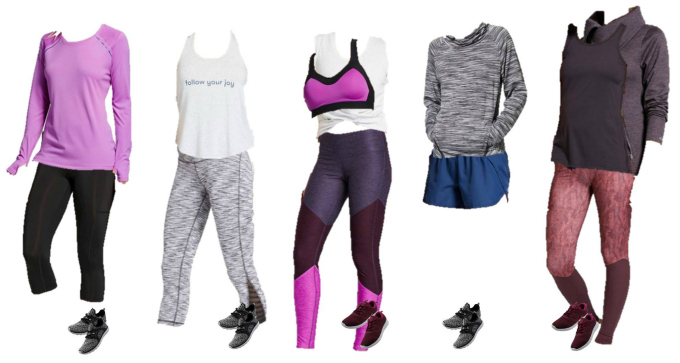 6  Long Sleeve Tech T-Shirt (shown in Lilac, available in 4 colors) + C9 Champion Embrace Capri Leggings + Poise Performance Athletic Shoes
7 Follow Your Joy Graphic Tank + C9 Champion Feedom Mesh Capri Leggings (shown in Grey Spacedye, available in 3 shades) + Poise Performance Athletic Shoes
8 Twist Front Tank (shown in Eggshell, available in 4 colors) + Medium Support Strappy Back Sports Bra (shown in purple, also available in white) +C9 Champion Freedom Heather Blocked Leggings + Limit 2.0 Performance Athletic Shoes
9 C9 Champion Tech Fleece Cowl Neck Pullover (shown in Neutral spacedye, also available in purple spacedye) + Women's Run Shorts (Shown in Midnight, also available in two patterns) + Poise Performance Athletic Shoes
10 Tech Fleece Asymmetrical Jacket (shown in Dark grey, also available in black) + Performance Long Tank Top (shown in Black, available in 4 colors) +JoyLab Long Ribbed Leggings + Limit 2.0 Performance Athletic Shoes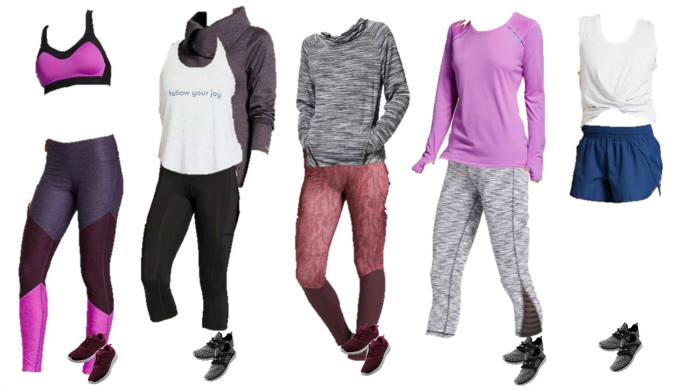 11 Medium Support Strappy Back Sports Bra (shown in purple, also available in white) + C9 Champion Freedom Heather Blocked Leggings + Poise Performance Athletic Shoes
12 Tech Fleece Asymmetrical Jacket (shown in Dark grey, also available in black) + Follow Your Joy Graphic Tank + C9 Champion Embrace Capri Leggings + Limit 2.0 Performance Athletic Shoes
13 C9 Champion Tech Fleece Cowl Neck Pullover (shown in Neutral spacedye, also available in purple spacedye) + JoyLab Long Ribbed Leggings + Limit 2.0 Performance Athletic Shoes
14 Long Sleeve Tech T-Shirt (shown in Lilac, available in 4 colors) + C9 Champion Feedom Mesh Capri Leggings (shown in Grey Spacedye, available in 3 shades) + Poise Performance Athletic Shoes
15 Twist Front Tank (shown in Eggshell, available in 4 colors) + Women's Run Shorts (Shown in Midnight, also available in two patterns) + Poise Performance Athletic Shoes