For the past couple of months, I've been trying out the Sibu Beauty skin care regimen. I've posted a time or two about my prior lack of a skincare routine. When I say lack of a skincare routine, I mean it. I would wash my face when I was in the shower. I might or (usually) not use moisturizer. I rarely removed my makeup before bedtime. And preventative or anti-aging treatments? Uhhh…can I plead the fifth on that?
Well, I mean, you can probably figure that out for yourself. If I'm not moisturizing, I'm definitely not using serums, eye creams, and stuff like that. In the past couple of years, though, my life has changed drastically. I had a birthday. And then another one that put my perilously close to that landmark 3-0.
I also started noticing small signs of aging. Nothing major, but a little dulling of my skin, a tiny little start of a wrinkle. Things like that. Maybe it's time to get my stuff together, huh?
Well, the great folks at Sibu Beauty must have heard about my plight. Or they're psychic! They were kind enough to send me an assortment of products from their line. This collection includes the Cleanse and Detox facial soap, Daytime Nourishing Facial Cream, and the Cellular Support soft gels dietary supplement.
My Thoughts on Sibu Beauty
I wasn't a big fan of the Cleanse and Detox facial soap. It wasn't that there was anything wrong with the soap, and it felt fine when I used it. Didn't make my skin feel tight or anything like that. I just prefer a cream or gel cleanser.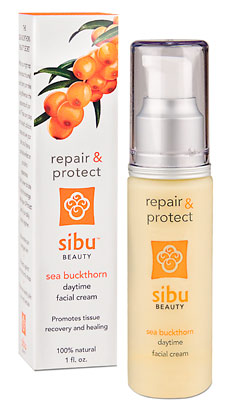 When it came to the Daytime Nourishing Facial Cream, I thought my skin reacted well to it. I like a light moisturizer for the warmer months, as I live in a ridiculously humid climate. This absorbed quickly and has a fantastic citrus scent. The moisturizer didn't make my skin oily or cause any breakouts, either.
The Cellular Support gel caps are part of Sibu Beauty's inside-out concept of beauty. I didn't notice much for my skin, but I noticed that my hair and nails were healthier. My nails tend to get little catches in the sides when they get long, and I didn't have that at all while taking the Cellular Support.
I've previously reviewed Sibu Beauty's Hydrating Serum, which you can read here.
The magical ingredient in Sibu Beauty's products are the tiny Sea Buckthorn berry. This berry grows in the Himalayas, not the sea, as I previously thought. In order to survive and thrive, the sea buckthorn berry produces powerful antioxidants and has over 190 bioactive compounds. Add in the fact that they're packed with omega 3, 6, 7, and 9 and this is really doing wonders for your collagen production and your anti-aging.
Sibu Beauty products are also cruelty free (no animal testing), organic, and certified sustainable. They also procure their sea buckthorn berries via free trade.
Next time you're looking for a new skin care line, think about Sibu Beauty. You can connect with Sibu Beauty on Facebook, Twitter, and Pinterest, too.