Special thanks to Mockmill for sponsoring this rice flour scrub post. Read on to see how you can get an awesome deal on one.
One of the most important steps in skincare is proper exfoliation. Too little exfoliation and your skin looks dull, dead, and lifeless.  That's because it is, as the dead cells aren't being sloughed away.  Too much exfoliation and you have redness, rawness, irritation, and it can even cause more damage.
There's a lot of different types of scrubs out there, like coffee scrubs and sugar scrubs. There's even salt scrubs and sand scrubs. Today, though, I'm introducing you to a rice flour scrub, with fresh ground rice flour. We ground our own rice flour with the Mockmill, and I'll tell you how you can get your own in this post – at a great savings!
This is gentle enough to use all over your body, including your face. This rice flour scrub leaves your skin feeling so soft and smooth, yet calm and soothed. The scent reminds me of the fresh beach air, which is why it's called Seashore.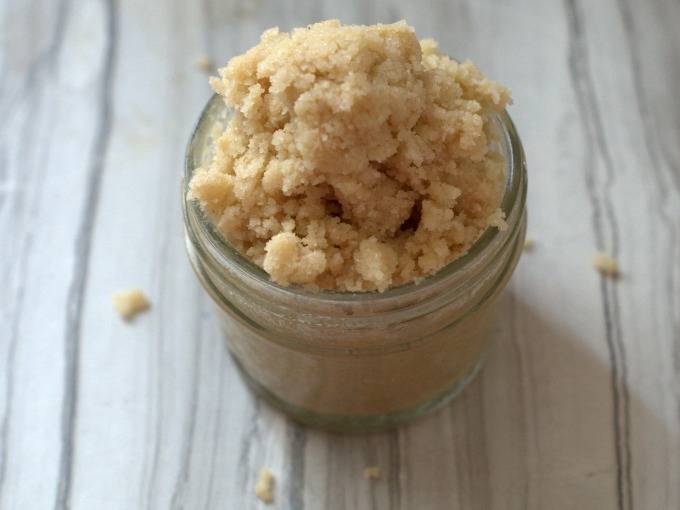 Seashore Rice Flour Scrub
Ingredients
Fresh Rice Flour
Coconut Oil
Rosemary Essential Oil
Sage Essential Oil
Vitamin E Oil
Directions
Take your fresh rice flour, and place it in a bowl.  Add coconut oil and stir to combine. I used about 1 ¼ cups of rice flour to 4-5 tablespoons of coconut oil. Your ratio may vary somewhat.  It's not an exact science, just combine them until you get a nice texture that's slightly crumbly. Add in a few drops of each of your essential oils. I used like 6 drops of sage, and 4 drops of rosemary. Add a few drops of Vitamin E oil. This helps to act as a preservative for your scrub.
Voila! Easy peasy, and you have a great scrub for just a few cents.
Tell Me More About the Mockmill Thing
I know you're thinking – "What the heck is a Mockmill?" A Mockmill is a kitchen tool that you need to have in your arsenal. It allows you to grind your own flour quickly and easily. You can grind pretty much any kind of flour, from whole wheat to rye to rice, and even almonds. You'll know exactly what's in your flour, and how fresh it is.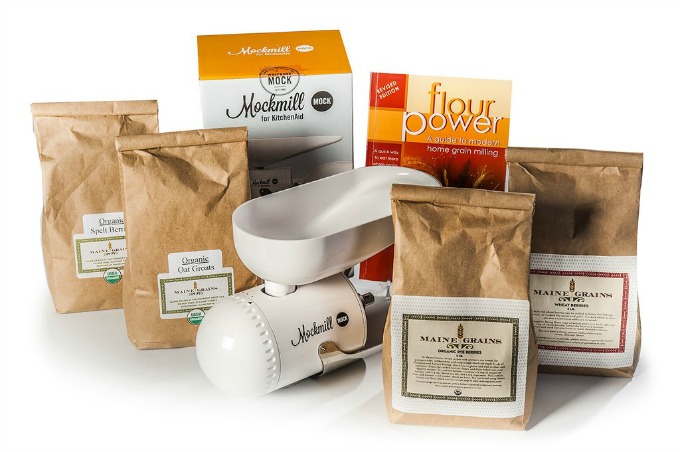 The Mockmill simply attaches to your stand mixer, like a Kitchenaid mixer. You add your grain into the hopper, and it basically works on its own. Before you know it, you've got a bowl full of freshly ground flour. Whoa, right?!?! No more buying those expensive bags of specialty flour at the grocery store or health food co-op. You can grind your own for a fraction of the cost, and in no time at all.
Get a Mockmill attachment, several pounds of different grains to try out, and a copy of Flour Power, a fresh flour cookbook. Many people believe Flour Power to be the authority when it comes to baking with fresh flour. Use code GRETASDAY for $80 bucks off.  Ohhhh yeahhhh…
Tell me – what would you make with your own freshly ground flour?