Summer is winding down, and the peaches are perfectly ripe. I live in an area where they grow a lot of peaches, and there's so many peaches everywhere you look. It's almost like Forrest Gump here.  "Peach pie, peach cake, peach pudding, peach cobbler, canned peaches, fresh peaches…" We're adding Iced Sweet Peach Tea to that list.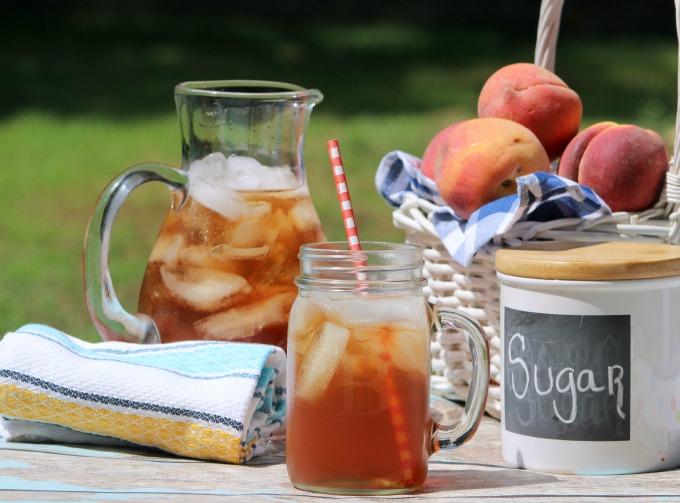 There's a secret to making the perfect southern sweet tea. This Iced Sweet Peach Tea recipe takes that not so basic sweet tea recipe and bumps it up a notch or two. Even better, it's so easy to make, and all of your friends and family are going to be so impressed.  That's what we all want, right?!?!
Iced Sweet Peach Tea Recipe
Ingredients
3 C Water
2 Family Sized Tea Bags
1/2 to 1 C sugar (Depending on your level of desired sweetness)
7 C of water
8 oz of Jumex Peach Nectar
Sliced peaches
Ice
Instructions
Bring the 3 C of water to a boil in a large pot.
Add the 2 family sized tea bags.
Simmer the 3 C of water and 2 tea bags for 20 minutes. Remove tea bags
While tea is still hot add 1/2 C sugar, and stir to combine well. Adjust, depending on your personal taste, while remembering that this will become more diluted.
Add the 7 C of water to your sweet tea. Stir to combine well. Pour or ladle this into a pitcher.
Add the Peach Nectar to the pitcher, and stir to combine.
Taste for desired sweetness. Add more sugar, if necessary.
Stir to ensure all ingredients are mixed well
Pour into glasses. Alternate layers with ice and peach slices.
7.6.7
77
https://www.gretasday.com/iced-sweet-peach-tea-recipe/
Will you be making this Iced Sweet Peach Tea for your next gathering?